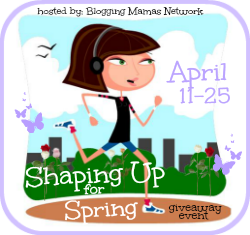 We are a few weeks into spring.  Now that the weather is warmer and the days are getting longer, it's time to shape up!  Let's make the act of exercising more enjoyable by winning some giveaways!  The Blogging Mamas Network is hosting the Shaping Up for Spring Hop from April 11th through the 25th to motivate you to get active and healthy!
You'll want to visit all of the participating bloggers in the linky below my giveaway as they have some great prizes to share with you!  Be sure to enter the GRAND PRIZE which includes, a 3 meal box from Hello Fresh, Aurorae Yoga Apparel and Yoga Mat, a Accessory Pouch and Hair Bands from Active Accessories, and the best way to get your greens from NewGreens Organic!  According to Jenny, So Easy Being Green, the Blogging Mamas Network, and the Shaping Up for Spring participating bloggers are not responsible for sponsors who do not fulfill prize obligations.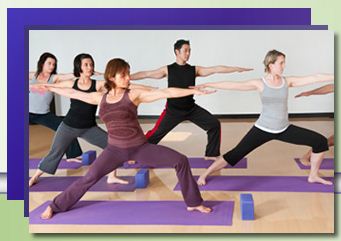 One lucky winner will receive a 6-month subscription to Workouts on Demand!  Here are some reasons I like to use this online gym membership.  First of all, there's no need to get all dolled up to work out.   You know what I mean, you've seen those women at the gym (you might even be one of them!) who put on makeup and bought a cute outfit to wear on the treadmill.  I just don't have time for that kind of nonsense. Secondly, no one wants to see my thighs jiggle.  Thirdly, I need to stop my thighs from jiggling.  Short of wearing a full-body Spanx, this is a good alternative and far cheaper.  It's also more comfortable.  Workouts on Demand has so many exercise classes available that it's just lying to say I can't find one I like.  Which one appeals to you?   Download one for free by liking Workouts on Demand on Facebook.  You'll be hooked.  So what are you waiting for?  Enter this giveaway and you could win 6 months of NOT sweating in front of your friends!   Since this prize will be sent via coupon code on email, the giveaway is open to International readers ages 18+ (except where prohibited by law.) Enter using the Rafflecopter form below. In order to enter the giveaway, you must visit the Workouts on Demand website. All other entries are optional; completing these entries increases your chances of winning. Good luck!