Disclosure: This post contains affiliate links; opinions shared are mine.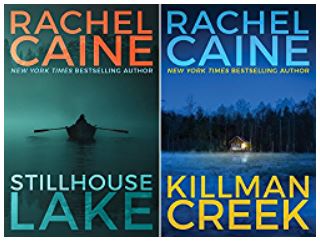 Lately, psychological thrillers are everywhere!  Serial killer themes are also abundant right now, from Netflix to Goodreads.  Rachel Caine's Stillhouse Lake series combines the best of both.  These books had me captivated!  I've shared them with my work friends and now I get to share them with you. Rachel Caine is offering one lucky Savings in Seconds reader a 2-book pack to celebrate the release of Killman Creek.
There are several things I love about the Stillhouse Lake series.  First, the situation takes us deep into a perilous situation, but not through the eyes you'd expect.  After Melvin Royal's terrible secret was revealed, his wife and children were left to protect themselves from the public backlash.  Even worse, Melvin was determined to bring them harm, too.  This series pulls us into the Royal family's desperate plan to survive.  That twist makes this so interesting!
The story takes place around Knoxville, TN which is near my home in Northeast Tennessee.  It's perfect as a setting, since there are so many mountain retreats in that area.  I tend to enjoy stories that are based on places I'm familiar with.
Finally, the characters in Stillhouse Lake kept me guessing.  I wasn't always thrilled with their actions, of course, but they were real.  Relatable.  Interesting.  Even down to the kids!
Which Rachel Caine book would you like to read?


I was not compensated for this post.