Disclosure: This Vidalia Chop Wizard was sent to me for review. Opinions shared are mine. I used my Amazon affiliate link in this post – if you make a purchase through this link, I may earn a small commission (used for giveaway prizes).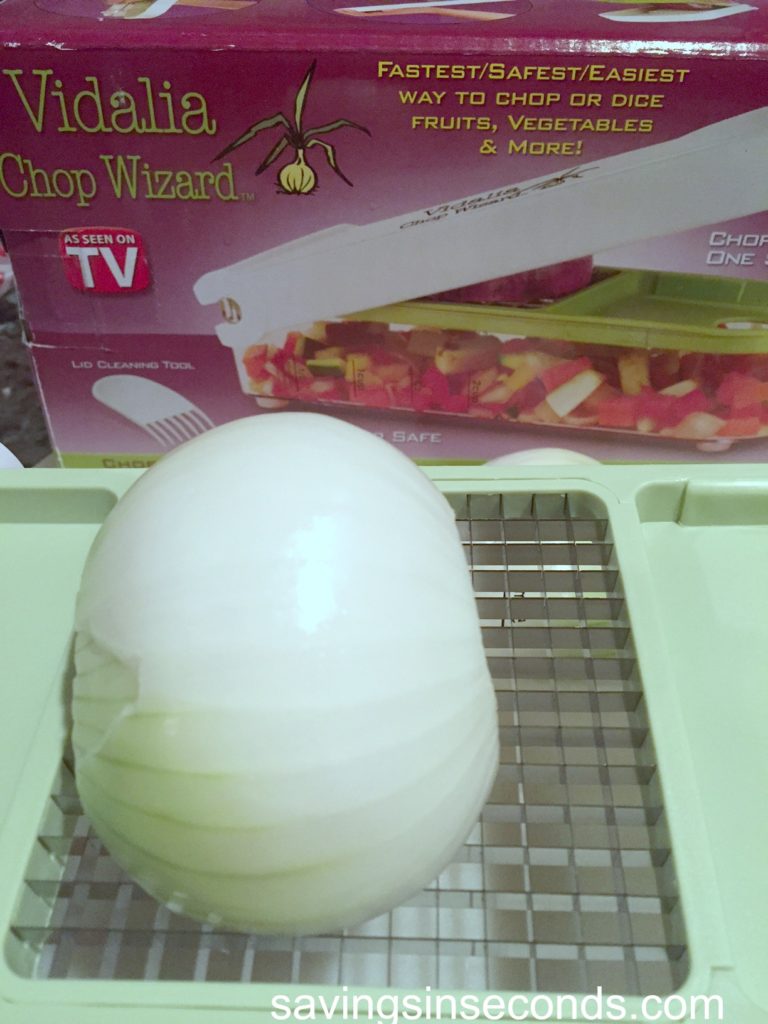 This week, it was my turn to take a meal to our small group Bible study. My daughter begged me to take meatloaf, which is one of her favorites. It's a great comfort food! I was given the chance to try the quick-cutting Vidalia Chop Wizard, and it saved me several minutes on this entree.  I was able to prep the entire dish before leaving for Sunday School!
My chop wizard came with two blade sizes.  I used the dicing blade so that the onion pieces would be very small.  I'm not coordinated enough to take the "during" pictures, so you'll have to settle for before (above!)and after.  Here's what happened to that onion half!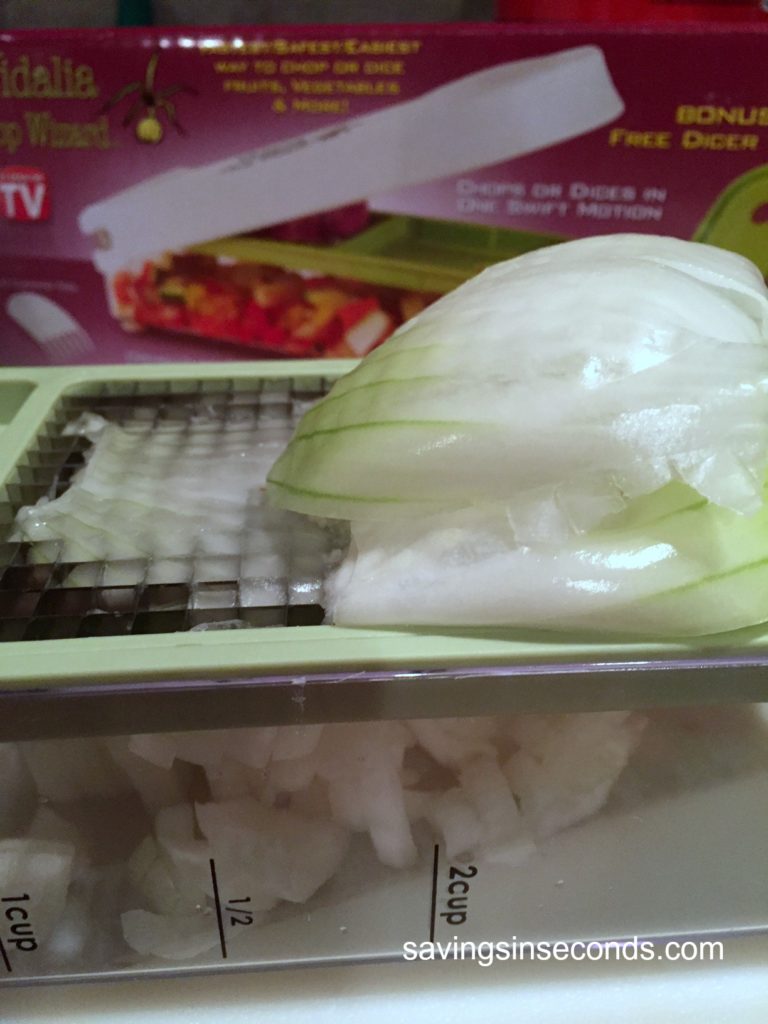 The Vidalia Chop Wizard took only one hard push to press right through the onion, though the tough outer layers of the onion did not slice at all.  They sat right on top of the blade, so I scooped them off and chopped them separately. An interesting note that I didn't realize until I started hand-chopping the extra slices — there were no onion tears while I used the chop wizard. When I got out the knife, though, it was waterworks city!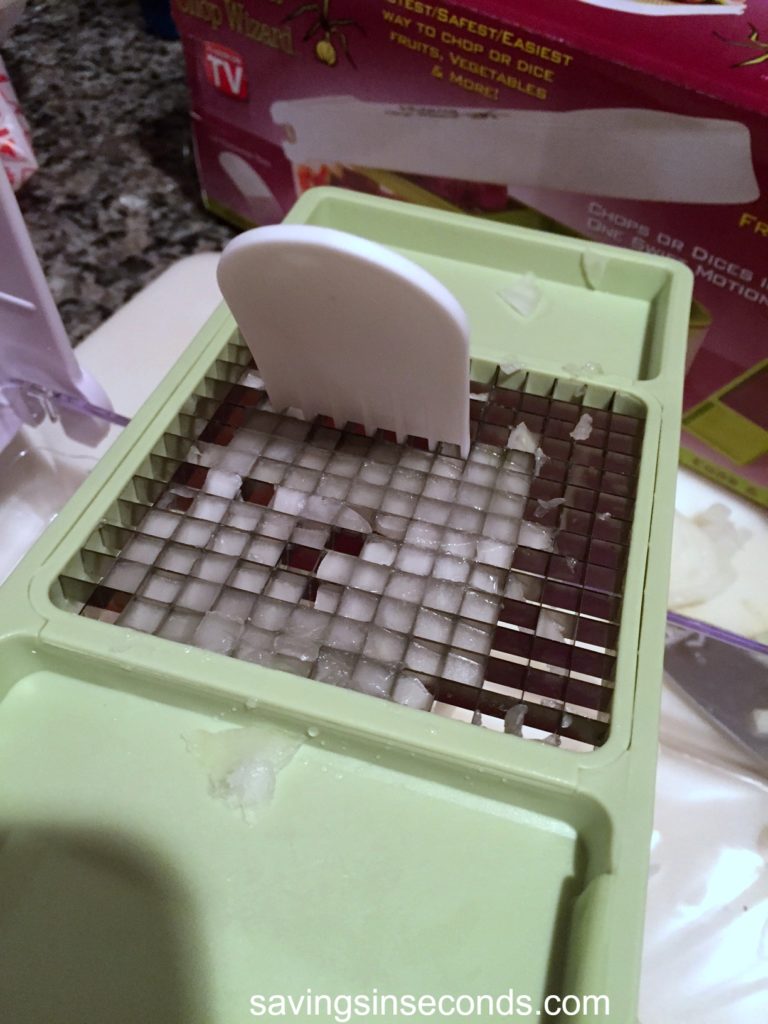 This handy tool worked well to clear out the onion pieces from the dicing blade.  I loved that all the pieces were uniform. It really makes the dish look nice.  I can see how it would help with cooking time and texture as well.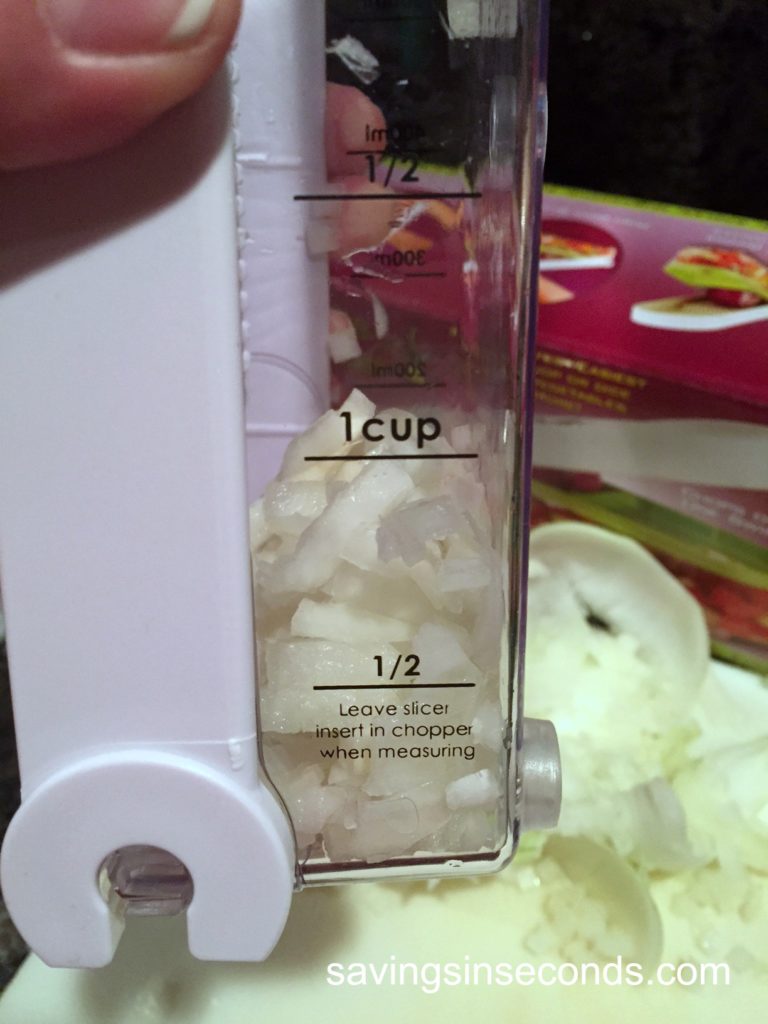 One feature I really liked about the Vidalia Chop Wizard was the measuring tool.  It was so simple to just hold it up and see if I had enough chopped onions.
This is one kitchen tool that I'll be using quite often!  It will be useful when I make garden-fresh salsa, omelets, and even soup.    How would you use the Vidalia Chop Wizard?   You can purchase it at Bed Bath and Beyond or Amazon.
One lucky reader will win a Vidalia Chop Wizard! To enter, visit the giveaway form below. The giveaway is open to US readers ages 18+. Void where prohibited by law. Good luck!
I received this product to review. Giveaway hop participants are not responsible for sponsors that do not ship prizes.