Disclosure: This post is brought to you by BestofSigns. Opinions shared here are 100% mine.
Back when my daughter was a baby, I became a consultant for a skincare company.  I kept my full-time job while doing spa parties in the evenings.  Building my clientele was tough.  Working from home in a direct sales program can be a tricky business.  Word of mouth is an important step, but it's important to get new customers outside of one's general social circle.  My friends were exceptionally patient and generous by hosting parties, purchasing products, and sharing the news that my business was growing.  Looking back on those days, I know that things would have been even better if I had put a vehicle magnet sign on my car.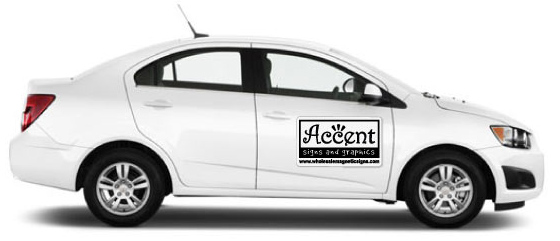 When you're on the road today or tomorrow, pay attention to the other cars you see.  How many cars, trucks, or vans promote the owner's business right on the side door or trunk?
It's simple to order cheap magnetic signs from BestofSigns.   Consider these tips to get the most from your visual aid.
Keep the print simple.  While swirly letters might be attractive, they're hard to read when the car is in motion.   Instead of hard-to-read font, use BestofSigns bright color options to make the print stand out.
Highlight the important information.  Phone numbers are especially valuable.  Your customers can't contact you if they can't see the phone number!
Consider putting a web address on your sign.  With many consumers shopping online for convenience, it's helpful if they can find your website for more information.
Streamline your brand.  Your business card, logo, and stationary should look like the magnetic sign.  That makes your brand even more recognizable for potential customers.
Ask for help if needed.  BestofSigns offers assistance to help you make the best magnetic sign for your business.  The online tutorial is quick, easy, and effective. Live chat is also available if you need more customized service.
Although you might be tempted to remove the magnetic sign when you travel out of town, this is actually a really great time to advertise!  Your brand might not be as well known in your new locale.  Potential customers who see your magnetic sign can take a photo with their Smart phones and visit your site later.  If you do remove the magnetic sign from your vehicle, be sure to roll it up the way it originally arrived. This will help to preserve the sign's magnetic properties.
Since BestofSigns offers a bulk quantity discount, you could purchase additional signs for your employees to use on their vehicles.  Ask your family members to put the signs on their cars as well.  The more visible your brand, the better.   Also, put vehicle magnetic signs on both sides of your car.  It's so simple to double your exposure that way!   You might also ask your local public transportation office if you can rent space on buses and trucks.  This simple measure might be more affordable than renting pricey billboard or electronic sign space. Be sure to purchase additional signs for the unexpected event of your sign being taken from your vehicle, or damaged due to weather.
Do you notice vehicle magnetic signs when you're driving?