Disclosure: I received this book to enjoy; post contains affiliate links. Opinions shared are mine.
My children love to read fact-based books. Trivia of all types are popular here, especially with my 12 year old daughter. She starts many sentences with, "Did you know…?" My son, however, is fascinated with bodily functions. That's typical with 2nd graders, so I'm hoping it's just a phase he'll outgrow. For now, I'm grateful that we can fulfill his potty talk desires with an entertaining, yet educational, book like To Burp or Not to Burp: A Guide to Your Body in Space by astronaut Dr. Dave Williams.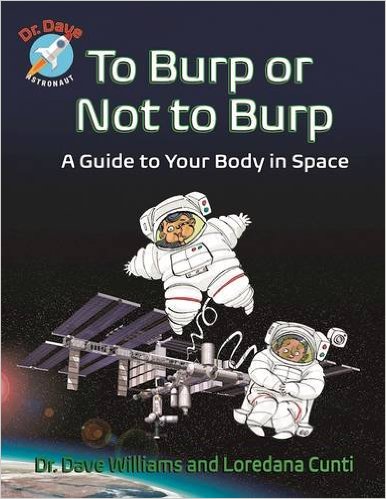 Don't be put off by the astronaut title or the doctor designation, thinking this book will be too tough for kids to read. Dr. Williams writes like a guy.  He knows just what kids want to hear about, and he delivers.  Be prepared to read a lot about ways to relieve oneself in space, and how difficult it is to burp without making a mess.  Kids will love the pictures that depict real toilets from the space shuttle!   Space travel is so fascinating, especially for children, and the book really addresses some of the scientific facts behind the space mystery.
The great thing about To Burp or Not to Burp?  It gets kids reading.  There's no denying that crude, sometimes disgusting, humor gets kids' attention.  The success of Captain Underpants and even Diary of a Wimpy Kid can attest to that!  Since it's a naturally engaging topic, it's a super choice for reluctant readers.
Enter for your chance to win a paperback copy of To Burp or Not to Burp! The giveaway is open to US/CAN readers ages 18+. Void where prohibited by law. Good luck!
Disclosure:
MamatheFox, On Honeysuckle Hill and all participating blogs are not held responsible for sponsors who fail to fulfill their prize obligations.