Disclosure:  I received this book to review; the opinions shared here are 100% mine.
My students think I'm exaggerating when I tell them that I read a book a day.  Now, that might not be a daily thing, but if I can get all my housework done and the kids in bed at a reasonable hour, I'd much prefer to read rather than watch TV.  In the summer, I often wake up early and spend a few minutes reading a great book.  The summer reading is getting good right about  now because I've finally started to relax and realize that I have a few weeks off.  So this week I'm enjoying those books that have been safely tucked away for a few minutes' peace.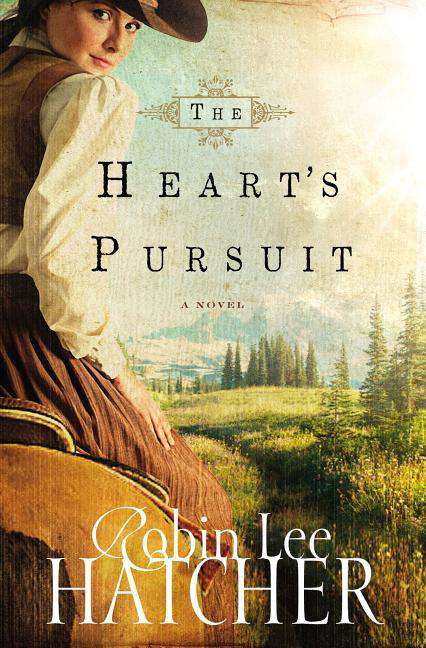 The first book I picked up this weekend was The Heart's Pursuit by Robin Lee Hatcher.  RLH never fails to surprise me with the way she changes things up with each novel.  In this one, we meet a tough girl named Silver who just won't be put off by circumstances.  She does, however, find her match in an equally tough guy named Jared.  While Jared seems bent on revenge, Silver has a vendetta of her own to fulfill.  Beneath it all, though, they both have really good hearts.  It was easy to see how the story would unfold so if you like a big mystery, this might not be the book for you.  Otherwise, I liked the way that Hatcher lets us see into the minds of the characters by providing their thoughts along with the dialogue.  The setting is in the Wild West where just about anything can (and sometimes does) happen.
I connected with the characters' sense of doing right by their family.  Both  my husband and I come from homes that weren't affluent by any means.  When we talk of winning the lottery or paying off all our bills, we always circle back around to helping our parents.  We feel a deep sense of responsibility for our aging parents and want to make sure they are comfortable.  In The Heart's Pursuit, both Silver and Jared feel the need to care for their family as well.
Robin Lee Hatcher's latest novel, The Heart's Pursuit, is receiving critical praise: "The Old West lives again in this inspirational romantic adventure. . . . Themes of forgiveness, justice and mercy dominate the story and add to the characters' depth. Hatcher treats readers to a rich sensory experience—you can taste the desert dust and smell the smoke and stench of a crowded gambling hall." (Publishers Weekly)


Robin is celebrating the release of her novel by giving away a $200 "Romantic Weekend Getaway."
One winner will receive:
A $200 Visa cash card (Get away for the weekend with that special someone!)
The Heart's Pursuit by Robin Lee Hatcher
Enter today by clicking one of the icons below. But hurry, the giveaway ends on June 8th. Winner will be announced June 9th on Robin's website.
Don't miss a moment of the fun; enter today and be sure to stop by Robin's blog on June 8th to see if you won.