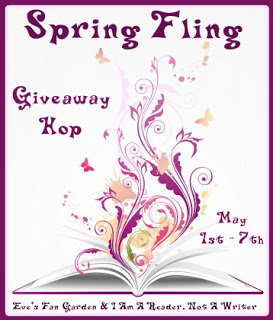 Welcome to the Spring Fling giveaway!   This event is hosted by I Am A Reader Not A Writer.  Book hop giveaways are fun places to find some great titles to fill your bookshelves for spring reading.  Just think of all the books you could take along to the beach, tote along by the pool, or just curl up and read while it's raining outside.  I've read so many good books in the past few weeks that I had a hard time choosing one as a prize for this giveaway.  I finally decided upon The Searcher
because I thought it might appeal to a more general audience.  The Searcher is a deeply moving book that takes a while to get through but leaves you filled with hope in the end.  When I posted about it a few days ago, several readers commented that it was a book they'd like to read.   So lucky readers, one of you will be receiving my copy of The Searcher in this giveaway! 

I will ship the prize to any address in the US or Canada; readers 18+ are eligible to enter (except where prohibited by law.)     Enter using the Rafflecopter form below. Good luck!
a Rafflecopter giveaway
  Enter these giveaways, too!  
I received a copy of this book to review. The opinions stated here are 100% mine.