Disclosure: I received this book to review. The opinions shared here are 100% mine.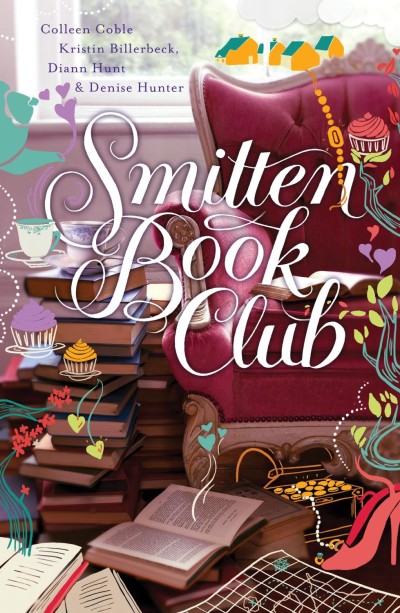 You might remember my previous review about the Smitten series; it's clear that I'm smitten with Smitten.  When Smitten Book Club was offered as a book to review, I think I fairly squealed with glee.  Returning to this quaint, romantic little town was like watching a favorite movie again.  The 4 novellas fit together since the main characters are all friends in this small Vermont town.   In this book, Smitten has its own share of heartache when one of their firefighters is killed in action.  The town comes together to help the widow and child that were left behind.  The book club meetings offer a chance for a small group of friends to meet on a weekly basis to come up with ways to help the family and tend to some drama of their own. It's not necessary to read the previous Smitten books, although you will be missing out on the sweet stories they offer.  It seemed like this Smitten collection was written just for me.  Many of my interests were found in the stories, such as organic gardening and a healthy love for all things Jane Austen.  It was cold and snowing outside as I read, so I just snuggled down and enjoyed the sweet town of Smitten.  When the girls in the book club come across an old book that offers advice to snag a guy, they take off on a treasure hunt. Literally.  I loved the little snippets of advice from The Gentlewoman's Guide to Love and Courtship; they might seem dated but there was a lot of truth to Pearl Chambers' words!
If you like drawn-out romance, these stories probably won't satisfy you.  Since the novellas are short and sweet, everything gets wrapped up pretty quickly.  That's kind of disconcerting because it feels like there is unfinished business to attend. However, the characters tend to be old friends who just seem to catch up without missing a beat.  That sort of makes it all okay.  In a too-good-to-be-true kind of way, Smitten Book Club is a great feel-good book that is a perfect read for Valentine's Day. Download it to your Kindle app and enjoy it today!
The Smitten gals are back with their newest release, Smitten Book Club! Colleen Coble, Kristin Billerbeck, and Denise Hunter are celebrating with a Kindle Fire giveaway, a Facebook party on February 20, and a nationwide book-club brunch on March 22.
One winner will receive:
A Kindle Fire HDX
The Smitten books (Smitten, Secretly Smitten, Smitten Book Club)
Enter today by clicking one of the icons below. But hurry, the giveaway ends on February 20th. Winner will be announced at the Smitten Book Club Facebook Author Chat Party on February 20th. Connect with Colleen Coble, Denise Hunter, and Kristin Billerbeck for an evening of book chat, trivia, laughter, and more! The Smitten gals will also be taking questions from the audience, giving away books and gift certificates, and sharing news about their upcoming nationwide Smitten Book Club brunch on March 22nd. (Sign up to host today!)


So grab your copy of Smitten Book Club and join Colleen, Denise, Kristin, and friends on the evening of February 20th for a chance to connect and make some new friends. (If you haven't read the book, don't let that stop you from coming!)
Don't miss a moment of the fun; RSVP today. Tell your friends via FACEBOOK or TWITTER and increase your chances of winning. Hope to see you on the 20th!
Sign up to host a Smitten Book Club Brunch on March 22nd!