Disclosure: I was compensated for this post. Opinions shared are mine.

My children don't usually realize how blessed they are.  Sometimes I wonder if I've allowed them to grow up too soft, ill prepared for hardships they might face in the world.  We're not wealthy or living in the lap of luxury, but we definitely have a comfortable, content life. My husband and I have tried to demonstrate a life of service and faith, but sometimes I wonder….is it enough? Can we make a difference, not just in the lives of our own children, but for the whole of God's kingdom?  In the movie Same Kind of Different As Me (releases Oct. 20),  an unforgettable true story of forgiveness, love, and friendship celebrates what happens when faith becomes action.  The tremendous talent for this movie includes names like Greg Kinnear, Renée Zellweger, Djimon Hounsou, and Jon Voight.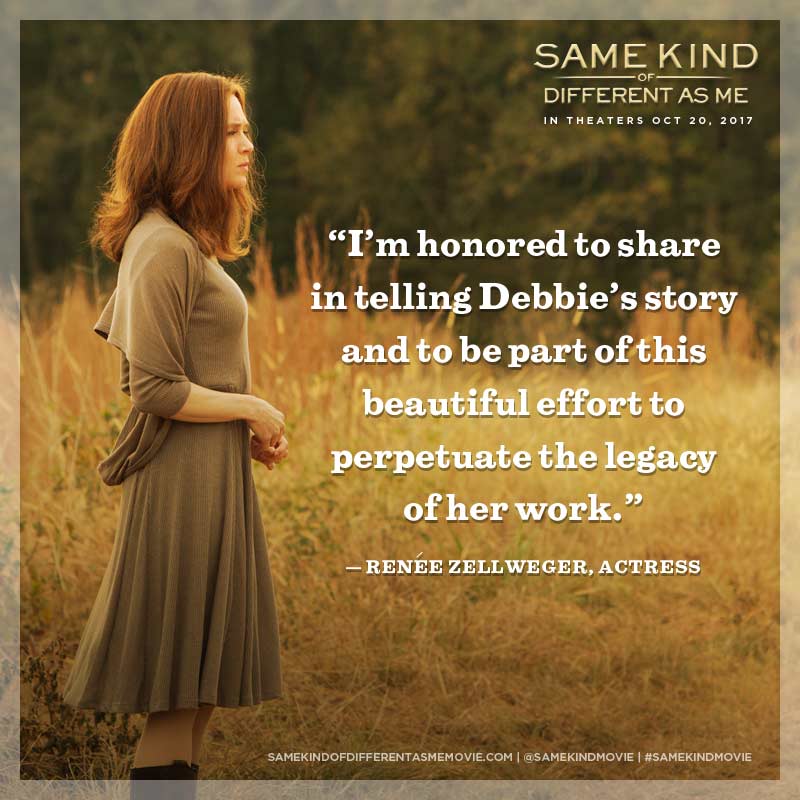 Renee Zellweger is my favorite actress; her ability to perform in diverse roles sets her apart.  Before watching the exclusive preview for Same Kind of Different As Me, I didn't look at the cast names and didn't realize she was in the movie.  As I watched the scene at the rescue mission, I wondered who she was.  Imagine my surprise to see her portraying Debbie Hall!  This is definitely going on my must-buy list.  Also, I want that dress she is wearing in the photo above (in about 15 sizes bigger). Super cute.  I hope you'll check out the trailer below.

This story carries such a strong message of hope and compassion.  It reminds me of the verse from Esther, chapter 4 verse 14…" And who knows but that you have come to your royal position for such a time as this?"  We may not feel like royalty, but our blessings sure seem like that to others in this world.  Who knows, but that we might have been given these blessings so that we may share them?  Same Kind of Different As Me convicts me to carry on with that mission at home and in the world.
One US reader will win a pair of Fandango gift codes! Enter on the giveaway form below; ages 18+. Void where prohibited by law. Only US-based giveaway winners are eligible due to Fandango limitations in Canada and outside the US.
Many thanks to LEV3L for making this post possible.