Disclosure: I received this book free from the publisher. Post contains affiliate links; if you make a purchase, I may earn commission. Opinions shared are mine.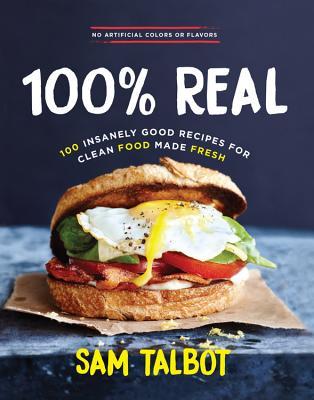 With the start of the new year, many people strive to eat better.  It's a struggle, though, once we head back to work after the holidays.  Life catches up and, with that, healthy eating takes a downward spiral.  I liked the 100% Real cookbook by Sam Talbot because it makes clean eating seem attainable.
Now, don't go into this cookbook thinking you'll just get to use up your little Jiffy cornmeal mix by adding a couple of organic eggs and some stevia.  Nope, Sam Talbot is ruthless when he says REAL.  He means business.  He encourages you to go through the pantry and throw out that peanut butter and sugar.  He makes note of possible allergens in things like dried fruit, and gives good reasons for eliminating certain items from one's diet.   Now, at our house, we're equal opportunity.  Whole foods commune happily with the processed foods.  So, I didn't go whole hog (ha!) and throw stuff out.  Since Talbot's recipes sometimes call for items I've never purchased — such as chickpea flour and yuzu juice — I wished for some substitution guidelines, preferably with familiar pantry items.  That would probably defeat the whole Clean Eating thing, though.  The photos in this cookbook are phenomenal.  You'll want to peruse the pages and enjoy eating with your eyes!
This year, I'm hoping to have a bit more time to work in my garden.  Fresh-from-the-garden vegetables just can't be beat.  My favorite meals usually kick in around the first zucchini harvest.  I love that many of these recipes include items that will be growing this spring and summer.  It makes me happy to pull items like chard or pea shoots, toss them into a delicious dish, and savor that sunny goodness.   If you're looking for new ways to incorporate your garden's delights into amazing meals, check out 100% Real.
Thanks to the sponsor, I was allowed to share one of the recipes with you.  I selected the Souffle Omelet which looks and sounds divine!
Soufflé Omelet With Swiss Chard And Mixed Herbs
Hands-on: 20 minutes Total: 30 minutes  Serves 4
This good-looking spin on a frittata makes for a quick company-worthy brunch dish or a super simple dinner. Substitute kale or spinach for  the chard.
8 ounces Swiss chard
2 tablespoons extra-virgin olive oil
2 tablespoons finely chopped shallots
1 cup sliced cremini mushrooms
¾ teaspoon sea salt
½ teaspoon black pepper
5 large eggs, separated
¼ ounce Parmigiano-Reggiano cheese, finely grated with a Microplane grater (about ¼ cup)
2 tablespoons torn fresh basil
2 tablespoons torn fresh flat-leaf parsley
2 tablespoons torn fresh chives
1 Preheat the oven to 425°F. Remove the stems from the Swiss chard, and reserve for another use. Chop the Swiss chard leaves, and set aside.
2 Heat 1 tablespoon of the olive oil in a large ovenproof nonstick skillet over medium. Add the shallots, and cook, stirring often, until translucent, about 3 minutes. Add the mushrooms, and increase the heat to medium-high. Cook the mushrooms until they release their liquid and brown lightly, about 7 minutes. Add the Swiss chard leaves, 1/2 teaspoon of the salt, and 1/4 teaspoon of the pepper; cook until the leaves are wilted, about 1 minute. Remove from the heat; transfer the mixture to a bowl, and wipe the skillet clean with paper towels.
3 Beat the egg whites with an electric mixer at high speed until stiff peaks form, 3 to 4 minutes. Whisk together the egg yolks and remaining 1/4 teaspoon each salt and pepper in a separate bowl. Using a spatula, carefully fold the egg whites into the yolks just until combined.
4 Heat the remaining 1 tablespoon oil in the skillet over medium. Spread the egg mixture evenly in the skillet. Cook until a crust begins to form, about 30 seconds. Sprinkle with the vegetable mixture and cheese.
5 Bake at 425°F until the omelet has risen and looks puffy, about
3 minutes. Using a spatula, carefully transfer the omelet to a cutting board. Sprinkle with the basil, parsley, and chives, and cut into 8 wedges. Serve immediately.
Excerpted from 100% Real by Sam Talbot. Copyright © 2017 Oxmoor House. Reprinted with permission from Time Inc. Books, a division of Time Inc. New York, NY. All rights reserved.
What recipes would you like to see in 100% Real? 
Thanks to Time Inc. for providing me with a copy of this book.