Disclosure: I received these to review. Opinions shared are mine. Post contains affiliate links; opinions shared are mine.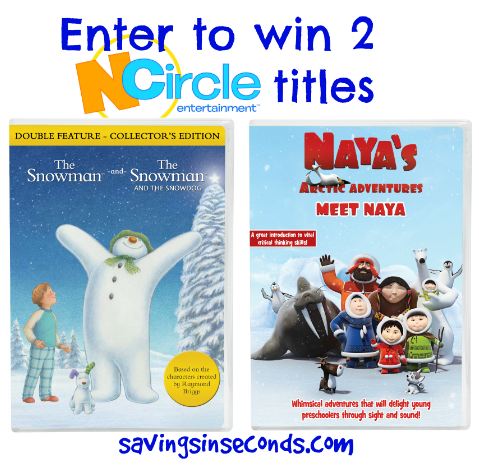 My children love books, but on snow days it's just necessary to have a few good DVDs on hand.  Leave it to NCircle Entertainment to offer books-turned-movies that are just right for the season!  In this giveaway, one lucky reader will win 2 DVDs:  The Snowman (with a double feature—The Snowdog!) and Meet Naya.  
The Snowman book has that wondrous glowing-snow effect, with wordless pages that tell the story through the artwork.  Likewise, the movie is a gentle, calming video with enchanting music. It's a dreamy story that will be watched well beyond the holiday season.  On a snow day, it's a lovely idea to come in from snowy play and enjoy this video while cuddled up under snuggly blankets.  This special DVD from NCircle Entertainment also includes the adorable sequel, The Snowman and the Snowdog.  Just extend that snuggle time a little longer, and add this holiday time to your video library!
Meet Naya: Naya's Arctic Adventure offers children a unique look into life in the Arctic.  That's a unique learning experience for my children, and not a setting that we've seen in other animated stories.  Meet Naya is a wordless cartoon, so it's a good opportunity for children to practice reading inferences in situations.  Character expressions and actions take the forefront, which is a welcome change from the mindless banter I've seen in other cartoons.  This story is perfect for winter watching!
GIVEAWAY HAS ENDED
Enter to win this giveaway on the form below.  The contest is open to US readers, ages 18+. Void where prohibited by law.  Good luck!