This is a Fashionista Event Opportunity, and is hosted by Still Blonde after all these YEARS and Modly Chic.  The opinions shared here are 100% mine.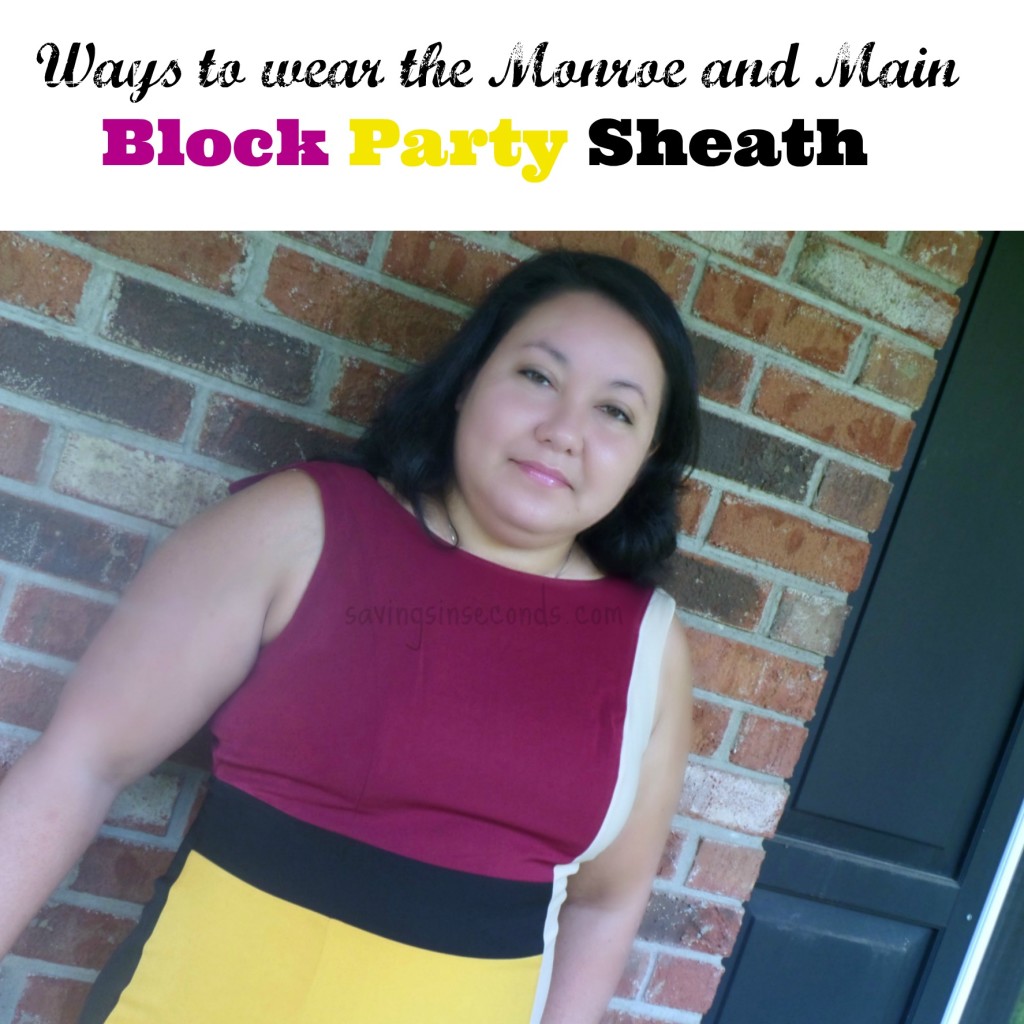 Fall colors are rich, mood-revitalizing, and bold.  Color is always in style!  Monroe and Main has the latest pops of saturated shades to make Fall 2014 your personal fashion statement.  By adding in some fabulous pieces, you can bring in autumn in an awesome way.
I'm grateful to have a great job.  Being a teacher is rewarding and mentally stimulating.  It also enables me to provide for my family.  It's so important to me that my wardrobe represents a professional standard while still being comfortable.  After all, I'm on my feet for 8 hours each day, bending down to work with children or taking them out to walk on the track.  My clothes have to be versatile and modest, able to move with me throughout any school activity without showing parts that kids shouldn't be seeing on their teacher.   Monroe and Main offers stylish clothing that I can wear to work, church, or on date night!   Watch how I take the Block Party Sheath dress from September's cool mornings to fall's cold temperatures.  Fall's flying colors are big and bold in this dress!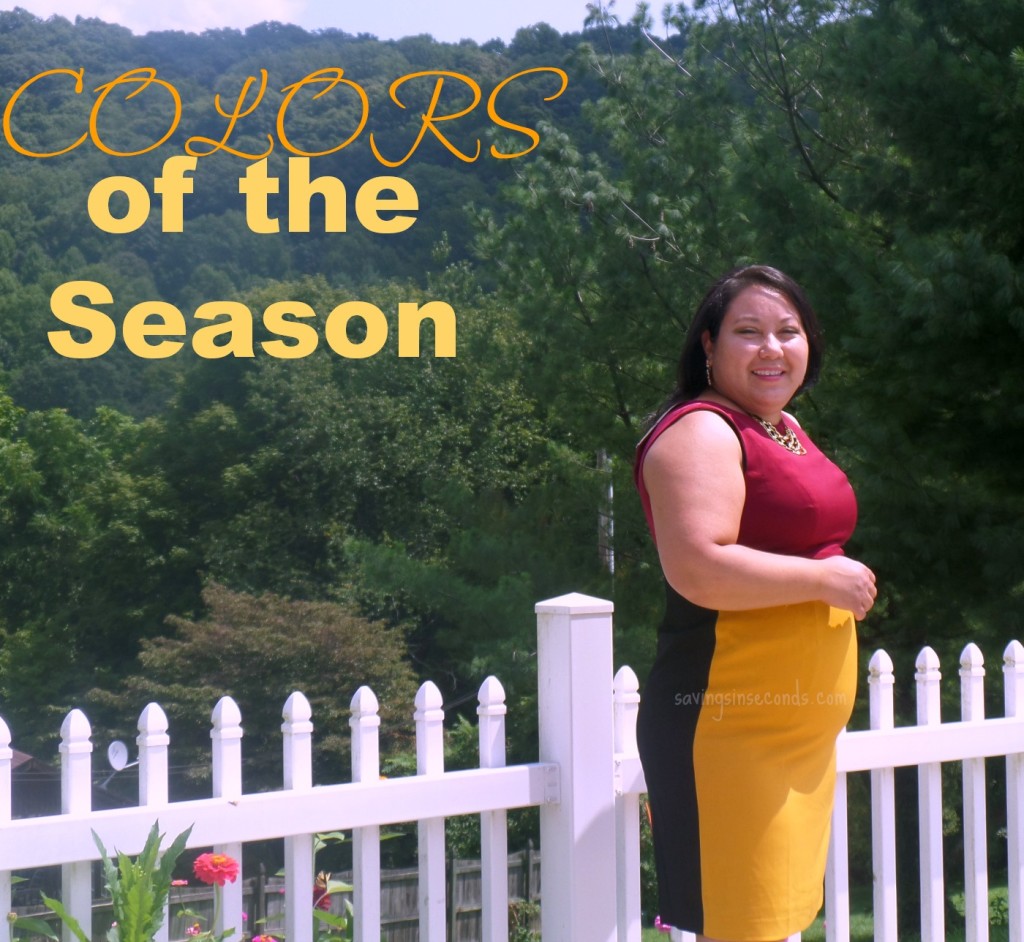 This dress has a smart form that slenderizes in a sneaky way.  Notice the thin black band that cuts just above the waistline but doesn't extend fully to the other side.  The left side of the dress has a cream panel that runs the length of the dress.  This creates the illusion of a smaller width.  You can see the cream panel if you notice where my hand rests on my hip (image below).  My dress is from the Misses section and falls right at the knee. It's also available in Plus sizes up to size 24. I'm petite (5′ 2″) so it would fall higher on a taller person.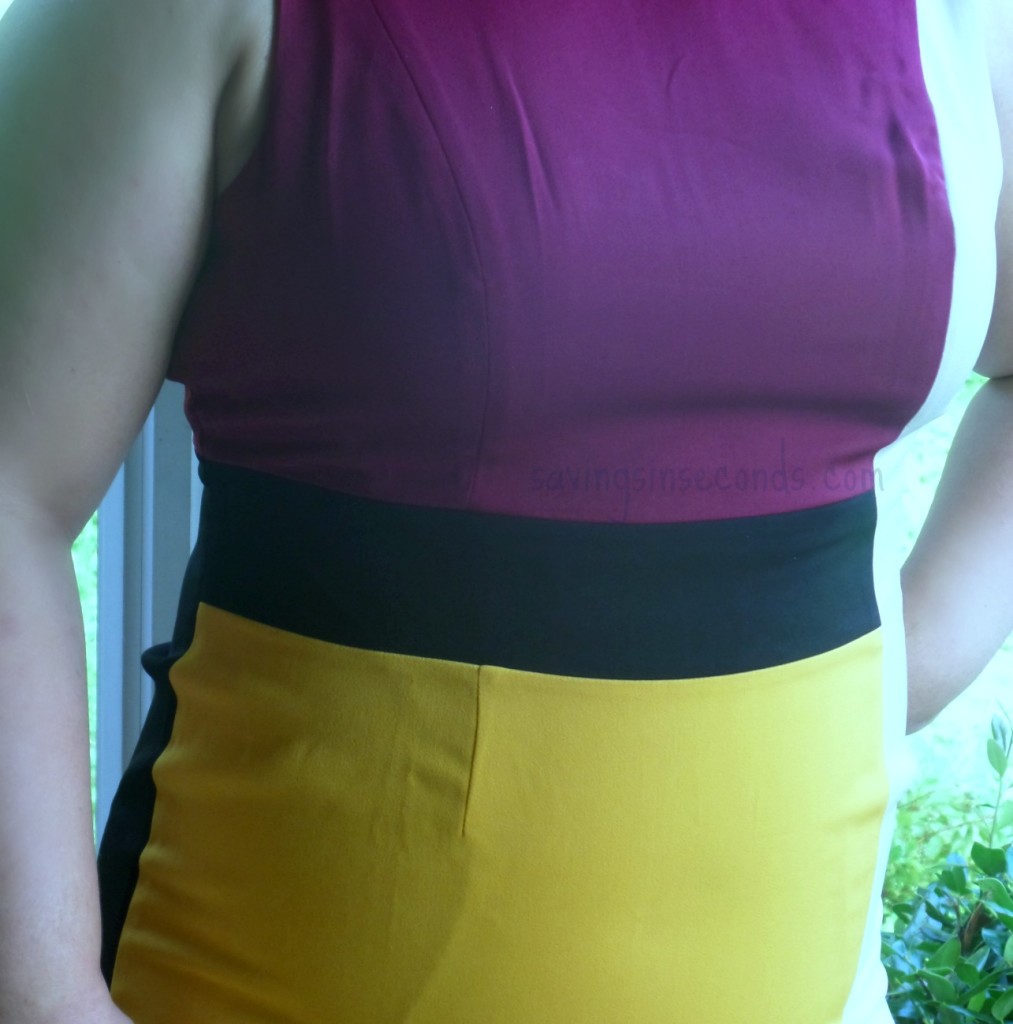 The crafstmanship of this Monroe and Main dress is top-notch.  It is fully lined in a beautiful coordinating gold and has the feel of a much more pricey garment.  The fabric is heavy enough to wear through the winter; the sleeveless bodice makes it suitable for early fall as well.  I love the deep colors!  The Block Party Sheath is at a great price for such amazing quality.  For this simplistic look, I wore the dress with a thin white gold strand necklace and small diamond studs to keep the look light.  For my shoes, the black heels tease of summer weather while still having a closed-toe finish for the office.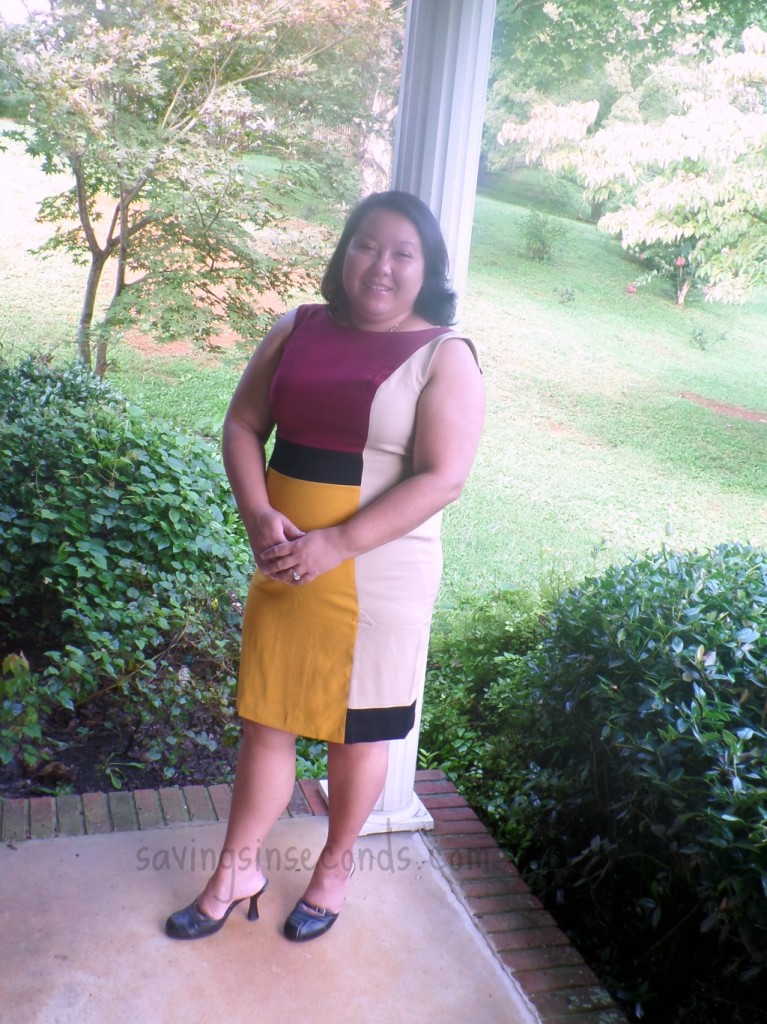 When the weather turns cold, add a sweater or light jacket.  The dress can work with a blazer or even a simple cardigan.  I wore a jersey cardigan and suede boots to show you this winter look.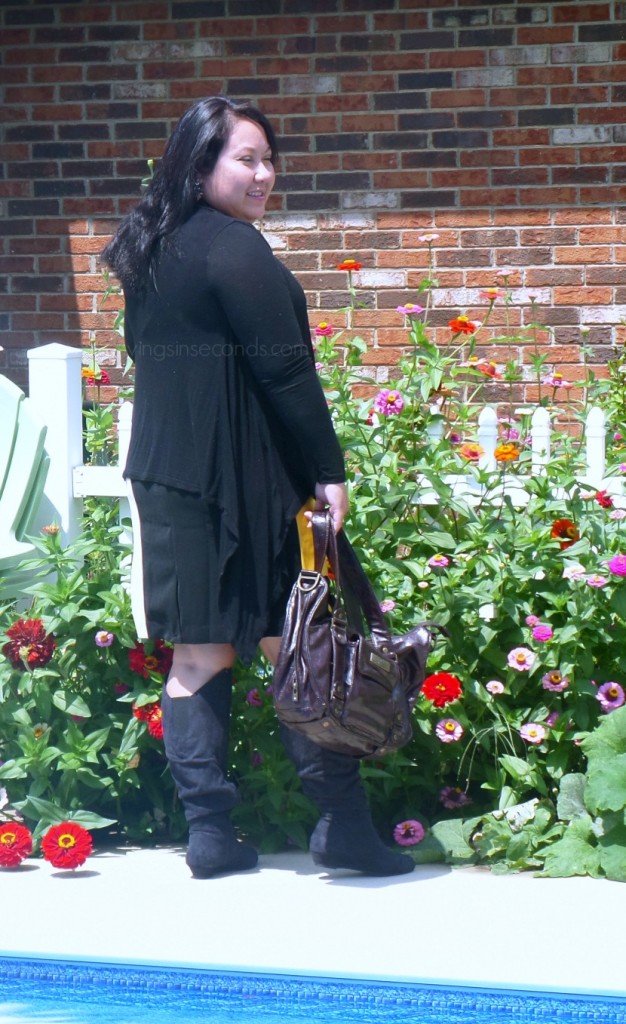 My brown vegan leather bag pulls out the earth tones and can go from work to the playground.  It's so easy to layer with this dress!  To bring a bit of warmth to the outfit, I accessorized with a black-and-gold chain necklace.  I twisted a handmade beaded necklace (purchased at the Farmer's Market) three times around my wrist to create a bracelet.  My dangling earrings are glitzy gold and rhinestone flowers from Wantable.  These gold accents pull out the gold in the dress while complementing the dark raspberry top.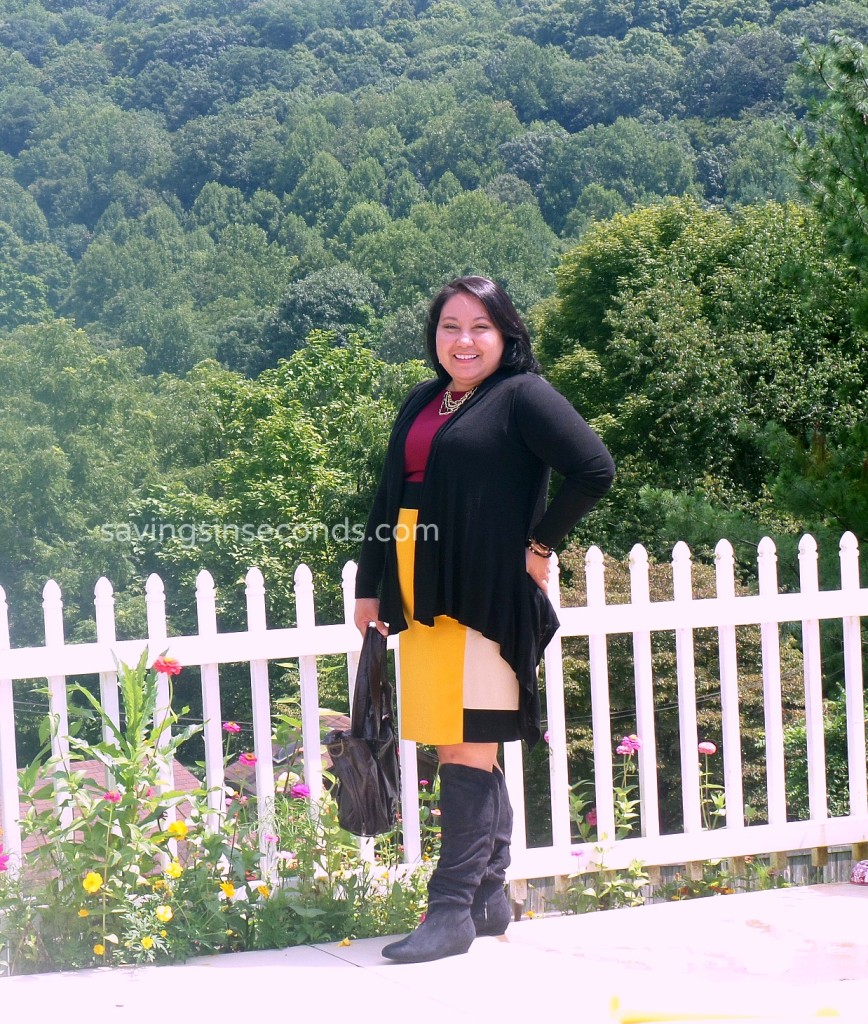 This dress can be changed up each time you wear it.  You could wear the Block Party sheath dress with black tights and pumps as pictured on the Monroe and Main site.  Try it with a pair of cream booties or maybe even suede wedges.  A black blazer would take this into a board meeting without blinking an eye!   Be sure to check out the other beautiful Colors of the Season on Monroe and Main's pinterest page.  I'm dreaming of them all!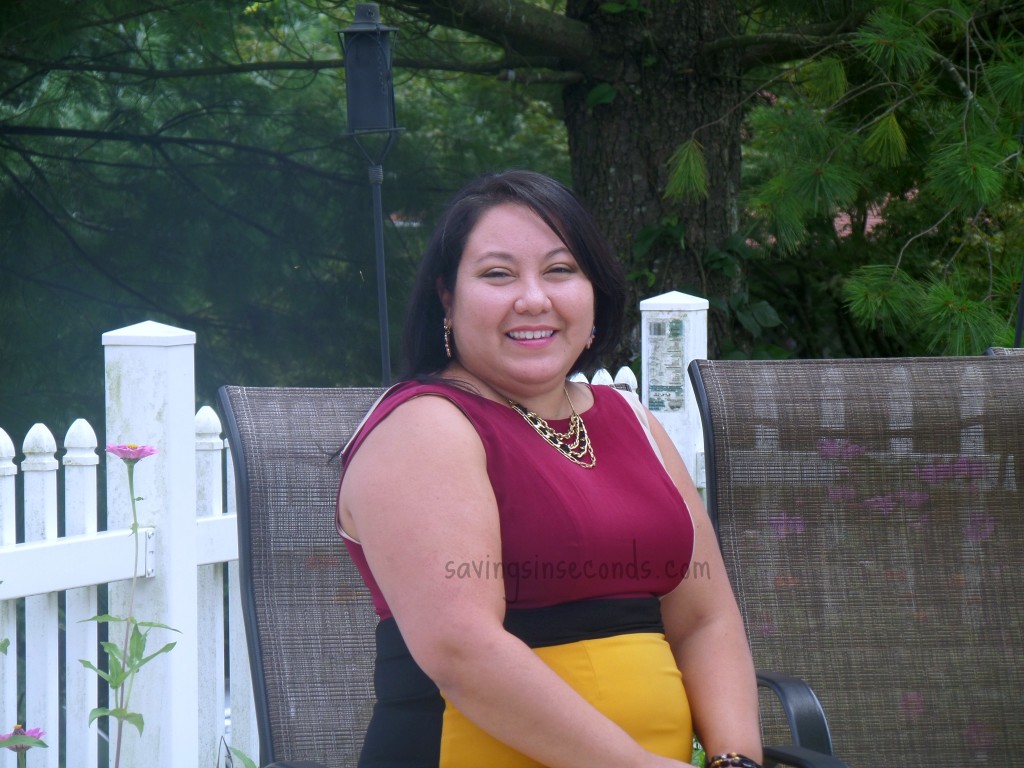 What do you think of this gorgeous eggplant purple tote from Monroe and Main?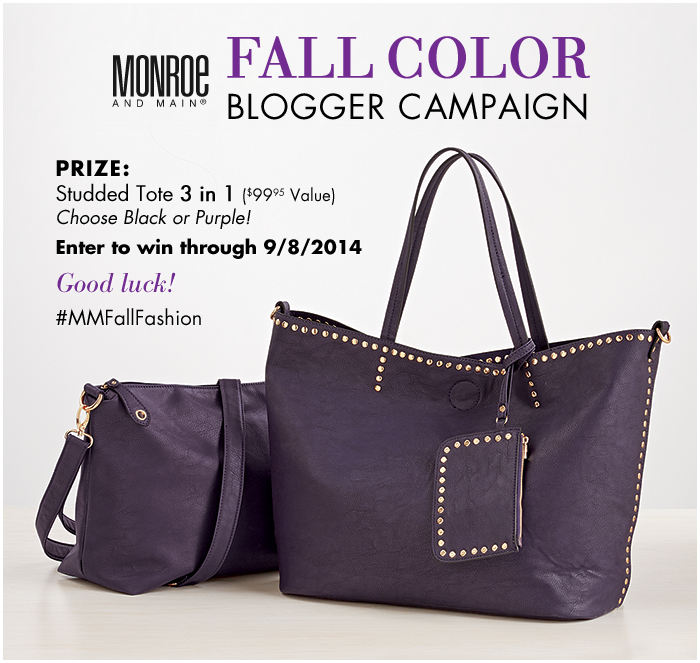 One lucky Savings in Seconds reader will win one!  The giveaway is open to US readers ages 18+. Void where prohibited by law.  The giveaway begins on August 25, 2014 and ends on September 8, 2014 at 11:59 PM EST.  Enter on the Rafflecopter form below; I've added some daily entries to the Rafflecopter so be sure to bookmark this page; come back daily for extra chances to win!!!   GOOD LUCK!!!