Disclosure: Family Christian provided this review/giveaway. The post and giveaway form contain affiliate links. Opinions shared are mine.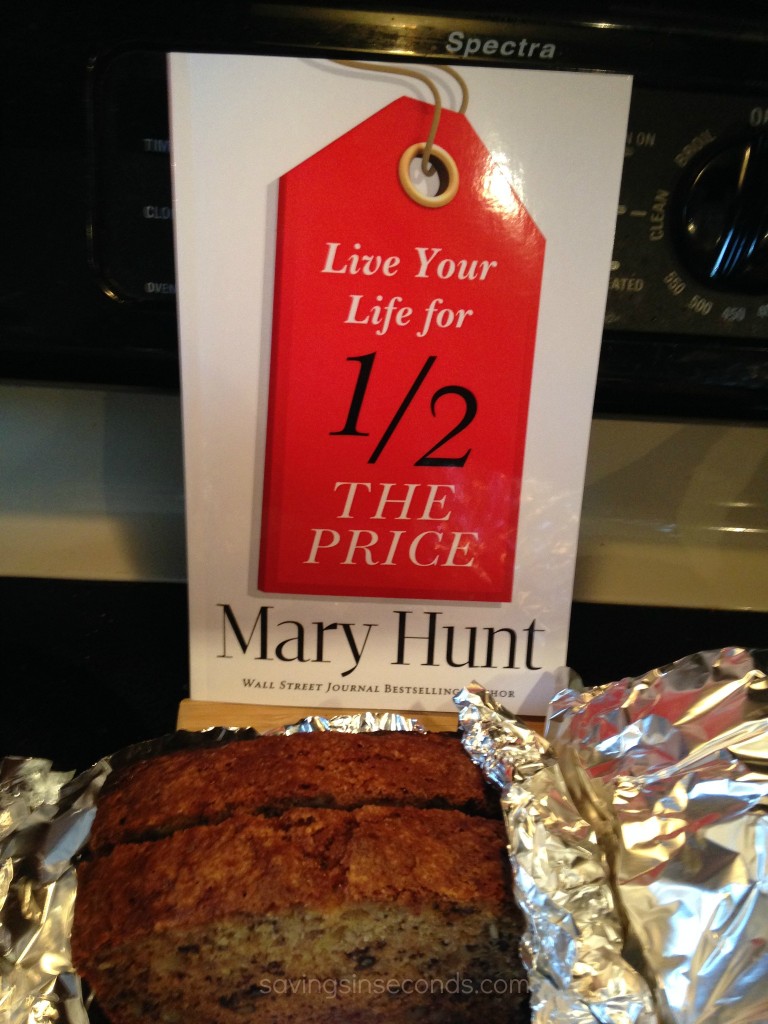 See this banana bread?  It's all because of Mary Hunt. 
Well, kind of.  I'll explain more about the banana bread in a moment.   In the meantime, I read this amazing book called Live Your Life for 1/2 the Price by Mary Hunt. In this book, Hunt describes the shift in mentality that needs to happen for a person to live beneath his/her means. She strongly spoke to me about that bad habit I have of spending WAY over my budget at the grocery store.  Even with a list and a handful of coupons, I have a tendency to overspend.  Mary's math made things much easier for me to stick to my guns this week. Those of you who are already frugal by nature might be rolling your eyes, thinking that you've always done this.  Although I'd venture to say there's still something of worth in this book for you, Live Your Life for 1/2 the Price is intended to reach those who live paycheck to paycheck, not drowning in debt but not swimming in money either. Those who want to feel more secure in case of an emergency, who want to give more, and who want to spend less — that's the perfect audience for Mary's book. It would also be a wonderful guide for young adults, newlyweds, or a couple starting a family. Do you fall in any of those categories?
Life Your Life for Half the Price serves as an excellent "how-to" guide for those who want to start saving more.  Even if you just pick up one best practice from her book, it's worth it!  I liked Mary's perspective on real-life situations.  She's not a die-hard frugal person. She's reasonable about the idea that you might need to pick up a bucket of chicken on the way home; otherwise, your kids might have to eat the family pets.  Mary just gives some ideas to keep it cost-effective.
So, you see, last week, we had "The Big Snow".  I went on TWO shopping trips to stock the cabinets, fridge, and freezer (once before The Big Snow and once afterwards).  That's what people do before a storm, right? Since it wasn't possible to get out to the store while we were snowed in, I was grateful to have that stocked pantry, but to be honest, I still had plenty left for this week.  Then "The Second Big Snow" hit this week!  So now we've been holed up in the house for nearly 2 straight weeks due to snow. However, instead of buying more food and a bunch of pre-packaged snack foods, I used up some of the stragglers we had from last week. I had enough left in the fridge to make soup, zucchini muffins, and the banana bread you saw in the photo above. It was a great snow day activity, we were full of yummy food, and my kids ate zucchini.    Thanks, Mary Hunt, for reminding me that my family gets to decide how we spend our money, and not to let our money spend us!

It's nice to have a little bit in reserve, isn't it?  One lucky reader will win a $25 Family Christian appreciation certificate. You could pre-buy this book, and still have some left to buy gifts for the kids, or perhaps a pretty new scarf for yourself.  Mary Hunt would be proud of you for stocking that gift closet!  The giveaway is open to US readers ages 18+. Void where prohibited by law.  Good luck!