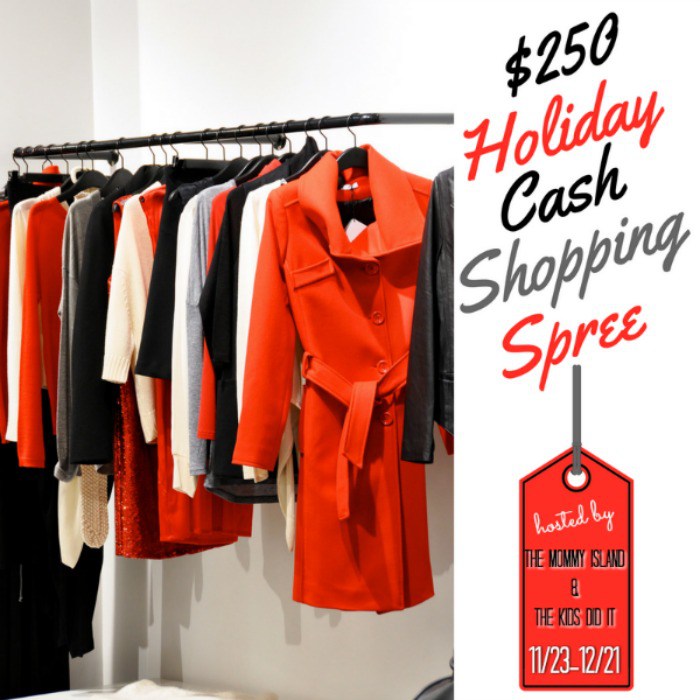 Are you getting set up for a Happy Thanksgiving? Putting a feast on the table seems to get more expensive every year. I'm sure you could use a little extra holiday cash! You're in luck. We're bringing you a Shopping Spree Cash giveaway where you have the option of choosing between $250 PayPal Cash OR an Amazon E-Gift Card! Entering on my link is simple – just leave a comment on any post where you haven't already commented. This event was organized by The Kids Did It & The Mommy Island and sponsored by the awesome bloggers, authors, and Etsy shop owners listed below!
What if you were handed (or emailed…) $250 holiday cash to use as you wish? I know I could put it to good use! Two years ago, I won a $500 gift card thanks to an online survey I completed. It helped to pay for our vacation that year. Now that my kiddos are older, the "toys" are getting more expensive. An extra $250 would go a long way to finish up my Christmas shopping. To bring you a little bit of the holiday cheer, I decided to participate in this multi-blog event.
Give some love to the Holiday Shopping Spree Sponsors and follow them on social media:
The Kids Did It
The Mommy Island
Zombie Parenting
Christy's Cozy Corners
Luv Saving Money
Savings in Seconds
Rockin' Book Reviews
Dorky's Deals
Imperfect Women
Krazy Kat Freebies
Miki's Hope
Book Room Reviews
Families That Stick
Laughing Vixen Lounge
FROG Reviews and Ramblings
This Mamas Life
Literary Winner
Mom 'N Daughter Savings
Kindle and Me
Simply Shonna's BHDD
Mom Does Reviews
Mommy & Love
The Parenting Patch
Giveaway Lovers
PaulaMS' Giveaways, Reviews, & Freebies
Lenore Harper
Home Jobs by MOM
Coupons and Freebies Mom
7 Pillars, LLC
FROG Reviews and Ramblings<
Vegetarian Mamma
Michigan Saving and More
Heartbeats~ Soul Stains
Coffee for Mom
Mean Mommy Magic
Still Blonde after all these YEARS
ONE entrant will be selected by the entry form to win $250 PayPal cash OR $250 Amazon e-gift card. Open for entry WW, 18 years and older from 11/23/16 thru 12/21/2016 at 11:59pm ET. No purchase necessary. Void where prohibited. Winner will have 24 hours to respond to notification email to claim their prize or a new winner will be selected. See Rafflecopter for official rules. The Kids Did It & The Mommy Island are responsible for sending winner their prize via PayPal or Amazon. Winner has the option of choosing between PayPal and an Amazon gift card. Please contact Amanda (joyskidsdidit@gmail.com) if you have questions or you'd like an event organized.