Disclosure: This post contains affiliate links. Opinions shared are mine.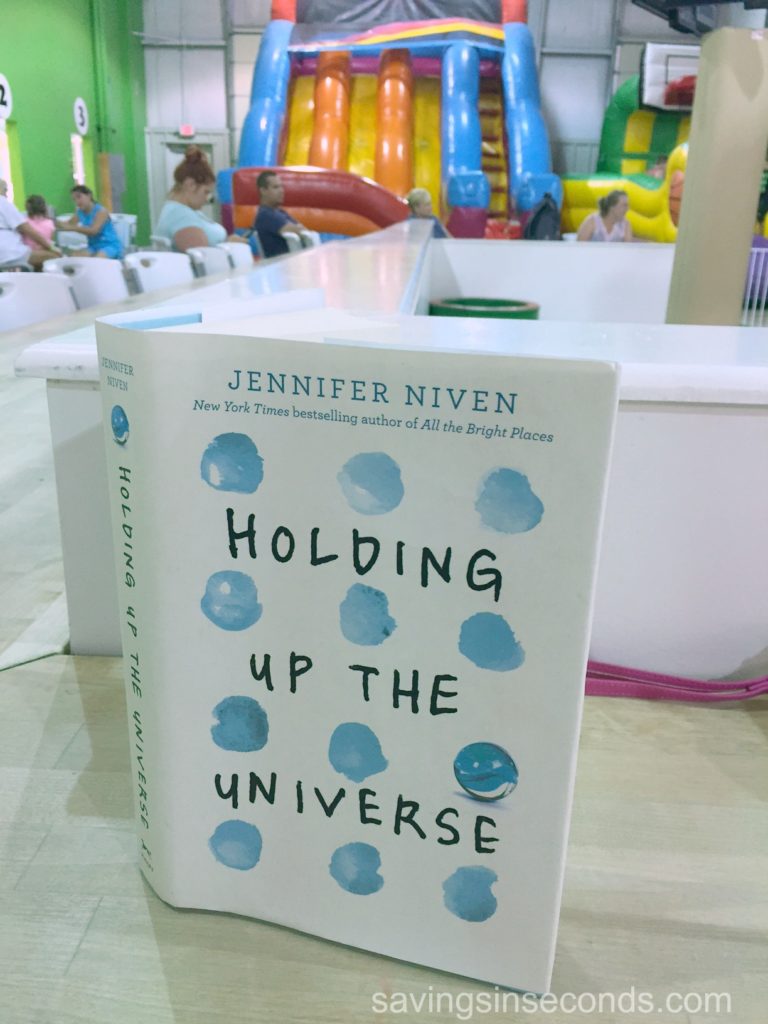 Thursday was rainy and dull around here.  So what's the best thing to do?  Get the kids moving!  I took my son and his friend to see the new Captain Underpants movie, then to a "jumpy house" full of inflatables.  While the kids bounced around, I enjoyed reading Holding Up the Universe by Jennifer Niven.
My daughter purchased this book a few months ago and encouraged me to read it. She absolutely loved the way that the characters interacted with each other.  It really made an impact on her.  She's entering 8th grade this year, and it seems like high school is staring her in the face.  Holding Up The Universe brought back those high school memories for me.  The desire to fit in, the necessity of a good friend group, the insecurity of dealing with personal faults…it's a lot to confront, and I appreciate that books help her to experience some of that before it comes to reality.
Surprisingly, I found that I related strongly to Jack.  He held some devastating information about his father, and it ate away at his heart.  My mom and I went through a similar situation when I was a junior in high school, and it still causes a bit of a rift to this day.  It was earth-shattering to realize that my mom was a person separate from her motherhood, and that her happiness didn't always include our family.  The experience shaped my own way of parenting in some ways.
Other than Libby, the other characters were so typical-high-school.  Libby was known for being morbidly obese, and you can't help but root for her as she struggles to make her way in the world.  Niven did a great job of creating realistic dialogue between Libby and the other characters in the story.  I especially liked the banter between Libby, DeNice, and Bailey.   This is the type of book I wish I'd had as a teenager.  Reading it as a parent, it makes me realize anew how much my kids probably keep from me.  It's so important to be in tune with what our children are going through, and I felt like Libby's dad did a great job of giving Libby space.
Holding Up the Universe reminded me of Eleanor and Park, or even the classic 80's movies like Pretty in Pink.  Check it out!
Have you read any good books lately?