Disclosure: Post contains affiliate links; opinions shared are mine. If you make a purchase through these links, I may earn a commission. Thank you!
Justice League giveaway bonus words

9/1 Parragon Books
9/2 Justice League
9/3 Magical
9/4 Story
9/5 embossed tin
9/6 Starro
9/7 villain
9/8 Superman
9/9 Batman
9/10 Flash
9/11 Green Lantern
9/12 classic
9/13 action
9/14 adventure
9/15 hero
Disclosure: Post contains affiliate links; opinions shared are mine. If you make a purchase through these links, it supports this blog without charging you any extra.  I use the commissions to pay for giveaways like this one. Thank you!
Halloween is always a fun time at the Savings in Seconds house. My daughter never chooses a store-bought costume. She picks random themes (candy corn princess, for example) and we have to assemble the outfit from scratch. My son prefers well-known characters, such as superheroes and cartoon characters.  Thankfully, I can usually find the Halloween costume he wants on Amazon.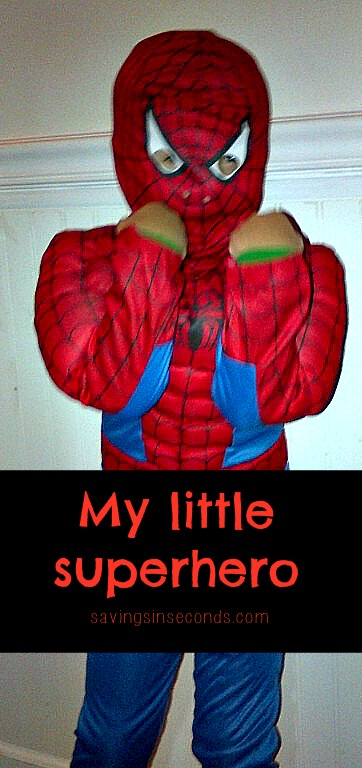 Looking for something in particular? To find a costume, head to Amazon and consider the best way to search for your item.  You can type in "Halloween costume" but you're likely to find a stronger match if you add more specific key words.  "Adult" or "kids" helps to narrow things down.  For teens and adults, you can add "cosplay" to your search, too.
Make sure you read the reviews and question/answer portion of the feedback section.  It's usually helpful to see what other customers thought about the product, especially if you need to meet certain measurement specifications.  In the reviews, you might also find suggestions for customizing the costume. For example, many customers who purchased this Star Wars Rey costume shared how they made simple changes to personalize their look.
Finally, explore the size options if the price is variable.  You might be able to size up slightly and save a bundle.  I usually order my son's costumes one size bigger.  He typically wears them for playing around the house, and since they're bigger, they last through several seasons instead of one night.  Having a slightly larger fit is helpful, too, if you live in a cold climate and need to dress your child in layers under the costume.
Take a look around Amazon's costume options to see if you can find one for your little goblins! While you're there, see what other Amazon deals you can find!  You earn an entry on the giveaway form just for shopping around.  The giveaway winner will receive a $25 Amazon gift code. Open to readers worldwide, ages 18+. Void where prohibited by law. Good luck!