Disclosure: I received a chance to watch an advanced screener for this movie. Opinions shared are mine.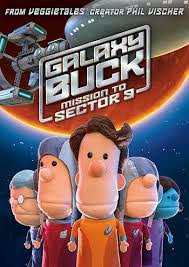 Dads, the Christian cartoon you've been waiting for has come to fruition. Galaxy Buck is a new title from Phil Vischer, the mastermind behind VeggieTales. The puppet characters will remind older viewers of the Muppets, with a respectful nod to Star Trek and Star Wars visual and musical themes. It's the kind of movie you'll love to watch on family night, explaining all the references to your kids!  In Mission to Sector 9, Buck Denver has a great message for kids. First, it teaches that God's plans are greater than ours. Additionally, kids will learn that it's necessary to depend on friends and elders for help. Finally, the movie shares the idea that a "big thing for God" doesn't have to launch us into space.  Ready to watch?  The show is available on JellyTelly.
Buck starts out with a lot of assumptions about the things he is supposed to do, where he is supposed to go, and how he is supposed to feel. Instead, being filled with the Spirit fills us with love and joy. Buck's dreams don't turn out the way he expects. How often is that true of life in general? Galaxy Buck: Mission to Sector 9 ran a little long for my taste, and was slow in some parts. For my own children, I would probably show this in 15-minute segments.
The biggest takeaway that I loved in this movie was The Rule of Love. Basically, it says that if God puts someone in your path who needs help…..help them! Although that sounds simple, I'm very guilty of turning away from those opportunities. Whether it's because I personally disapprove of someone's actions, or if I secretly feel that they deserve the results they got, it's not my decision to make. Helping someone else means helping God. That's the end of the story.
What do you think about this DVD?