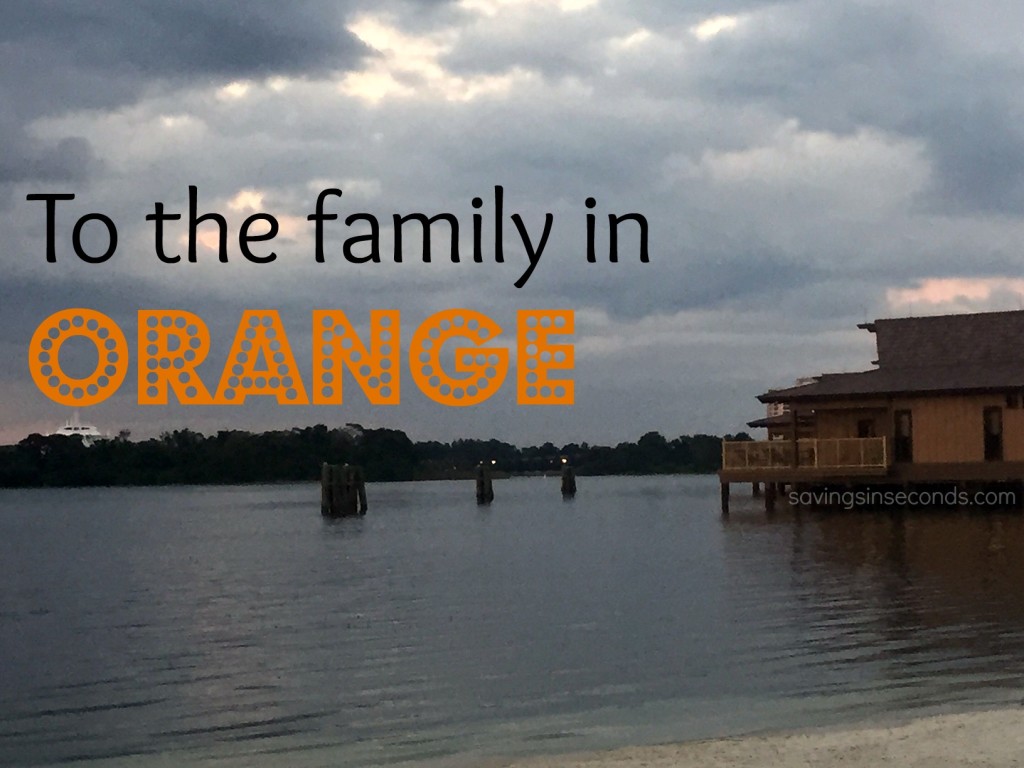 Dear Orange Mom,
Your family stood in front of mine at the Soarin' ride at Epcot last week. We had fastpasses to ride, but the line was still long. I admit that when Orange Dad and an Orange Kid got in front of us to join your Orange Family, I was a bit resentful. Why were they cutting line to join your party? When the Soarin' Cast Member asked for your fastpass, you flashed a special lanyard. He counted your Orange Family and waved you through. What was that pass, I wondered, and how can I get one of those magical things? I was a teensy bit jealous of your family, with your matchy-matchy Orange Shirts and magic fastpasses. That's how self-absorbed I was before you changed my world.
We followed your family through the winding line, ending up in the same loading area for the ride. When your family stopped in a different row, I finally saw the front of your Orange Shirts. That's when I noticed that Orange Dad was wearing a Make-a-Wish drawstring backpack. Also, your Orange Shirts declared your war against Alex's leukemia. My heart sank when I realized how shallow I'd been just moments before. The family in orange was a family fighting for their loved one's life. I said a silent prayer for your family, for Alex, and especially for you, Orange Mom.  The beauty of your family vacation was surely shadowed by the circumstances of the trip, while mine was so inconsequentially shadowed by who was first in line.  You changed my mindset immediately by wearing that Orange Shirt.
A few minutes later, my daughter quietly asked me why your son was wearing a mask. I explained that this was your family's trip as well, to celebrate Alex's wish and spend time together.  Her world, too, was changed. Like me, she had only been concerned with her enjoyment and pleasure on our trip. She had never considered that sometimes Disney World becomes the happiest place on earth for different reasons.  Her eyes filled with tears, and she asked me if we could donate to Make-A-Wish so that other children like Alex could see their wishes come true.   We did that upon our return to our humble home.  I want you to know that we didn't forget.
I looked away from you, Orange Mom, because I was afraid you'd see the shame in my eyes and mistake it for pity. I didn't want to mar even one second of your family's joy during that Soarin' experience.  Your Orange Shirt made me hug my kids a little tighter; it helped me to overlook the way my daughter chewed her gum, or my son made squealing noises in line.  Most of all, your Orange Shirt helped me to remember that some people – like the Family in Orange –  deserve a place in the front of the line because they fought for it.