Disclosure:  I purchased this box with my own moolah, and this post contains the affiliate links. If you purchase it through my links, THANK YOU — you're helping to make giveaways like this one possible!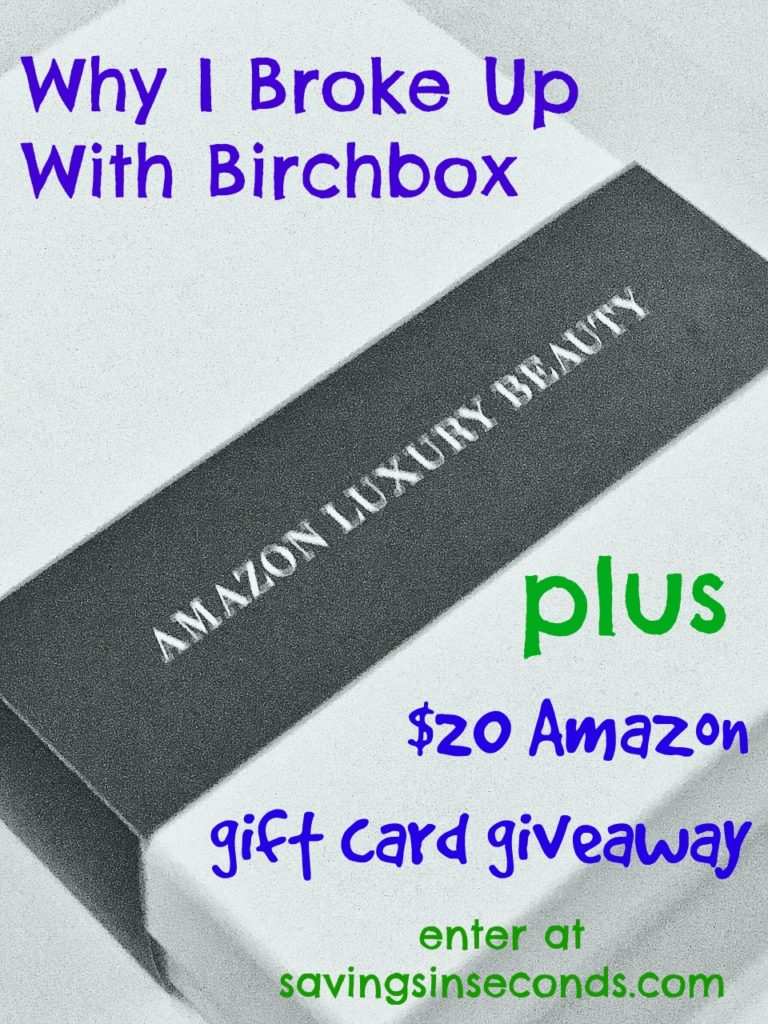 Sadly, I broke up with Birchbox this year after many years of getting the subscription box.  Lately, I just wasn't feeling the love with my box.  The joy of getting new cosmetics (especially mascara and eyeliner) was muted by all the self tanners and stinky shampoos that kept coming.  Did anyone even look at my profile?!  The final nail in the coffin was the change in points.  When I first subscribed, they had a policy that rewarded customers for reviewing samples.  It basically worked out to getting several dollars "off" the Birchbox or purchases.  In July of 2016, the policy changed, making it almost impossible to accrue those reward points.  Though I could still earn points from making purchases in the Birchbox store, it wasn't as cost-effective.  Once my subscription ran out, I opted not to renew. Never fear…I'm still receiving and reviewing Beauty Box 5 boxes.  I've also found a new favorite – Amazon sample boxes.
These are only available for Prime members, so if you haven't joined yet, you'll want to grab that membership first. Click here to try Amazon Prime with a free 30-Day trial.
  The great thing about these boxes?  Buy a full-size item that you sampled, and Amazon will give you back the box price as a credit.

Great deal, right?  The box I'm featuring today is the Luxury Women's Box.  This box costs $19.99 so I'll get to spend that amount in credit toward purchase.   I love that Amazon keeps up with this credit for me!  You can choose single samples or boxes of items.  There are K-cup boxes, snack boxes, and more.  I love having happy mail like this!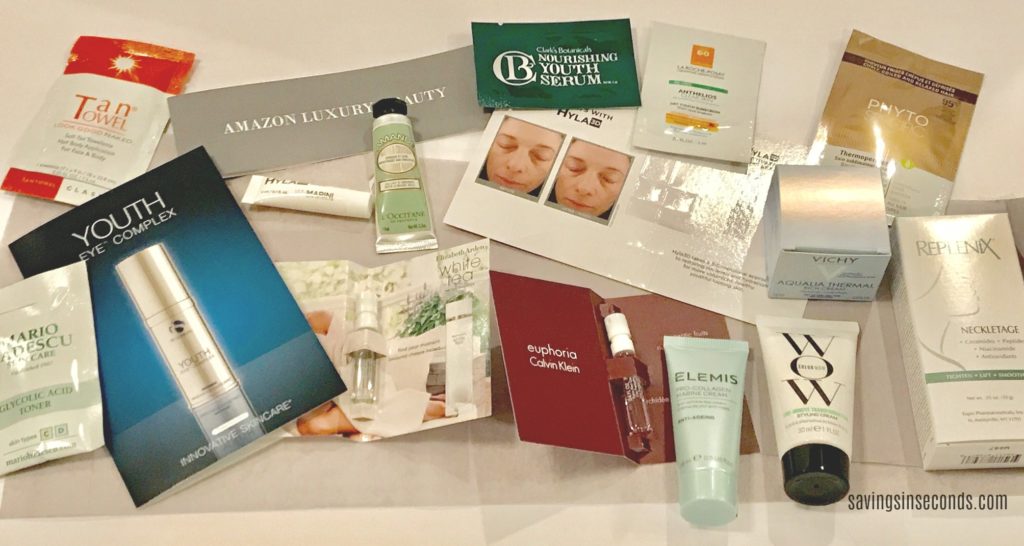 Amazon is more than  up-front with these boxes.  The photos and product listings give an accurate expectation of what a box may contain.  The box itself is lovely — it's a hard, two-piece box with a linen-like cover.  It can be used to hold pens, paper, and other odds and ends when the samples are long gone.  The box was packaged within a plain Amazon box, avoiding bumps and bruises that my other packages tend to suffer.
The samples were from better brands that, while I might not classify as "luxury," are definitely a step above drugstore brands.  Most of them are in foil packets or similar packaging, which makes it difficult to determine their actual effectiveness.  Still, I felt like I had a good assortment of samples and was able to experiment with scents, textures, and the like.
I used my credit to purchase 2 tubes of L'Occitane hand cream.  It was only valid on the scent from my box (almond) which was fine since I liked the delicate fragrance.  This is a brand I know and love, so these won't go to waste! They'd also make a wonderful teacher gift or stocking stuffer.  Using my credit, I paid just $4 and some change.  I opted for no-rush shipping to get an extra $1 toward a video.  Here's what my final screen looked like:

Amazon only allows one purchase per member, so I can't offer the winner a luxury box. However, I CAN give away a $20 Amazon gift card and if the winner chooses to use it on a beauty box, so be it!   The gift card will be sent to the winner via email and is open to worldwide Savings in Seconds readers (age 18+). Void where prohibited by law. Enter on the form below. Good luck!