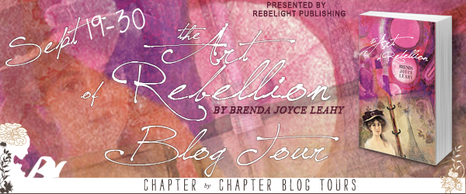 My trip to Paris is 41+ years in the making, so I really enjoyed visiting through the eyes of young Gabrielle.  Although I don't share the main character's passion for painting, I love to admire classical art and architecture.  There's so much about The Art of Rebellion to which modern readers will relate.  Leaving home is a monumental feat for some young adults, and challenging family expectations can seem insurmountable.  There's a delicious element of the mysterious hidden behind romance.
There's an initial reaction of empathy when reading the first chapter or two. No one wants to see a passionate young woman married off to a vile old aristocrat.  Author Brenda Joyce Leahy doesn't let rebellious Gabbi get off too easily, though.  Gabbi struggles through several sticky situations when she escapes to Paris.  Having street smarts wasn't required in her former uppercrust life, but they're essential for survival in her newfound freedom.
I highly recommend this novel for teens, adults, and everyone in between.
Hello Readers!  Welcome to our Tour Stop for The Art of Rebellion by Brenda Joyce Leahy presented by Rebelight Publishing! Follow the rest of the tour by clicking on the banner above, and be sure to enter the giveaway!
a Rafflecopter giveaway

BAM | Chapters | Indies | Amazon | B&N | Kobo | TBD | iBooks