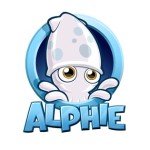 One more day of 2013 just might be the end of my patience.  We were blessed to get some wonderfully fun gifts from our family, such as a light saber and nunchucks.  You can just imagine the havoc that has wreaked in the Savings in Seconds house.  Once a quiet and stable home, now we've become accustomed to hearing Darth Vader's noisy breath and no longer flinch when the light saber hovers dangerously near our faces.  It's time for a peaceful app.  Thank you, thank you Crystal Entertainment, for offering the Alphie the Squid app for FREE.  The music alone is enough to soothe my frazzled nerves.
My 4 year old played this game just as easily as my 9 year old did.  He was definitely more engaged by its content, although my daughter breezily commented "That game looks cool" and started to play it as well.  So far they've shared several tips and Alphie moments.  My daughter loves the challenge of getting away from the predators in the game.   As you can see from the video below, it's fairly simple to navigate through the mazes posed, at least in the first few levels.  By the way, if you look carefully you can even see the light saber sitting on his lap!!  As expected, the first few levels are pretty simple.  My son was exuberant when he conquered the level and "Hey mom, I got out!" was the cheer.  He was rewarded by even more beautiful (peaceful) music and a little bit more of a challenge.  Be aware that in level 2 Alphie's mom gets chased off by a shark.  Some kids might jump to the conclusion that she became the prey.  My son denied that reality and I didn't press.  It didn't seem to bother him that Alphie was left alone to navigate the waters on his own.
The graphics in the game are stunningly beautiful.  I love that the colors are vivid yet muted; there's no neon or garish artwork on this app.  Little details like the current and a treasure chest just make the game more special.

I love that there is some simple yet educational reading involved with Alphie the Squid.  Right now, my son can't read the words but he recognizes the significance of it.  He asks me to read the captions when a screen pops up with one of the facts.  It gives us a chance to share the game together. Words like "symbiotic relationship" are important to developing academic vocabulary.  He also enjoys the familiar characters, such as the clownfish pictured above.  If your kids have watched Finding Nemo they're sure to appreciate those creatures from the movie.  And hey, Alphie can even ink!!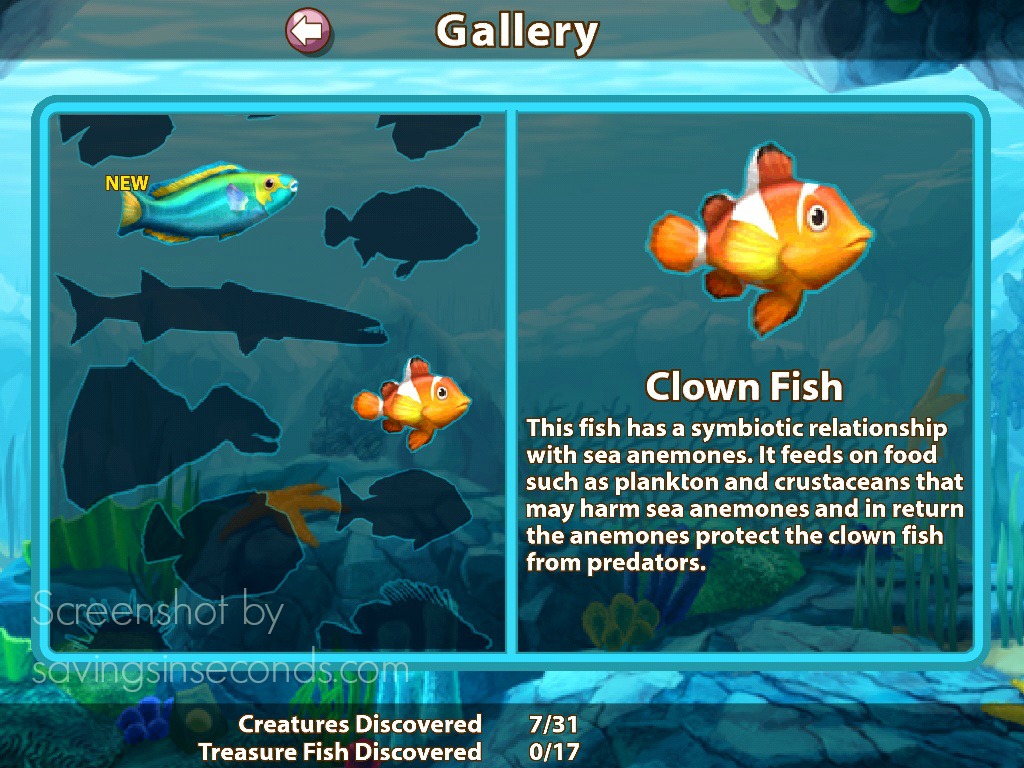 There are plenty of levels within Alphie the Squid.  We played through the first few and found that Alphie starts to interact more with the other sea creatures.  So far we haven't been prompted to purchase anything or go beyond the confines of the game.  That's my biggest concern about apps for kids — I really dislike that they're encouraged to engage on Facebook or watch video content to earn higher spots in the game.  Those places just aren't appropriate for young kids, and I'm glad that Alphie doesn't try to take them there.
One feature that would make Alphie the Squid even better would be an audio component. Perhaps a little speaker that pronounced the difficult vocabulary for kids would be helpful.  I'd also like to see a "hint" button so that younger children could progress in a more independent manner.  Or in our case, so the mommies would have a bit of a cheat sheet.  Overall, Alphie is a great option for parents who aren't keen on today's popular frenzied apps.  By providing a stimulating environment yet a calming presence, Alphie gets big stars in my book.