Disclosure (in accordance with the FTC's 16 CFR, Part 255: "Guides Concerning the Use of Endorsements and Testimonials in Advertising"): Many thanks to Propeller Consulting, LLC for providing this prize for the giveaway. Choice of winners and opinions are 100% my own and NOT influenced by monetary compensation. I received a sample of the product in exchange for this review and post.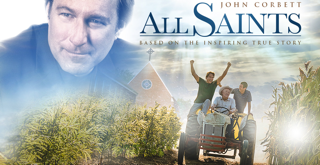 With so many heartbreaking stories showing up in media, we have to celebrate the happy stories.  All Saints is based on the true story of Michael Spurlock, a salesman whose faith led him on a life-changing mission.  John Corbett stars as Spurlock. Watch the trailer and see what the story is all about!
Several moments in the trailer caught my heart in my throat. In one scene, Spurlock's son asks him a convicting question: "Aren't you God's help?" In another pivotal moment, a pew full of Burmese refugees sit barefooted; the next shot shows their shoes lined up along the wall. That's just how an Asian family would act! That habit is still ingrained in my Asian-American brain. The behind-the-scenes clips provide even more insight into the background story. I enjoyed learning about the inspiration behind the movie, and how the movie's creation affected its cast members.
This movie comes at a truly conflicted time in our country's history. The idea of immigration is scrutinized on a highly public level, and everyone seems to have a strong opinion about it. After watching the trailer, I have to admit that my heart was moved. My mind cannot draw a line between my brothers and sisters in Christ, no matter the geographic or ethnic differences between us. We recently heard a message about refugees in church, and I was interested to see some of the same information on the All Saints website.  In a sense, all Christians are called to minister to refugees.   I can't wait to see how God uses the movie All Saints to call Christians to action!
Thanks to All Saints Movie and FlyBy for making this post possible.