This post contains affiliate links and I will be compensated if you make a purchase after clicking through my links. I received this book to review. Opinions shared are mine.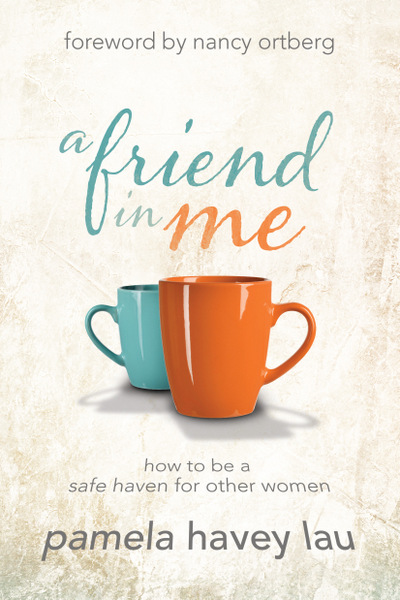 Recently, I read a book called A Friend in Me: How to Be a Safe Haven for Other Women
that made me consider the wonderful network of women who helped me grow up. I've been so fortunate to have strong, brave women in my support group. My grandmother, mom, aunts, and teachers were wise women. As a teaching intern, I learned from one of the best teachers in the school system. When I landed my first teaching position, I was teamed with a colleague who helped to guide me through those rough waters. She's still like a sister to me.  Not every woman has that opportunity to bond with other women, and it's a shame. In the book A Friend in Me, I felt a gentle tug to reach out to those women who might need some extra support. Specifically, the book aims to bridge a gap between generations. That made me think of my friends Kathy and Marsha; both are about 10 years older than me, and took me under their wings with advice about marriage and motherhood.  Without their wisdom, my tough times could have been rocks that caused a shipwreck.  Even acquaintances from church and social circles helped me get through icy patches.  After I became a new mother, one woman from my church chatted with me at a church luncheon.  She vaguely acknowledged how difficult it is to have a newborn, and reassured me that it was okay to need a break.  I broke into tears of relief.  Everyone had been so nostalgic and sweet about the first days as a mom.  I was afraid that I was a bad mom for feeling the stress rather than the joy!  A Friend in Me urged me to consider how I've repaid that debt.  Have I offered support and resources to the new teachers in my school building?  Have I given a smile of encouragement to those tired moms at the playground?  A Friend in Me is a great reminder of how important it is to reach out to others, especially women who are younger.
If you're trying to find a way to connect to other women, consider using a talent you're already comfortable with.  For example, you could use your  Cricut electronic cutting machine to create custom plastic bookmarks for a book club, or vinyl lettering for the church nursery.  When the other women admire your handiwork, you can offer to show them how to use it for their crafts.  Offer to host a simple coffee club at your home, and let the ladies come over for a morning to chat.  Take a moment to smile at the cashier when you're in that busy line at the store.  Every little bit helps!  A Friend in Me was the inspiration I needed to reach out to other women who need to be uplifted.