Disclosure: I will receive a gift pack like the one shown here.  Opinions shared are mine.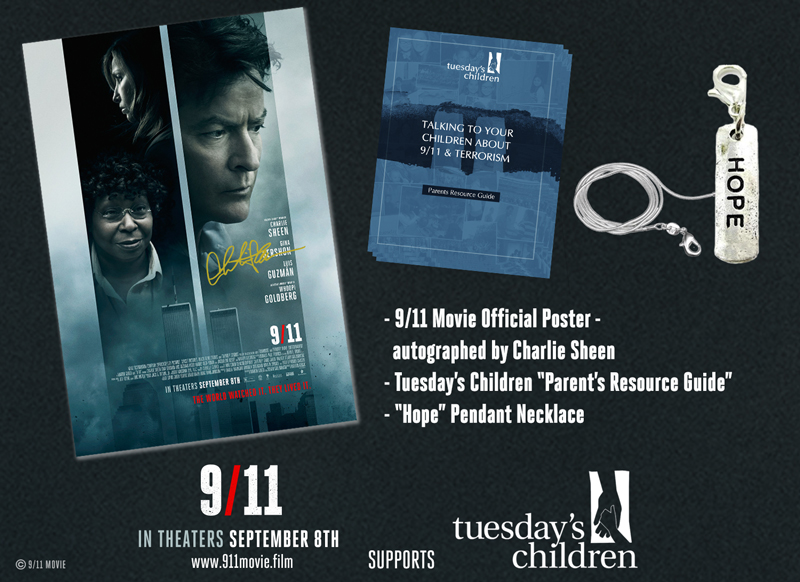 It's always fascinated me that people can so distinctly remember a snapshot of a shared public event.  For example, those who were living when JFK was assassinated can usually tell you specific details about where they were, what they were doing, and even what they wore as the news broke.  I remember seeing the explosion of the Challenger space shuttle when I was in school, and can see our little class sitting on the floor crowded around the big TV cart.  
Most of us have a 9/11 story, too.  I was teaching 6th grade math that year, and saw one of my students in the hallway when she returned from a dentist appointment.  She told me that the radio station reported a plane flying into the World Trade Center.  I thought it was surely a mistake, or perhaps a terrible tragedy resulting from engine failure, and switched on the news when I returned to my empty classroom.  The horror of the events taking place shocked me…as I sat in my safe, quiet classroom, I trembled with fear.
At lunch that day, the teachers' table was quiet.  None of us knew the full scope of the day's events, but we all knew it meant something had changed in our world.  It felt like a disturbance in the force, if you will. Not all of the stories were hopeless — there were reports of great heroism, selflessness, and sacrifice.   As a young new teacher, it affected my world view.  It impressed upon me the need to protect the children in my care, and restored my pride in the United States for standing up for its freedom.
The quest for supporting 9/11's victims and families continues.  The Tuesday's Children organization provides support for those most deeply impacted by the 9/11 events. Recently, Charlie Sheen and Whoopi Goldberg starred in a film titled 9/11; it's based on the original play, The Elevator.  Visit the official 911 movie website and visit the app for more information.

One lucky Savings in Seconds reader will win a #Remember911 Gift Pack. The giveaway is open to US readers ages 18+. Void where prohibited by law. Each household is only eligible to win via blog reviews and giveaways. Only one entrant per mailing address per giveaway. If you have won the same prize on another blog, you will not be eligible to win it again. Winner is subject to eligibility verification. Please read the additional terms of the giveaway on the widget below.
The Prize Pack Contains:
1 – 9/11 poster Hand Signed Autographed by star Charlie Sheen
1 – "Hope" Pendant with necklace
1 – Guide to Talking To Your Children About 9/11 thanks to Tuesday's Children
What's your 9/11 Story?
Watch the movie trailer:

About the Movie:
9/11 opens in theaters on September 8 and features an all star cast including Luis Guzman (The Taking of Pelham 1,2,3), Gina Gershon (Showgirls), Wood Harris (Justified), Jacqueline Bisset (Dancing on the Edge (BBC), Welcome to New York), Olga Fonda (The Vampire Diaries) and Bruce Davison (X-Men).
In the World Trade Center, a billionaire sits in his attorney's office awaiting a divorce hearing against his wife. In a west side apartment, a bike messenger kisses his 5-year old daughter and sings her "Happy Birthday" before leaving for work. A maintenance man gets dispatched to help a tenant with his lock. In an upper east side apartment, a young model musters the courage to break up with her sugar daddy. As random as random can be, these individuals step into a crowded World Trade Center elevator.
Wrapped up in their own world, they all ride silently hearing only the sound of the elevator giving notice of each floor. When the elevator stops on the 34th floor, it empties leaving only these five behind. Moments later … their world changes as the collision of a jet into the North Tower incapacitates the elevator.
With no understanding of what has happened and is happening around them, these fives are forced to band together and fight against all odds to escape from the impending horrific collapse. During these critical minutes, a story of courage, faith, and the will to live unfolds.
(Thanks to the 9/11 movie for providing this prize pack.)