Disclosure:  I received product samples. The post may contain affiliate links; opinions shared here are 100% mine.
Did you miss Christmas for someone special?  Maybe you need a belated gift for that person who gave you something unexpected. Perhaps you just want to tell someone you're thinking of her.  Whatever the reason, here are some ideas!
Sometimes I think the Amazon gift card
was made just for me. You see, they do instant email delivery. It can also be scheduled in advance. So easy!! If you want a gift in-hand, you can also print out the gift card. This is a great last-minute idea for any occasion.
Another great last-minute gift that can be announced via email is a Birchbox subscription. This is my new go-to gift for all my girlfriends.  My sister and I love to unbox our monthly subs together (or over the phone) and gush about what fun samples we received.  The gift subscriptions start at $30, which gives your recipient 3 months of fun.  If you don't want to commit to that price point, consider putting together your own gift box.

Pull out your coupons that will expire on December 31, 2014 and find a theme.  Maybe you could go with a beauty box, or put together some fabulous food items.  Then pair these products in an appealing way.  This allows your recipient to try some new products without risk.  I received a similar #FrostyVoxBox from Influenster and it made my day.  There was a nice mix of beauty products. I loved the Rimmel London eyeliner and NYC lipstick.  This is the best lipstick I've tried and it's only $1.99.  Seriously awesome buy!  Throw in a lush new hairbrush or a beauty sample from your stash.  On the other hand, the food items would be great for your chef friend.  A bottle of herbs, some herbal tea, and candy are a welcome dose of sunshine for a cold winter day.  Normally I'm not a fan of green tea, but this Celestian Seasonings tea has a sweet peppermint twist that makes it more tolerable. The thyme will come in handy for some fun crockpot recipes!  I made a Chicken & Gnocchi soup a few weeks ago that needed thyme but I had run out, so this box was perfect for me.  Get creative and surprise someone today!  Would you like to receive VoxBox goodies like this?  Use this link to join Influenster. It's free and fun!!!  If you prefer, you can message me with your request for an invite and I'll send you an invitation via email.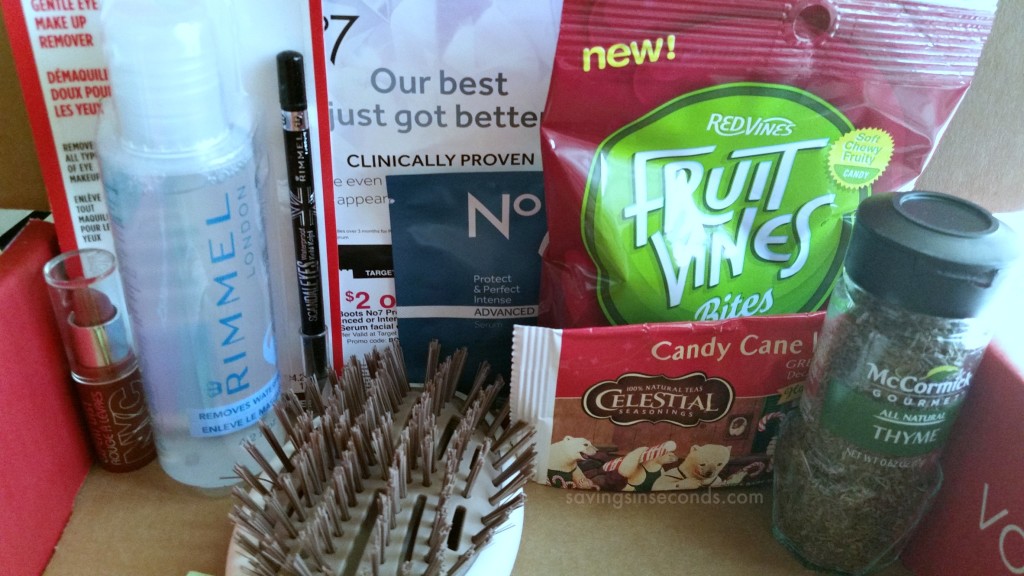 Spoil someone with a great book. There's something so cozy about having a short but sweet book to read while the fire's glowing. Consider something that is less than 200 pages so that your recipient has time to read it, instead of feeling burdened by it. Get two copies so you can read along, too, and have a mini-book club! One title to think about is Swept Away, one of the Quilts of Love books.  This book has a lot of contradictions.  There's the modern day prim-and-proper schoolmarm Sarah Jane, who comes off as prickly as a cactus.  Drew Stevenson is that masculine mix of artisan slash handyman.  Tied up in the relationship is Sarah Jane's grandmother Sari, who seems quirky but has something deeper going on behind those whimsical actions.
Although I wasn't completely swept away by this book, it has its charm.  There's the mixed-up first days of a budding relationship that always seems endearing to me.  I liked the side characters very much; they added a bit of the unexpected to an otherwise mundane book.  The off-shoot story about the quilt and its beginnings was completely fascinating to me.  The book's setting was in the Appalachians, which is where I live.  Swept Away has winning qualities that overcome its cliched obstacles.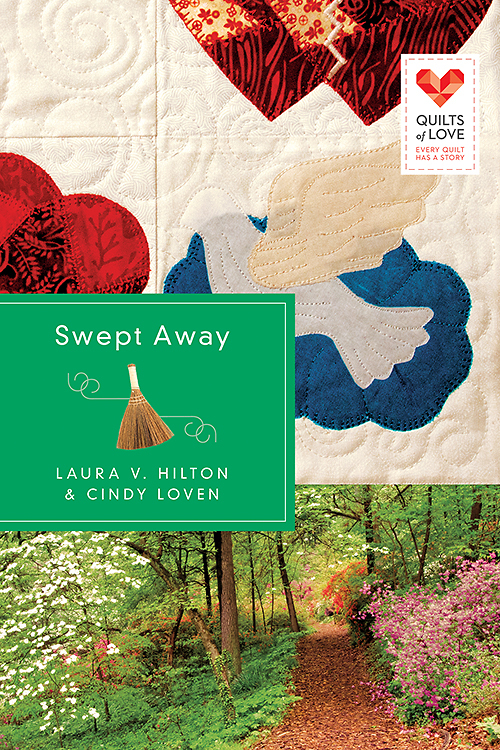 Do you have someone to surprise with an after-Christmas gift?