Disclosure: I received these books to review. The opinions shared here are 100% mine.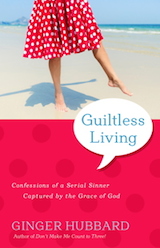 There are some wonderful books on my shelf this week.  The first book, Guiltless Living, is an encouraging note to help the exasperated mom move on with her Christian life. Since walking with Jesus is one of my worthy goals in life, I was happy to give this book a spin.  Author Ginger Hubbard shares her secret obsessions and funny stories in a way that makes me want to write a fanfic.  I could so relate to her stories of being a bossy kid, laughed at the "Gin-Opoly" game she described, and cringed at my own impatience.   When I read her confession that her family panicked just a little for Y2K, it cracked me up because we also had a secret stash of bottled water and some food "just in case."   Do you feel down and out as life pulls you in all directions?   Happily, Ginger shares how one can become new in Christ by learning to trust in God's generosity and faithfulness.   This is an easy book to read (at only 100 or so pages) and would be the great backbone of a small group setting.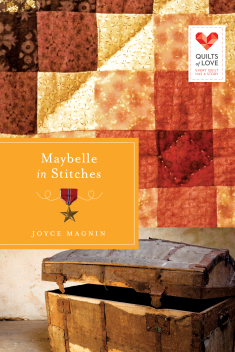 The next book I enjoyed was Maybelle In Stitches.  This is a book from the Quilts of Love series.  For most of my married life, I've been obsessed with quilts.  I patched together a few quilt tops but never finished them off.  When my kids were smaller, I wanted to save their clothes to make a quilt top, until my husband convinced me that someone else could use the clothes (and I probably would never put the quilt together, anyway).  When I read Maybelle In Stitches, it reminded me very much of those special articles of clothing.  The setting reminds me a bit of my grandparents, with the threat of WWII looming over the newlyweds and their friends.  I loved how the women really stuck together, supporting each other and helping where they could.  The Author's Note at the end of the book was a nice touch as well.  Maybelle In Stitches is short enough to enjoy on a Sunday afternoon while sitting in the sunshine, savoring the freedom of the USA.
Don't miss the newest Quilts of Love book, Maybelle in Stitches, by Joyce Magnin. Maybelle can't sew. But when she finds an unfinished quilt in the attic of her mother's house, she gets the crazy idea to complete it.

Joyce is celebrating the release with a $200 Modcloth giveaway. Enter today for a chance to spruce up your spring wardrobe!

One winner will receive:

A $200 ModCloth.com gift card
Scraps of Evidence by Barbara Cameron
A Sky Without Stars by Linda S. Clare
Maybelle in Stitches by Joyce Magnin
Enter today by clicking one of the icons below. But hurry, the giveaway ends on April 19th. Winner will be announced on April 21st on the Quilts of Love blog!


Spread the word—tell your friends about the giveaway via FACEBOOK or TWITTER.