Disclosure: Thanks to Litfuse for sending us this book, and providing one for the giveaway! Opinions shared are mine.
My son insists that it's time to put up our Christmas tree.  Since we use an artificial tree, it's easy to set it up early. I think we'll indulge that whim. After all, it's so much fun to think about the Christmas season.  It is, after all, the most wonderful time of the year, as they say! What are your favorite ways to celebrate? 
Music is a huge part of Christmas.  We hear it in the stores as we shop, we hum along with carols on the radio, and we connect our feelings and holiday memories through songs.
Food is such a nostalgic, exciting part of the holidays for us.  At work, we were giddy with excitement today because my friend reminded us about our feast days!  Each Wednesday in December, a different group is tasked with bringing in delightful treats to share with the rest of the faculty.  It's fun to mingle and snack on those days.
Benevolence is usually fostered during the Christmas season.  When the red kettle is set out in front of the stores and I hear the bell ringing, I try to have at least some change on hand to drop in when I pass.  With canned food drives, Operation Christmas Child boxes, and Angel Trees, there are many ways to serve others through the holiday spirit.
I pray that Jesus is also part of this wonderful time of year for you.  Beyond the holidays, it's faith and grace that sustain my heart.  During the holidays, it's gratitude for a savior who loved me enough to die for my sins.  Jesus truly is my reason for celebrating this season.
If you're looking for inspiration this year, as we enter the time of smiles and sparkles, consider getting a copy of the book The Most Wonderful Time of the Year by Ace Collins.  This slim devotional contains ALL of the features mentioned in this post!  Each day has a short, uplifting message that reflects on scripture.  Other suggestions are also given for each day that may include crafts, recipes, the history behind beloved hymns, and ideas for serving others.  This devotional made me realize how much I focus on the gifting part of Christmas, even though I try to limit it.  Instead, I could make the whole month of December a time of intentional goodness.  I enjoyed reading the history behind favorite traditions and little-known customs, too.  This countdown to Christmas is a treasure.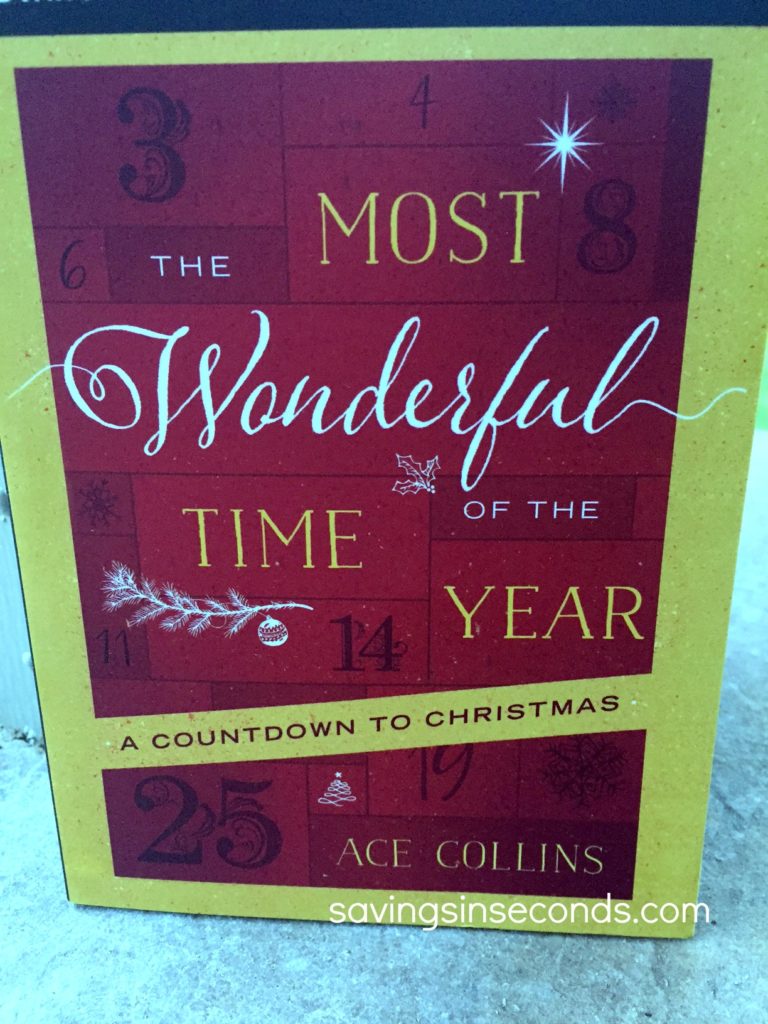 Enter to win a copy of The Most Wonderful Time of the Year — giveaway is open to US readers ages 18+. Void where prohibited by law. Good luck!
Make this upcoming Christmas holiday a Christ-filled season of joy and wonder with the help of Ace Collins' new devotional, The Most Wonderful Time of the Year. From December to New Year's Eve, reawaken the Christmas season with daily scripture and inspirational readings of stories behind popular Christmas traditions, carols and movies. Enjoy a wealth of fun activities to help make the most of the season, including heartwarming holiday recipes and homemade gift ideas. Download a free sampler of the book by clicking here.
Join Ace's Christmas festivities by entering to win the Magic of Christmas Prize Pack. Create new traditions this holiday season with your family and friends with the goodies included in the giveaway.
One grand prize winner will receive:

A copy of The Most Wonderful Time of the Year
Enter today by clicking the icon below, but hurry! The giveaway ends on November 21. The winner will be announced November 22 on the Litfuse blog.