(Disclosure – I received one of these to review several months ago.  No compensation was provided for this post.)
What's your best feature?  You might be surprised to see how many would say that their smile is their best feature.  It's one of the first things I notice on someone.  To me, a smile is made more beautiful when it's pearly white.  If you're caught hiding behind your hand instead of showing your shiny smile, you need to try the teeth whitening kit from White Teeth Global.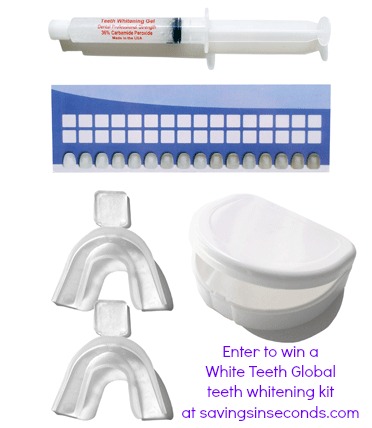 This kit is both affordable and convenient, since it allows the user to take a full treatment right at home rather than making an expensive trip to the dentist's office.  At our dentist, such a procedure costs in the neighborhood of $400!  That's a high price to pay when you can get similar results at home for a fraction of that amount.  With White Teeth Global, the user customizes the whitening level by using the complimentary shade guide. The complete instructions are included as well.   I was able to get my teeth to the whitened level I wanted after 3 days of wearing the kit for about 30 minutes at a time.  On one morning, I even wore it during my commute to work!  It's an easy way to fit the whitening system into your day.
Be sure to check out the other items available at White Teeth Global, too!  What would you like to try?