Disclosure: I received a free copy of this book. Opinions shared are mine.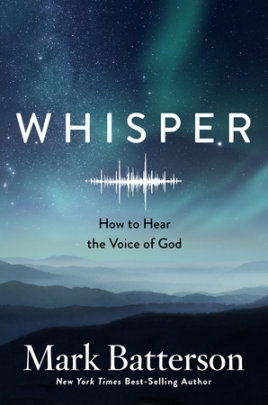 When choosing my next book to review, I knew that my husband would really enjoy Whisper by Mark Batterson.  He has a stressful job that requires a lot of emotional strength.  Hearing God's voice is imperative for a calm, peaceful mind and content heart, but even more so with daily challenges like his.  I also wanted to read Whisper for myself.  My children have often asked me, "How can I hear God?"  and my answers seem weak to my own ears.  So, I went off in search of that answer within the pages of this book.  I received a free copy; opinions shared are mine.
About the book:
The best-selling author of Circle Maker, which helped over 2 million people learn to talk to God, now helps readers learn how to listen to God.

The voice that spoke the cosmos into existence is the same voice that parted the Red sea, and made the sun stand still in the midday sky. One day, this voice will make all things new, but it's also speaking to you now!
That voice is God's voice, and what we've learned from Scripture is that He often speaks in a whisper. Not to make it difficult to hear Him, but to draw us close.
Many people have a tough time believing God still speaks. Sure, in ancient times and in mysterious ways, God spoke to His people, but is He still speaking now?
Mark Batterson certainly believes so. And he wants to introduce you to the seven love languages of God; each of them unique and entirely divine. Some of them you might suspect but others will surprise you.
By learning to tune in to and decipher each language, you'll be able to hear His guidance in simple as well as life-altering choices. God is actively speaking through: Scripture, Desires, Doors, Dreams, People, Promptings, and Pain. Batterson gives you the tools you need to unlock each of these languages.
God's whisper can answer your most burning questions, calm your deepest fears, and fulfill your loftiest dreams.
Discover how simple it is to hear God's voice in every aspect of your life!
He's speaking, make sure you know how to listen!
My thoughts:
Whisper is not an imposing book at all.  In less than 200 pages, Batterson speaks of God's whisper in terms of a volcanic eruption and a powerful voice.  I appreciated how each chapter was divided into short sections that were each about a page long. This broke up the heaviness of the message into more manageable, thought-provoking chunks.  With this format, you could actually treat Whisper as a daily devotional.
Additionally, Batterson provides a multitude of references for further study.  From the names in his anecdotes to the fully documented citations in the Notes section, there's plenty of reading material to continue the research on Batterson's listening-to-God strategy.  He describes how love languages can impact the way a person hears God, and defines happiness in terms of a Harvard study.  It's an uplifting, encouraging read that spoke to my heart on multiple levels.
I might not read this entire book aloud to my kids, but I definitely plan to use what I've learned in conversation with them.  It's my privilege and humble responsibility to help my children learn how to listen to God's voice.  Whisper helped me to gain some insight into that spiritual endeavor.  I'd also like to read more from this author.
I received this book from Blogging for Books for this review. Opinions shared are mine.
Do you know someone who would enjoy this book?