Disclosure: I received a screener of the movie. Opinions shared are mine.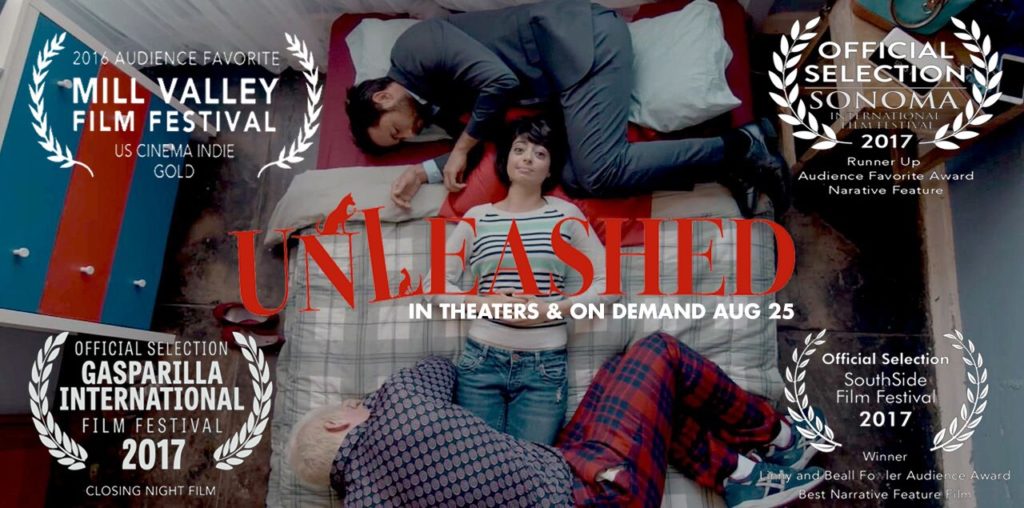 Now that school started back, our lives have been crazy busy. Additionally, my husband and I have had some unexpected health issues that had us down for the count. Hey, universe, it's time for a breather! SIGH.
Unleashed is the type of movie you watch with your significant other, or even teenage daughter, when you're in the mood to not take things too seriously.
There's got to be some fun involved when a girl's cat and dog turn into eligible dates, right? 

For me, the star of the show was Emma. Her hilarious take on the situation made the story seem real….well, as plausible as it could get considering the plot.  After all, if my cat or dog turned into a guy, I'm sure it wouldn't be one with chiseled pecs.
I had the misguided notion that my son might enjoy this movie because, well, he likes cats and dogs.  It's a little too Sex and the City for kiddos, though not graphic in nature.  It's just too solely focused on the dating scene, which clearly does not interest him at the ripe old age of 8 years old.

Unleashed is lighthearted, fueled almost entirely by the antics of man-pets Ajax and Summit.  The actors fully delivered on the comedy! The meme-worthy moments are perfect for my teenage daughter.  I have to admit that there is a little bit of a creepy factor here for me.  I'm not keen on the idea of dating an animal, no matter how human-ish the animal might appear.  Ick.
One lucky reader will win a copy of the movie Unleashed (either hard copy or iTunes….at sponsor's discretion.) Each household is only eligible to win Unleashed via blog reviews and giveaways. Only one entrant per mailing address per giveaway. If you have won the same prize on another blog, you will not be eligible to win it again. Winner is subject to eligibility verification. The giveaway is open to US readers ages 18+. Void where prohibited by law. Good luck!
About the movie:
In UNLEASHED, a cosmic event turns Emma's dog and cat into two perfect guys, forcing her to reconsider her outlook on dating,
hilariously work out her trust issues, and ultimately learn to love
herself.
STARRING:
KATE MICUCCI | JUSTIN CHATWIN | STEVE HOWEY | HANA MAE LEE | JOSH BRENER WITH ILLEANA DOUGLAS AND SEAN ASTIN
Emma, a brilliant but awkward app designer, moves to San Francisco
after a massive betrayal by her boyfriend with only her beloved
pets, an adorable cat and an energetic mutt, in tow. One night,
drawn by the light of a Supermoon, Emma's pets escape into the
night and are transformed into full-grown men, forcing Emma to
reconsider her outlook on dating and hilariously work out her trust
issues.
Thanks to Unleashed the movie for sending us this DVD.