Disclosure: I received a product sample to review. The opinions shared here are 100% mine.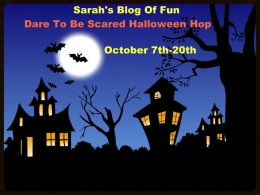 Welcome to this not-so-scary Halloween giveaway hop!   Our event is hosted by Sarah's Blog of Fun.   For our giveaway, one lucky winner will receive a Twister Dance Rave game thanks to Hasbro.   This is a great toy that is new for Fall 2013.   Now that the temperatures are getting cooler, why not get the kids active inside?  You'll have fun watching them as they dance the night away.  The Twister Dance Rave game has great speakers and LED lights that shine to create your very own dance floor.  It worked great right on our living room floor, but you could also do this outside on the driveway for a fun Halloween party!!  The music that's installed is from popular artists but you can also plug in your own MP3 player.  Then you could add The Monster Mash or whatever spooky songs get you going on October 31. The game is even two-sided so you could play teams or just go head-to-head with your kids. Dare to be scared!  The game requires 4 AA batteries.  Demo batteries are included but you might to have a spare set on hand because you know you'll need them. The kids are going to want to play this all night.  It's so much fun!  Although the age rating is stated from 8+, my 4 year old loves to dance and thinks this is a great way to get moving.
Ready to enter?  Just hit the Rafflecopter form below.  The first entry is easy, the rest are all optional. The giveaway is open to US readers ages 18+.  Please use an email address that you check often — I need to confirm the winner's mailing address right after the giveaway ends due to sponsor guidelines.  I want to make sure you get your prize as soon as possible!   Good luck and enjoy!