Disclosure: I received this book to review. The post contains affiliate links; opinions shared are mine.
When I love something, I want them in sets.  Are you that way?   I guess my mentality is, if ONE is good, MORE would be better!   For example, let's start with shoes.  You can't have a Tieks collection with only one pair.  So now that I've tried one pair, I really must have another.  In every shade, perhaps.  My husband's head got whiplash when he saw me looking, and then I told him how much $$$.  My friend asked me if they were worth it, and at first I thought not….but when I realize how much I wear them, my mind is swayed.  And since this post is about SETS, it's very important to have a set, not a pair.  Very different things.   I feel that way about books, too.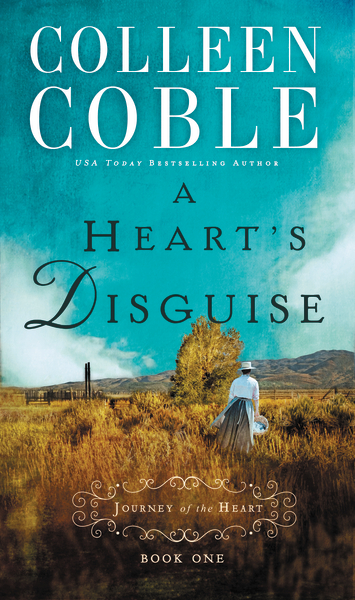 A book and its sequel just cannot compare to a really great series.  If you've been caught up in the heartstrings of a fascinating book series, you know exactly what I mean.  The characters in a book set just come to life in your heart.  You imagine them as they go about their daily lives, and as they carry on conversations.  You might even carry on your own conversations with those characters while you read, begging them to make the right decision or shaking your head while you scold them for making a bad choice.  A good series takes you into its world, commanding your presence at every spare moment.
The Journey of the Heart series is expected to be a delightful set of books from bestselling author Colleen Coble. You may remember some of my other reviews of Coble's work.  I love the way that she integrates history and geography as part of the book's setting.  In the first installment of this series, A Heart's Disguise, we get just a savory appetizer of what's to come in this grand feast.  Coble introduces us to her cast of characters including young Sarah, courageous Rand, and deceitful Ben. There's a vicious love triangle with a wobbly side that's threatening to topple over.  I found myself getting very frustrated with Sarah, then cut her some slack when I remembered that she's only 19 years old and expected to make adult decisions.  Sarah also lives in a very male-dominated world, so she depends on the men in her life (father, brother, husband) for financial support.  It's hard not to be upset when the book ends, because so much seems to be left unsaid.  If you're not happy with cliffhangers, beware!  There are six of these novellas in all, and there's definitely going to be some suspense!   I'm not sure yet what to make of all this mess, because it all happens so very quickly, but I'm already looking forward to the next book (A Heart's Obsession).  Whatever you do, DON'T READ THE BACK COVER!!!  Serious spoiler alert there!!!!
Just as any good set, this book is the beginning of my obsession.  I simply must know more about what happens in this story.  It's guided me to seek out more background knowledge regarding Indiana's involvement in the Civil War. I'd heard of Andersonville's prison camp but didn't expect to see it in Coble's novel.  Again, there's that intrigue!  A Heart's Disguise is just setting me up for another set to collect.