Disclosure: I received these titles to review. Opinions shared are mine.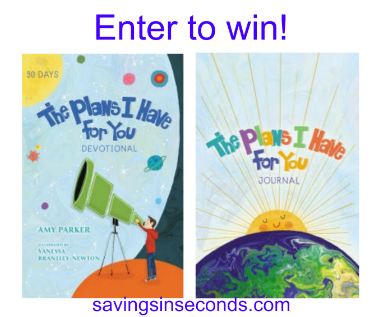 Enter to win the new devotional The Plans I Have for You — AND the corresponding journal!  This adorable book is a call to action for children around the world. The colorful illustrations make the pages easy to read for kids, whether they're looking at the words or the picture context clues.  As the story progresses, you can read it with your child to see which message resonates with him.  I especially loved the fun fonts, which are curved and swirled throughout the pages.  Most importantly, this book ignites a great opportunity to talk with your children about YOUR own ministry. Whether you are a missionary out in the African savannas, or you take the time to donate canned food at Thanksgiving, share your belief in God's conviction.   The Plans I Have for You has a wonderful rhythm and rhyme that will be a catchy song for your soul.  The accompanying journal gives kids the chance to write their personal thoughtss about God's plans for their lives.   So special and sweet!  This makes a great keepsake, too, so that your children can reflect upon these thoughts in years to come.
This prize package is available to US/CAN readers ages 18+. Void where prohibited by law.  Please be sure to read the specific guidelines issued by the sponsor. Good luck!

GIVEAWAY ENDED
About The Plans I Have For You Devotional: 
The devotional is an illustrated 90-day devotional written by bestselling children's book author Amy Parker and illustrated by Vanessa Brantley-Newton, teaching and inspiring kids to dream about their future, to focus on faith, love, and joy, and recognize that God has a plan and purpose for each and every one of us.
Hardcover; 160 pages
Age Range: 8-12 years
About The Plans I Have For You Journal:
The journal prompts creative thinking and exploration of the talents and personalities that make us special, and then helps explore how God may use our unique traits to spread love and joy and make the world a better place.
Stationery; 208 pages
Age Range: 11-14 years
About author Amy Parker:
Amy Parker has sold more than thirty books for children, teens, and adults.  She has also collaborated with authors ranging from New York Times bestsellers to her very own son.  Two of these collaborations are recipients of Christian retailing's Best Awards, and she has also won three Mom's Choice Awards.  But Amy's greatest reward is being a wife to Daniel and a mom to their amazing sons, Michael and Ethan.
About illustrator Vanessa Brantley-Newton:
Vanessa Brantley-Newton is a self-taught illustrator, doll maker, and crafter.  Her passion for children's books began when she came across 
The Snowy Day
 by Ezra Jack Keats as a child in the 1960s.  Growing up in a musical family who love to sing, Vanessa's illustrations are as fun and whimsical as a beautiful melody.  Vanessa currently makes her nest in Charlotte, NC with her husband of 20 years, their daughter, and a very rambunctious cat named Stripes.