Disclosure: I received the book to review. Post and giveaway form contain affiliate links; opinions shared are mine. If you make a purchase through these links, I may receive a small commission.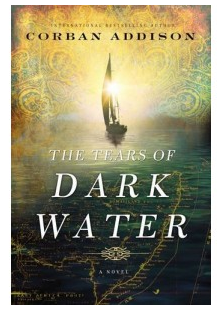 My copy of The Tears of Dark Water arrived just in time for the End of Summer giveaway hop. Thanks to Family Christian, one lucky reader will receive a copy of this book that releases on September 17, 2015!
When Washington, D.C., power broker Daniel Parker and his family embark on a round-the-world sailing trip, they're sure they'll survive the dangers of the open ocean—until they're captured by Somali pirate Ismail Adan Ibrahim. FBI negotiator Paul Derrick is dispatched to handle the crisis. As their paths converge, will the seeds of justice and reconciliation grow?
This story starts out feeling like a life of privilege. How many of us get to sail away into the sunset on a yacht? Who gets a fabulous house purchased for them by their parents?! Although Daniel's family certainly enjoys an affluent lifestyle, their broken family doesn't align with the shiny exterior. The ship is aptly named the Renaissance, as it was hoped to signal a new beginning for the family. My husband and I love to watch political thrillers and dramas. The Tears of Dark Water had a similar feel; it reminded me of some of my favorite TV shows. As in many shows, the characters of this book are all highly successful in their respective fields. There are mentions of adult content (alcohol, romance, and the like) but it's fairly clean overall. The deeper messages of social issues, steeped with symbolism and family dysfunction, were raised by this book. I wouldn't be the least bit surprised to see it become a movie at some point!
The strongest chord that resonated with me from The Tears of Dark Water seemed to be Quentin's heartache. As a mother, I felt the need to reach out and give him a hug. On the cusp of manhood yet still so desperately young, Quentin was lost in his own head. I felt like the voyage was his second chance. It was hard to read about so much turmoil ruining it for him. Is it possible that God can work good from something so terrible as piracy and tragedy?
Family Christian is giving one lucky reader a copy of this book. US readers ages 18+ are eligible; void where prohibited by law. Enter through the giveaway form below. Good luck!