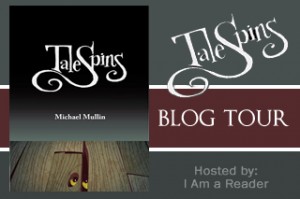 Disclosure: I received this book to review. The opinions shared here are 100% mine. This post contains affiliate links.
 Remember reading The Stinky Cheese Man and the other twisted fairy tales in your youth? TaleSpins
is a little like those, except much more sinister. These are not fairy tales for the little kids, folks.  These are perfect for teens and young adults who want to know the real story.  Since these are written in poetry form, they'd be an interesting supplement to a poetry unit in the middle grades or even high school.  The Plight and Plot of Princess Penny deals with bullying, which is a relevant topic for many schools today.  It's important to remember that these stories are out of the ordinary, so don't expect to have the same warm fuzzy after reading these.  In fact, I felt a little bit….well, creepy….after reading them.  I think that's the point of TaleSpins, though.
Ever the teacher, I can definitely see this as a resource to use in a language arts class.  While students might be yawning at the typical retelling of a Cinderella story (let's read the Chinese version!!  Now for the Native American story!)  they'll jump right in when you start reading TaleSpins.  Some students might even balk at the idea of changing up the Snow White version.  That's kind of the beauty of TaleSpins; positive or negative, the reader can't help but form an opinion of the story.  This little trio of stories is a quick read and isn't for everyone.  If you're into a little macabre humor and tend to side with the villain in your favorite Disney movies, then this might be a good book for you.
Author Michael Mullin
Michael Mullin is a native New Englander living in Pasadena. He is the author of TaleSpins, a trilogy of alternative fairy tales and retellings for YA readers. TaleSpins stories (in the 1-book collection) are "8: The Previously Untold Story of the Previously Unknown 8th Dwarf"; "The Plight and Plot of Princess Penny"; and "Jack'd". Michael is also the co-author of the successful "Larry Gets Lost" children's book series. His screenplay "Zooing Time" was recognized by the WGA's Written By magazine. Before all this writing, he taught preschool and college, two positions he found disconcertingly similar.