Back in my newlywed days, when I actually cared about looking decent, it seemed better to wear my makeup at night so my husband didn't get scared by my makeup-free face in the middle of the night.  After 15 years of marriage, it seems that he's learned to live with my appearance at all hours of the day.  Yay!!  I'm free to go without makeup at home!!  Oh, but wait.  How am I supposed to take off that waterproof mascara?  My skin is super sensitive plus I wear contacts.  Two strikes against using makeup remover.  When I walk crawl through the door at the end of a long day, I want nothing more than to put on pajamas, take out my contacts, and wipe off my makeup mask.  That just helps me to relax and refreshes my skin.
Using the Moody Sisters makeup remover is a breath of fresh air for my face after a long workday.  The solution is in an easy to hold bottle that easily saturates the tip of a washcloth.  It simply wipes off my eye makeup without irritating my eyes at all.  Best of all, there's no astringent scent to the remover.  In fact, there's no scent at all.  It goes on almost like a lotion and wipes completely clean.  Love it!!  My mom even used it when she came to visit.  The fact that she's willing to use anything other than her baby oil method was a huge testimony to this product.  And hey, it's organic, man! It might seem like the 4 oz bottle wouldn't last long, but it's bigger than I expected.   I tried to take a selfie using the makeup remover.  It was much harder to do than I expected.  So you'll just have to trust me that it worked.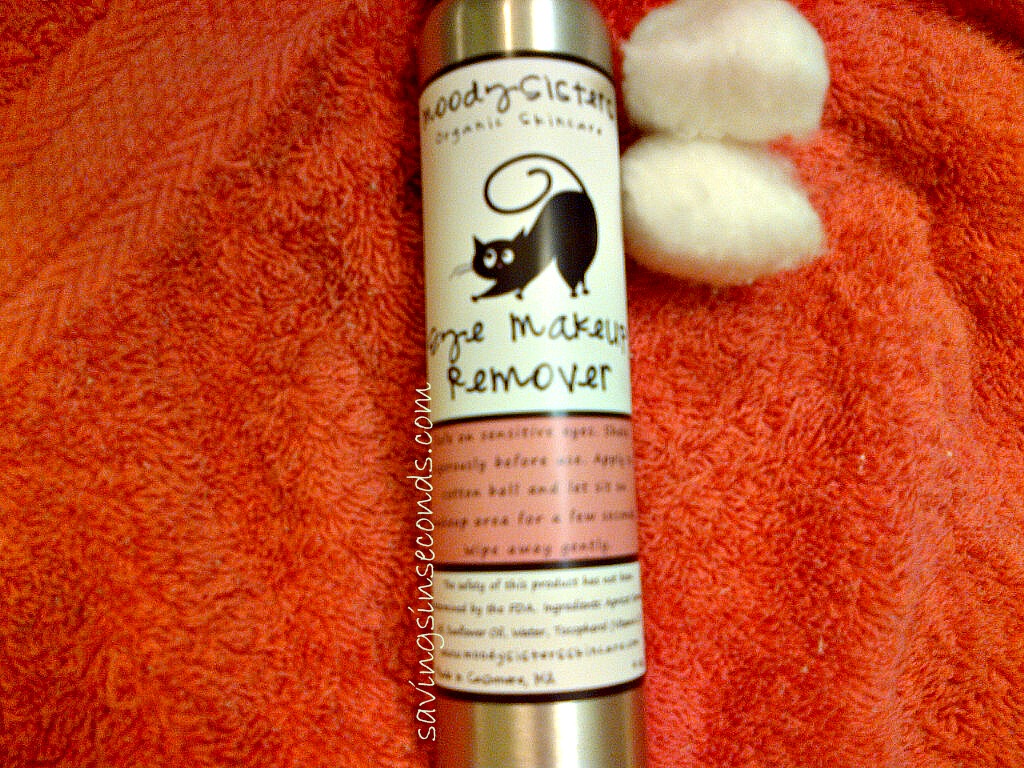 The next product I tried was the aluminum-free deodorant.  We've all read the research about the chemicals in deodorant.  If using an aluminum-free deodorant might give me even a small chance of dodging the big C, it's worth a try.  In my younger days, I never really had a problem with profuse sweating, but after having kids it seems that my chemistry has completely changed!!    I was concerned that this wouldn't be strong enough for me!   The powder puff that came with the deodorant is totally fun.  It makes me feel like a princess, patting my armpits with this little puffball.   Ha!  It might even be a way to get your teen to wear deodorant, if that's an issue.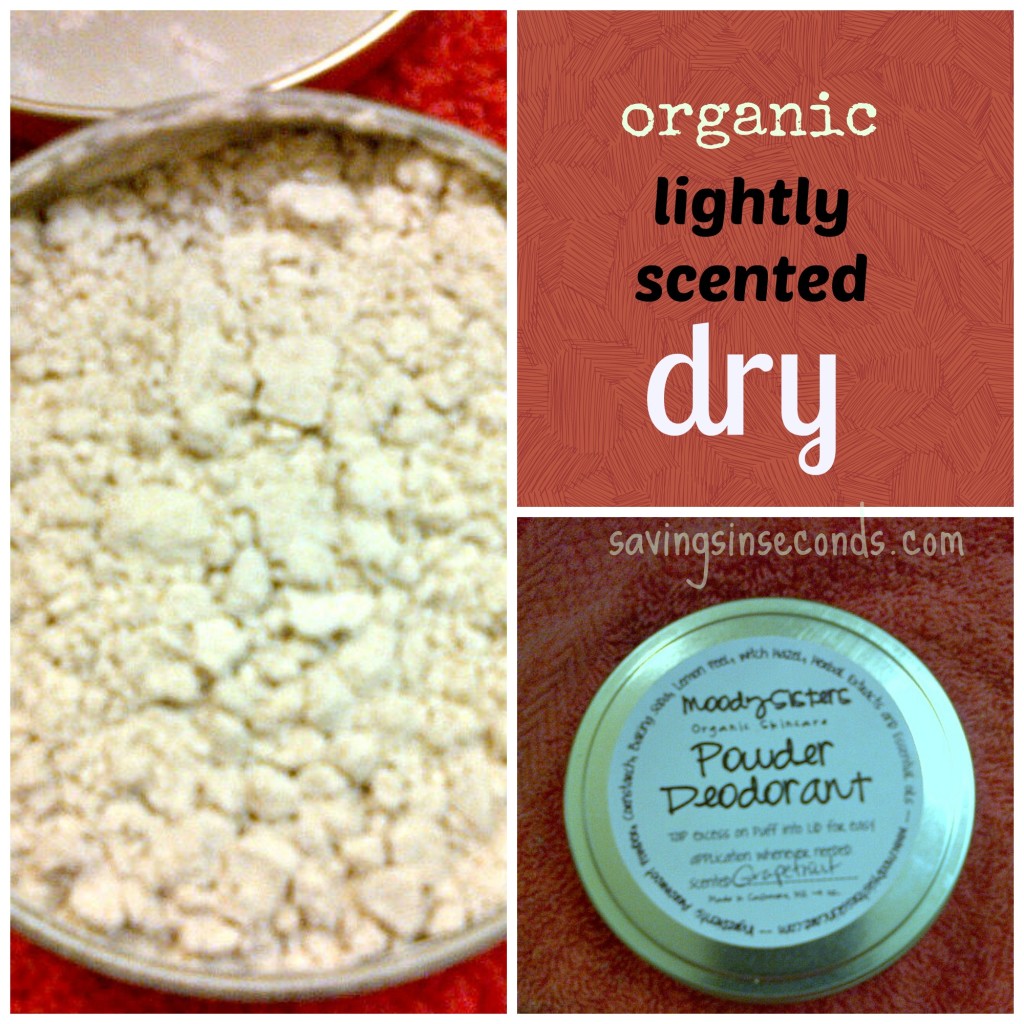 This was strong enough for me, for sure, and I loved the scent.  The only issue I have is trying to avoid getting the powder on the outside of my clothes.  I haven't figured out a good solution to that problem yet.  If I put the deodorant on before dressing, it will most certainly find its way to the outside of my shirt.  If I try to put  my clothes on first then contort my body to get the puff under my shirt in the right area, my clumsy hand usually bumps the outside of my shirt on the way in.  Grrr!!  I need to come up with a better way.
Need to take off your makeup easily and without nasty chemicals?  No sweat!  You need to try the Moody Sisters Organic skincare line.  Enter to win a $25 gift certificate to The Moody Sisters. One lucky Savings in Seconds reader will win a $25 gift certificate.  The giveaway is open to US readers ages 18+ (Void where prohibited by law.)  Enter using the Rafflecopter form below.  The giveaway starts August 18, 2013 and ends September 1, 2013.  Good luck!