Disclosure: This post is brought to you by Unilever ice cream. The opinions shared here are 100% mine.
Sweet Summer Giveaway Hop
This giveaway hop runs from August 17-31.  Visit all the participating blogs listed below and enter to win their wonderful prizes to top off your summer in a sweet way. Each blog is offering a giveaway prize of at least $25.00 and you might be lucky enough to win them all!
Savings in Seconds is cooling off this summer with some yummy ice cream treats from
Unilever
.
Have you ever seen such deliciousness in a box?!
We just purchased a deep freezer chest this summer with the intentions of filling it with summer veggies.  Except that it has rained ALL. DANG. SUMMER. so most of my plants are waterlogged and just barely producing enough to eat fresh.    Oh well, we'll just fill the freezer with ice cream.  That's a good plan, right?!
Unilever sent us product coupons to get 6 different ice cream treats.  We were in heaven choosing our desserts!
I'll let you live vicariously through our shopping trip.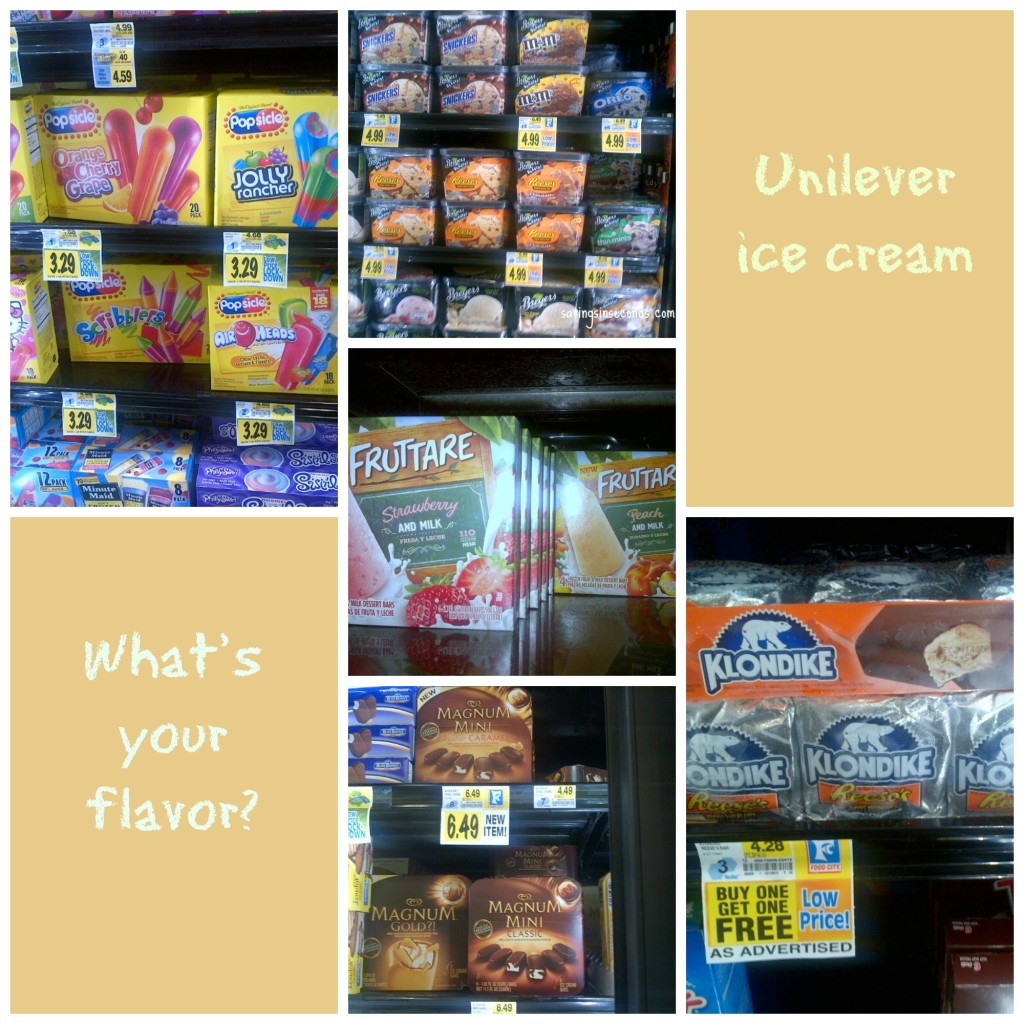 Ready to pick yours?  Here's the list of coupons you might receive in this giveaway:
Frutarre (Fruttare Fruit and Milk Bars – the first nationally available line of its kind –  which are made with real fruit and creamy milk, are available in Strawberry and Milk, Coconut and Milk, Banana and Milk and Peach and Milk varieties.  Or you can choose Fruttare Fruit and Juice Bars which available in Strawberry, Mango, Lime and Orange varieties.)   When I was shopping for these, I really wanted the strawberry flavor.  It looks so refreshing!!  But the peach option was obviously the choice of whoever shopped there before me that day.  I mean, look at the photo—there are so many boxes of that stuff gone!!  So I had to get one of those, too, to see what the fuss was all about.   I still prefer the strawberry flavor but I"m glad I could put my mind to rest.
MAGNUM, the most luxurious ice cream bar, is debuting MAGNUM Gold?! and MAGNUM Mini Double Caramel. MAGNUM Gold?!, the world's first golden ice cream bar and a uniquely indulgent treat that is truly as good as gold. Featuring silky vanilla bean ice cream swirled with sea salt caramel and dipped in a golden coating made with Belgian milk chocolate.  I think I just died for a minute.  This was by far my favorite of the ice creams we selected.  The Magnum bars might look small on the package, but they are perfectly portioned for me as a dessert.  I tend to save my ice cream for an extra-special treat and this definitely fits the bill.  If it tells you anything, I hid this box in the back of the freezer so that my children won't find it!!
 Breyers Blasts! Flavors – choose from goodies such as Girl Scout Cookies Thin Mints and M&M'S. In addition, there are two new limited-edition seasonal flavors and a new Lactose Free variety.   We got the Thin Mints variety because who doesn't like Thin Mints?!  The best part is, we don't have to wait for the Girl Scout cookie sale to enjoy this.  Totally delish.  One thing I love about Breyer's is that it reminds me of homemade ice cream.  A little goes a long way, especially when it has mix-ins like the variety we chose.  I can be satisfied with a smaller portion.
Good Humor which has new REESE'S Peanut Butter pumpkin-shaped ice cream bars. The brand is also taking a twist on its classic ice cream bars with the introduction of the new Good Humor Birthday Cake bar, featuring vanilla cake flavored ice cream surrounded by light vanilla ice cream and coated with cake crunch.  I couldn't find these in my store.  It really broke my heart because I love the Reese's peanut butter pumpkins at Halloween, so I was very much looking forward to the ice cream bar version.  I'll keep looking.
Popsicle, always a favorite, now features Yosicle Swirlz!, which contains creamy swirls of Chocolate & Vanilla and Strawberry-Red Raspberry and Strawberry-Banana. Popsicle is also partnering with the bright and cheerful Hello Kitty brand to create new Popsicle Hello Kitty Fun Bunch ice pops.  Whenever I'm choosing a frozen treat to buy for my students (as a celebration or something) it's always Popsicle.  The flavors are so kid-friendly and I get a lot for the money.  I was so surprised to see how many Popsicles options there are now.  I found out that my brother-in-law and niece really love these, so we'll probably just keep a box here for when they come over.
Klondike bars are oh, so good.  Did you know that there are over 11 different flavors?  We like the Reese's and Heath, but there are many more varieties of the classic stickless ice cream bars, 4 delicious flavors of ice cream sandwiches, and Choco Taco treats.   Are you singing the Klondike bar song in your head yet?   There really isn't much I wouldn't do for a Klondike bar.  My favorite is the Reese's but there are so many choices that you honestly can't go wrong.
You'll notice in my photos that the Unilever ice cream was on sale the week I shopped.  The savings were huge!!  In fact, I purchased several extra boxes of the BOGO sale items because I knew they wouldn't go to waste.  Now that we have a deep freezer to store our surplus, we can have dessert on hand all the time.  We have company over on a weekly basis so I won't have to run out and grab a sweet treat for us anymore.  Love it!
I know you're craving ice cream now — head down to this rafflecopter form and get your entries in.  I can see some elbow pushing already.   The giveaway is open to US readers ages 18+ (void where prohibited by law.)  Good luck!