Disclosure: I received one or more items to review. This post contains affiliate links and I will be compensated if you make a purchase after clicking on my links. Opinions shared are mine.

With the heat of July, you might have trouble thinking about Christmas.  Believe me, it's going to be here before we know it!  I love to get started on my holiday shopping.  Though I've only purchased three gifts so far, I have been actively keeping lists so that I can remember what to shop for, as sales come up.  Those of you who have a crafty or DIY person to shop for will want to check out Cricut's price cuts.  The Cricut Christmas in July sale makes it easy to stretch your Christmas budget, especially when you're starting early!  Right when I opened the page, there was a popup that offered a $10 savings on a $50 purchase.  That's 20% off right away.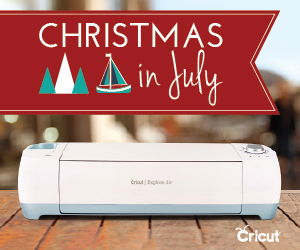 If you're like me and have a bit of free time in the summer, here are some ideas to help you get a head start on the holidays.
Make unique Christmas cards for a fraction of the customized card price
Cut out templates for Christmas ornaments
Create bookmarks and bookplates to include with bookish gifts
Make monogram decals to personalize gifts
Design an Advent calendar with small DIY cut outs for the kids to assemble
Don't forget, a Cricut makes a wonderful gift, too!
How would you use a Cricut this Christmas?