I received product samples; opinions shared are mine.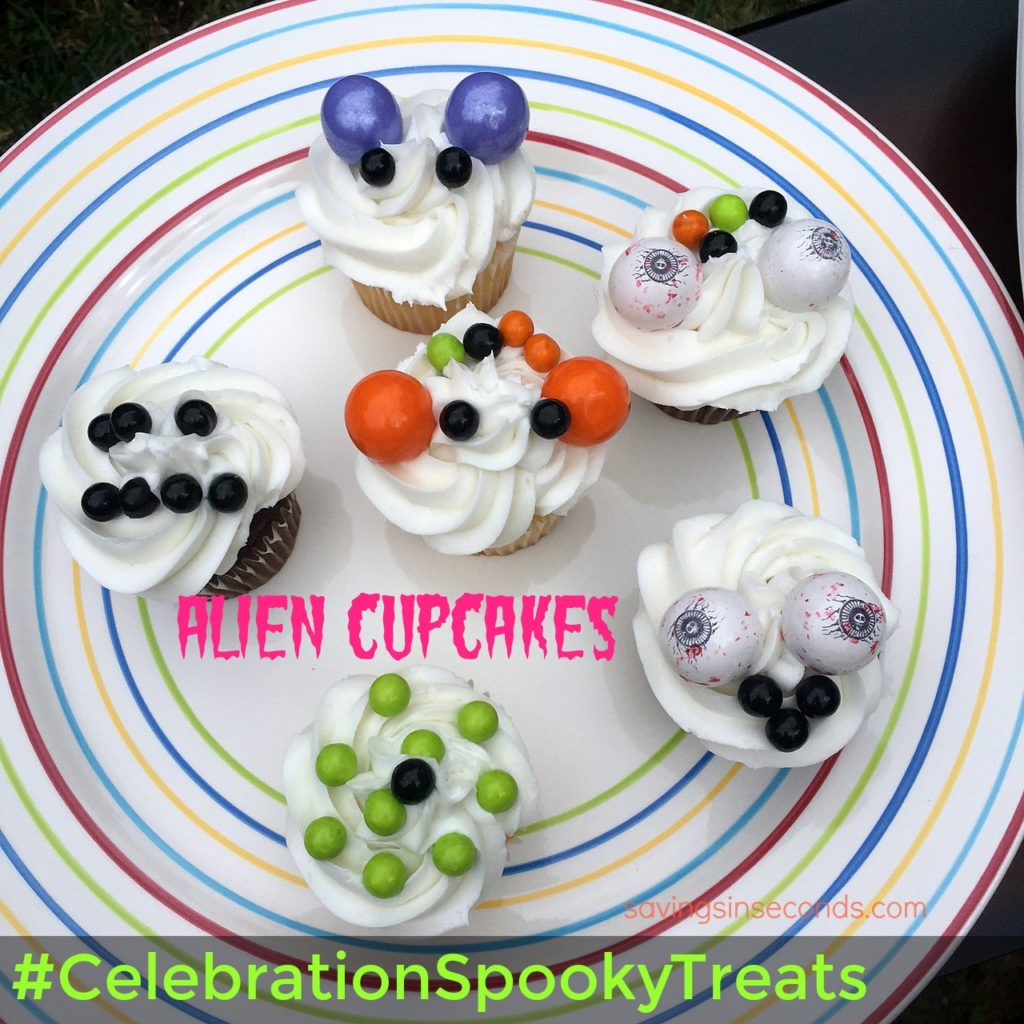 October is always a busy month at the Savings in Seconds house. The changing seasons means it's time to switch out clothes….double laundry for a couple of weekends! We spend a few days cleaning out the raised beds and planting some fall crops, including several overwinter varieties. Moving all of the patio furniture inside takes some heavy lifting as well.  My daughter is old enough to be a BIG help.   I'm so grateful that she pitches in.  My son is learning how to take responsibility as well.  When the kids asked for some sweet treats at the store, we had to indulge. It would have been easy to buy some pre-made goodies. Why do that, though, when it's so easy — and FUN! — to make Alien Cupcakes using Celebration by Frey™ candy?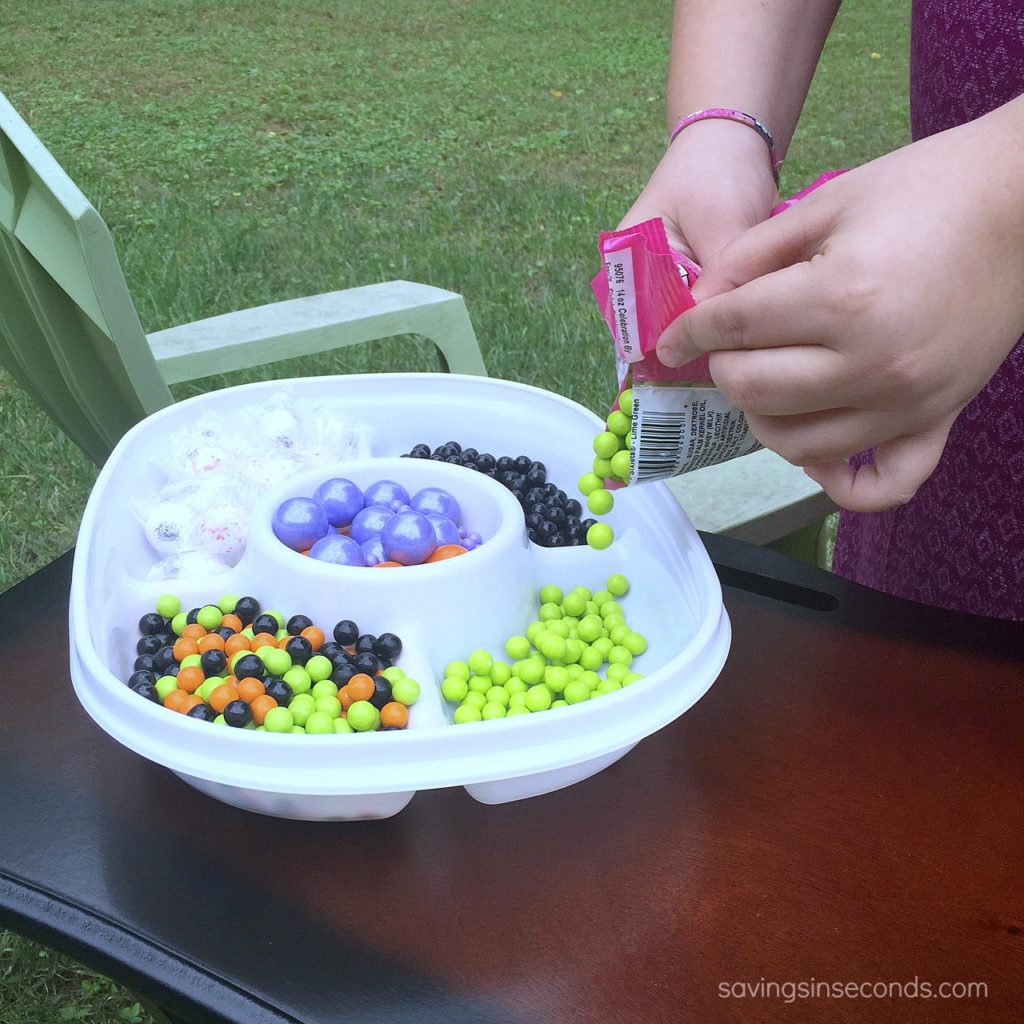 Now that she's 12 years old, my daughter really enjoys cooking and baking.  She handles herself well in the kitchen, and I wanted her to have some creative freedom with this candy display.  She set up our Alien Station outdoors so that we didn't have to worry about the mess.  Smart girl!  Using a simple divided dish (normally used for serving cut fruit and vegetables), we sorted the Sixlets™, gumball eyes, solid gumballs, and pearls into separate sections.  This makes it so easy for kids to share all of the decor options.   This simple task allows the kids to help with setup!  You can find these candies at Walmart, Hobby Lobby, Meijer, and other national retailers. It's helpful that you can find these packaged according to color, as well as mixed variety. Sixlets were always my favorite candy when we went trick-or-treating. I love that I don't have to dig them out of those little plastic sleeves with these packages. Instead, I have a whole bag to myself!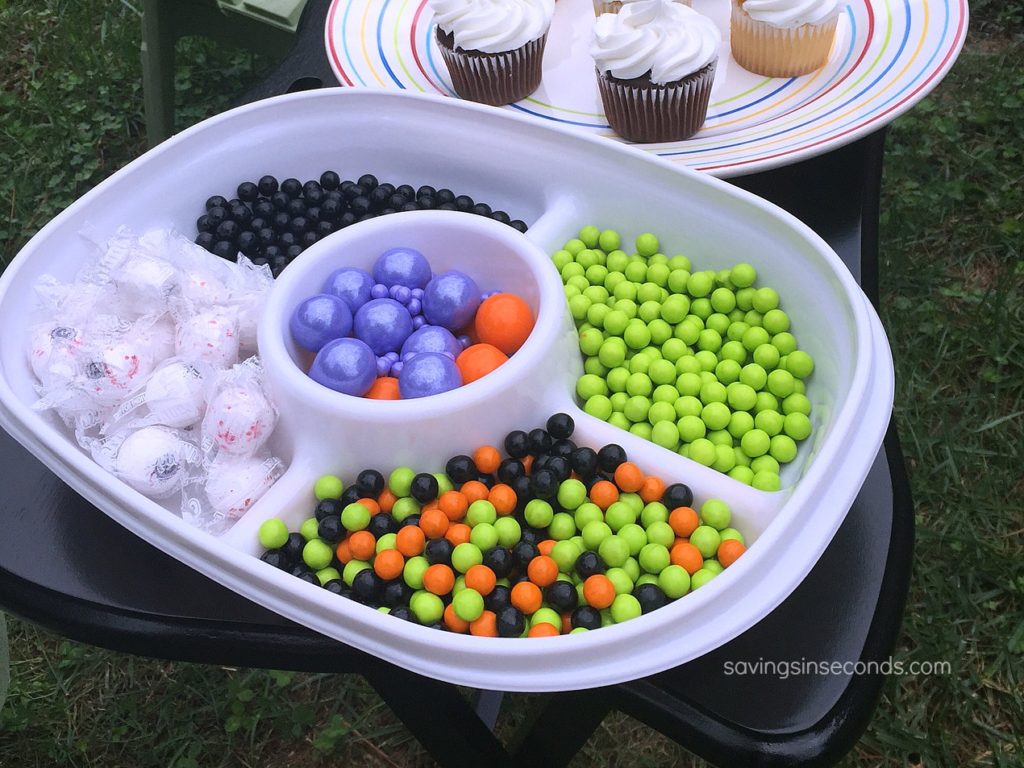 You could save some money by baking your own cupcakes.  We were short on time, though, so these store-bought cupcakes worked out well!  I purchased plain white because I liked the blank background.  Setting these on a tv tray put the items at a comfortable height for the kids to decorate. You might not realize it, but a simple task like this can help kids develop their motor skills. Children practice fine motor skills as they pick up the Sixlets or pearls. Hand-eye coordination is strengthened when children hold the cupcake in one hand, then use the other hand to place candies on the icing. You could ask your kids to develop a pattern with candy colors, types, or sizes. It's so easy to use this activity as a teachable moment!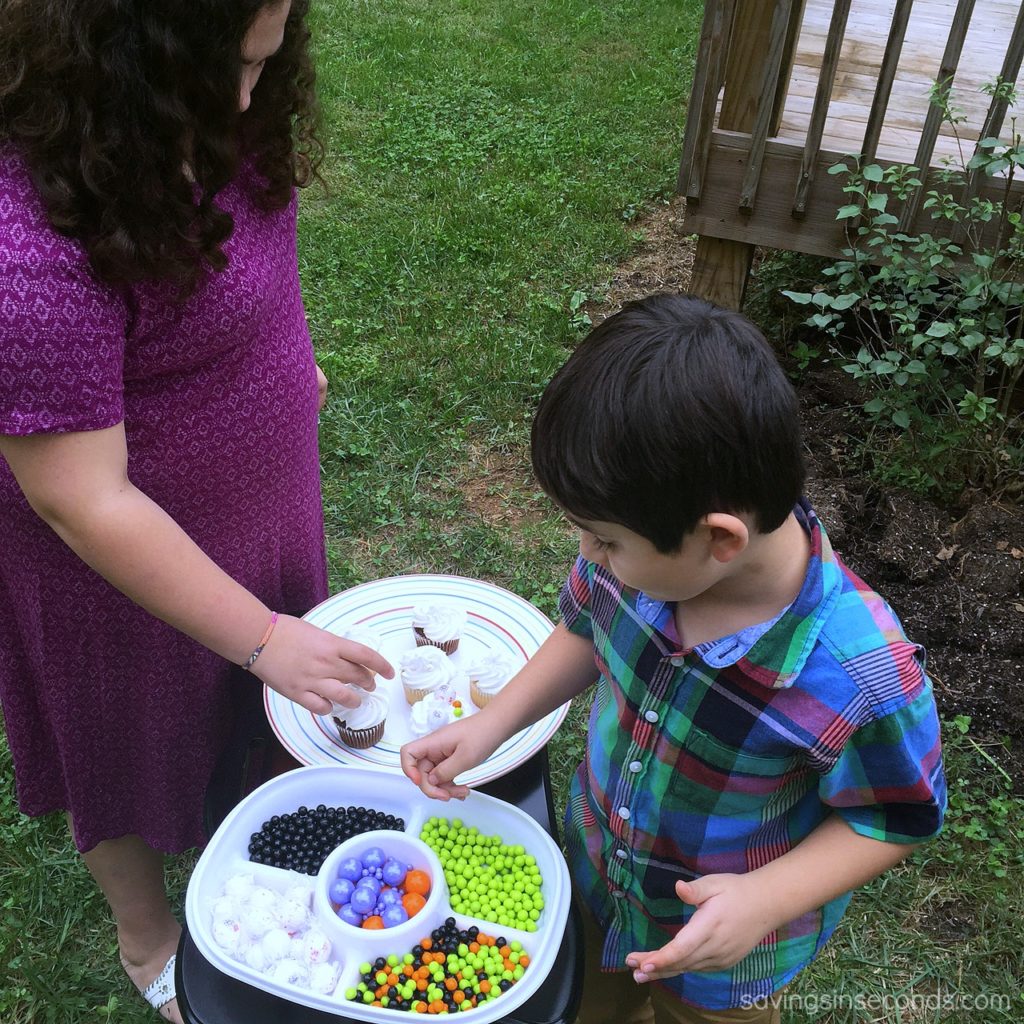 My kids loved getting to create their own "alien" versions of these cupcakes.  They made up many combinations using the eyeballs, Sixlets, and pearls.  Lots of candy was consumed during this process, of course!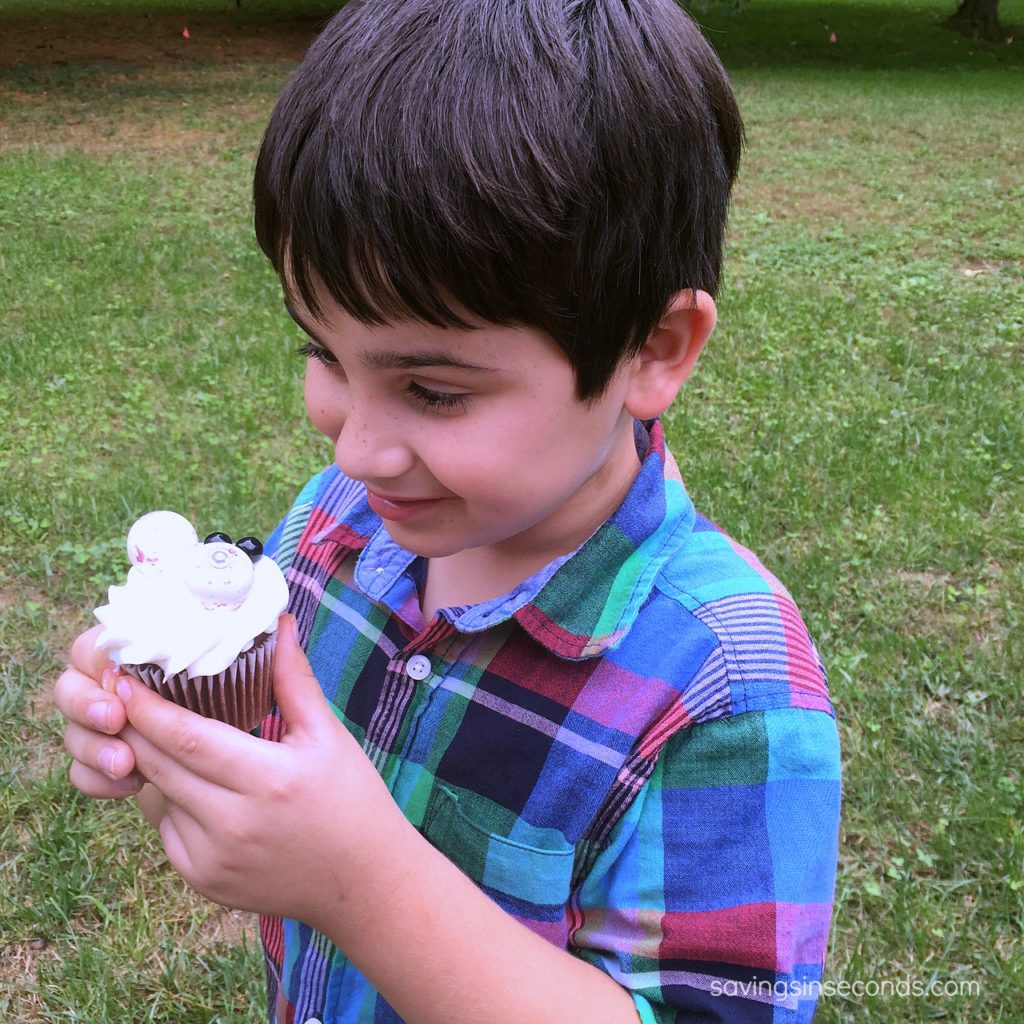 The best part of a Spooky Celebration is getting to eat the creations!   These cupcakes were devoured within a matter of minutes. I let the kids make a cupcake for me….can you guess which one it is? Here's a hint – Sixlets are my favorite! I also liked the green color.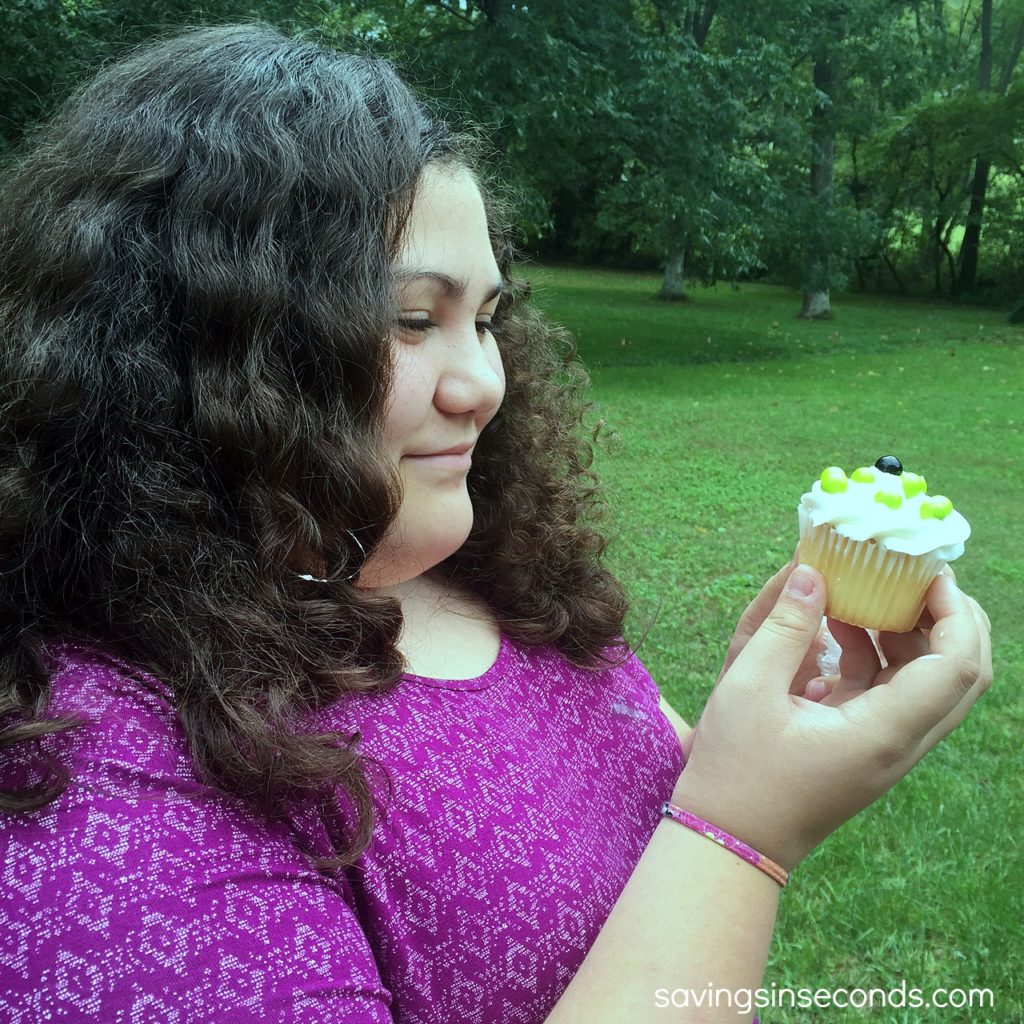 At 12 years old, my daughter would like to pretend that she's too old for activities like Alien Cupcakes.  The icing in her hair belies her secret, though. She enjoyed getting to decorate these cupcakes, and savored every bite of the finished product. You're never too old for candy!  This decoration station was so easy and affordable to assemble.  What a fun way to make a memory with the kids!
Thanks to our generous sponsor, one lucky Savings in Seconds reader will win a $50 candy prize package! The giveaway is open to US readers ages 18+. Void where prohibited by law. To enter, visit the sponsor's site then tell us which Spooky Celebration by Frey candy you'd most like to give (or get!) and why.  The contest runs from 10/3/16 through 10/16/16. Substitutions are possible (at the discretion of the sponsor). Good luck!