Ask any frugal person about books and they'll usually suggest going to the library.  After all, free is always better than paying money, right?  In my case, I was paying the library to borrow books.  The universe conspired against me every time, ensuring my returns would be well past the due date. Considering we always tend to borrow a boatload of books at a time, the late fines really added up!  This summer, my kids have been going through books like crazy, so I decided to swallow my pride and pay my debts at the library.  Libraries.  Since we have cards at several!   Feeling like a new woman, of course I had to look at the shelves and came away with way too many titles (surprise, surprise.)  However, I've finally figured out how to renew online.  Game changer, people!   No more late fees!   (Heads up – Amazon affiliate link used in this post. Opinions shared are mine.)  One of the books I got was the 2011 book Speak by Laurie Halse Anderson.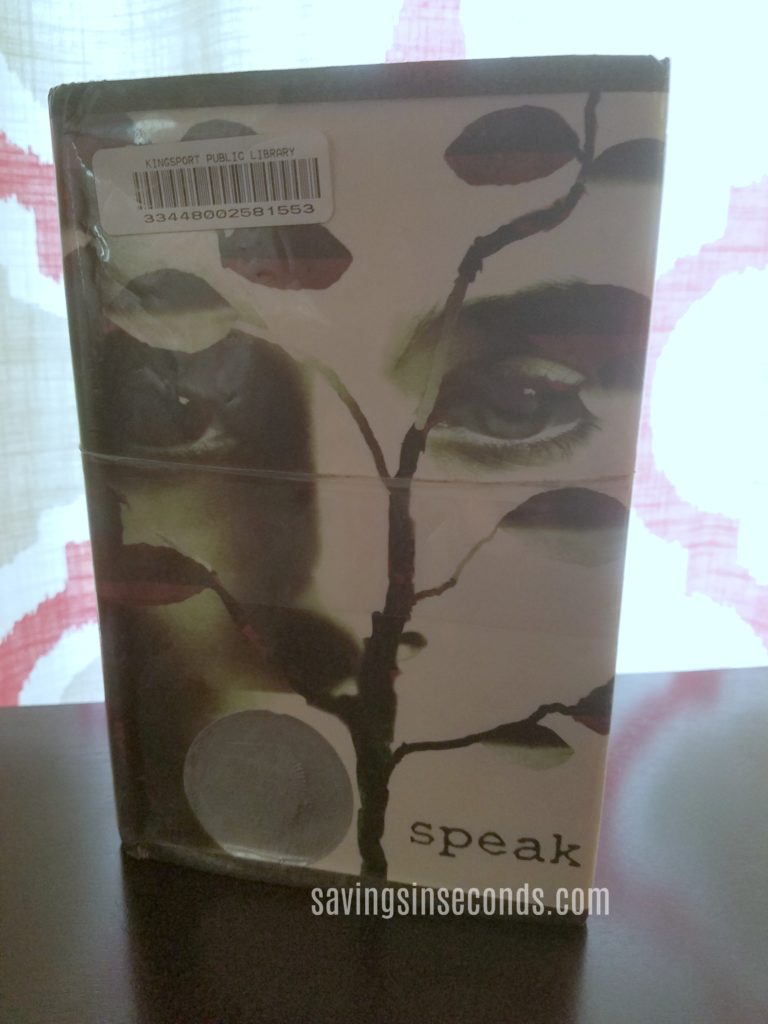 I saw this book featured on another blog last week, and realized that I'd never read Anderson's debut.  It's very short at only 224 pages; I finished it easily while waiting at my husband's doctor appointment this morning.
Speak centers around a high school freshman who walks in the first day with serious social baggage.  Her friends have ditched her, the parental units are completely checked out, and her teachers seem bent on making her miserable.  My heart reached out to her.  This could be a student in my classroom, you know?  There are many emotional triggers in this book, including rape, so readers should take note in case that's a sensitive topic.
Honestly, I think all kids age 13+ should read this book.  Adults, too, actually.  Kids can be so very harsh to each other without ever thinking about what that person is going through at home/school/wherever.  Sometimes parents push kids away, dreading the teen years, but they're out of touch with what their kids are really doing.  The general public may not realize it, but teachers have their hands tied with so much red tape about helping kids.  It's easy to say "Why didn't someone say something?" after a tragedy, but confidentiality and privacy laws make many educators hesitant to ask questions when there isn't anything tangible to go on.  Even when we do report something, we're not always told the results or if it was even followed up.  If a student doesn't say something, well…..it's hard to open that door.
Although Speak deals with a mature topic, it's gently handled.  The muted descriptions draw the reader to an inference rather than providing graphic details.  I'd rather that my teenage daughter know what can happen at a booze-ridden party instead of finding out the hard way.
Do you think teens should read hot-topic books?