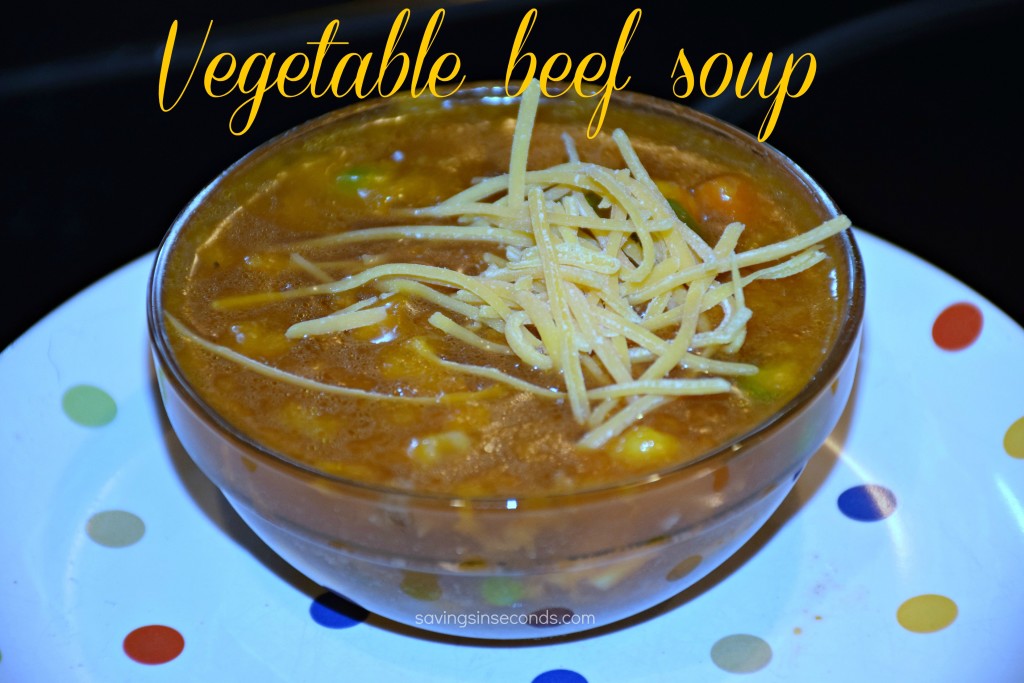 Now that winter looms around the corner, it's starting to feel like soup season. We had a chilly day here in Northeast Tennessee, and the evening temps will continue to be low all week. Knowing that I'd have a busy day tomorrow, and not much more time today, I knew that it was time to make some soup that could be reheated the next day. Since time was tight, we ran into the local drugstore to get the one thing I needed to fill out the recipe — Ragu pasta sauce.  I used this as the base for my vegetable beef soup to give it the right amount of richness without needing to add a can of chopped tomatoes, which tend to be too watery.  My kids don't like the chunk of tomatoes in canned versions, either.  Ragu's pasta sauce has a depth of flavor that complements the beef in this soup.  You can serve it with any pasta of your choice.  We like to stir in macaroni, alphabet pasta, and even thin spaghetti. I've even been known to stir in a box of uncooked macaroni and cheese! 
Ragu was my first sauce of choice because it's what my mom always bought.  After trying other brands over the years, it became the only jarred sauce I'd buy.  The flavors are delicious, and I love that it follows the No.No.No. plan.  No artificial colors, flavors, or high fructose corn syrup are used in this product.  It's affordable and easy to find, too.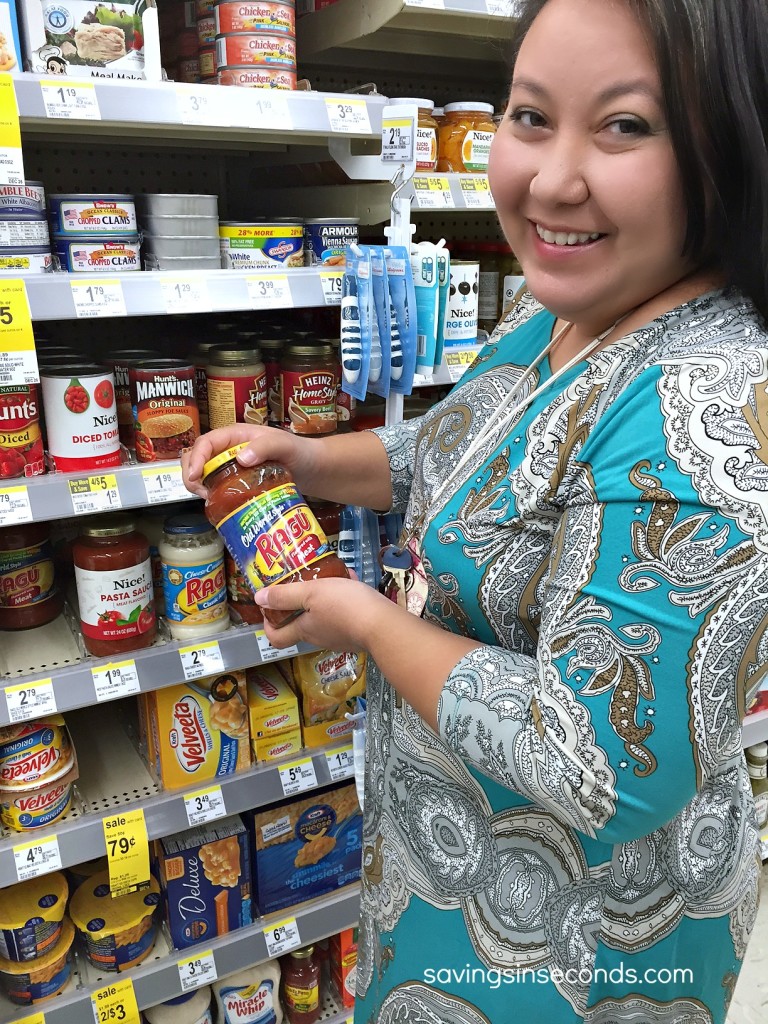 Although you could use any Ragu tomato-based flavor in this recipe, our family favorite is Sun Ripened Tomato and Sweet Basil.   Other ingredients used are pictured below.  We will enjoy our soup over a side of cooked pasta, so don't forget to pick up your favorite pasta shape (or flavor!) when purchasing for this recipe.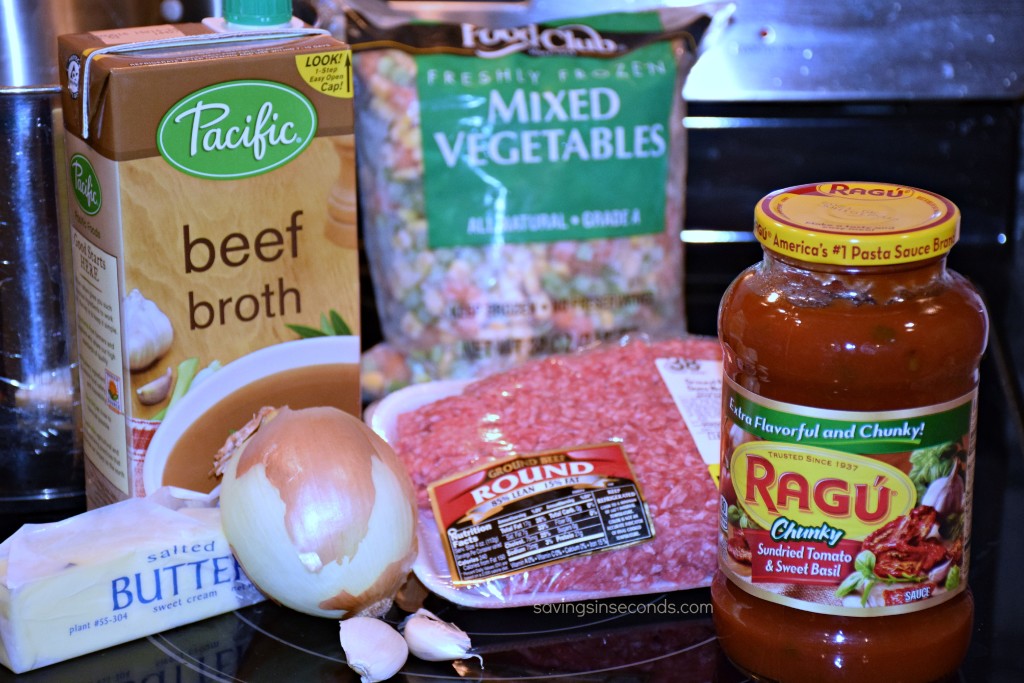 It's quick as a wink to stir up the ingredients for this delicious soup.  First, I browned the beef in a large stockpot.  While the beef cooked, I chopped the onions and garlic and added them to the pot.  A tablespoon of butter helps to soften the meat, and gently flavors the soup.  Once the meat was no longer pink, I added a generous 1/4 cup of Ragu pasta sauce to the pot.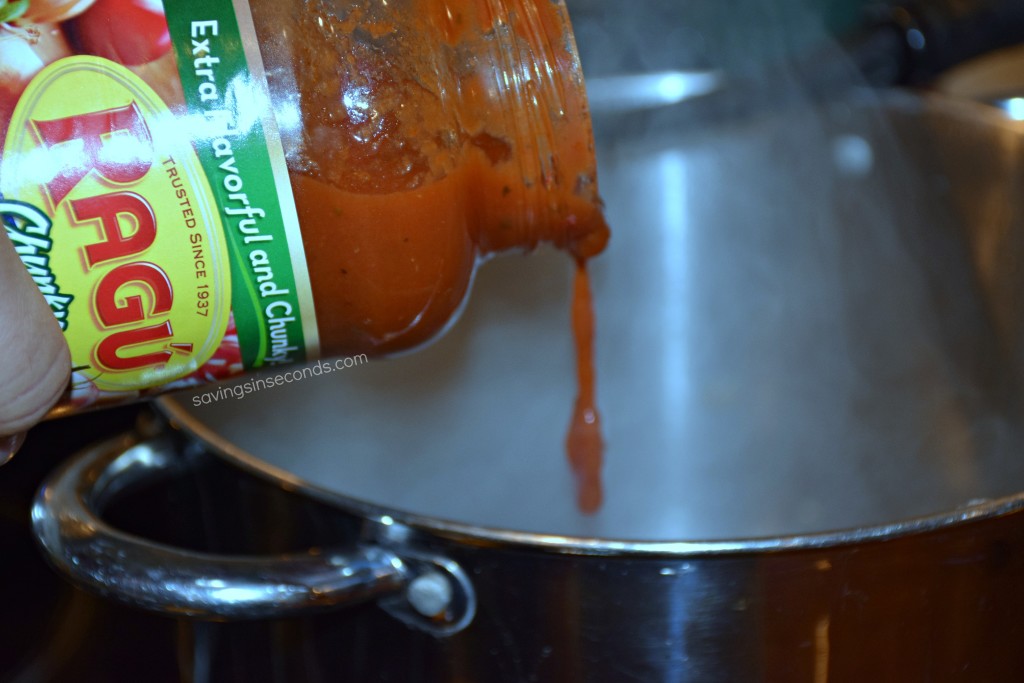 Look at all that steamy goodness!  I stirred the sauce into the meat mixture, then added the rest of the ingredients– frozen veggies and beef broth.  After combining all these delicious parts into one fabulous pot of soup, I stored the whole thing (pot and all!) in the fridge.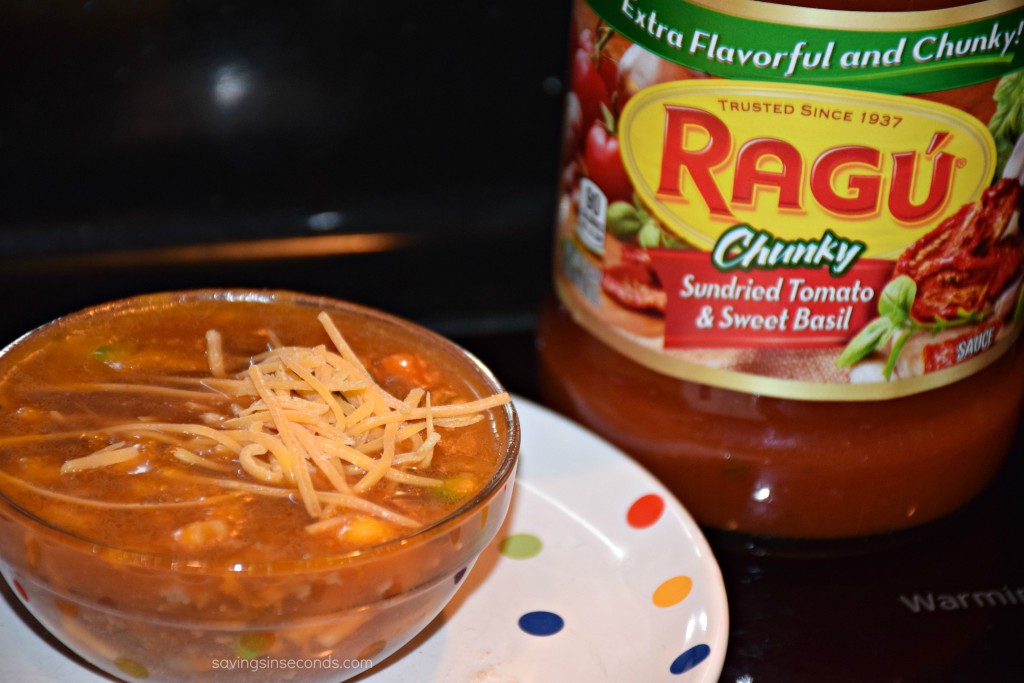 Tomorrow after our busy day of school and extracurriculars, this soup will make a heartwarming meal.  It will take only a few minutes to heat the entire pot over the stove.  While it's warming up, I can have the pasta cooked, drained, and ready to serve.  Being a busy working mom can feel overwhelming at times.  Using quick ingredients like Ragu pasta sauce ensure that my family can enjoy a hot, homemade meal during the whirlwind week.  Knowing that Ragu began with the hard work of another dedicated mom, Assunta Cantisano, helps me to love it even more.  My kids often ask me to make soup on cold-weather days, and it's nice to know that the traditions started in my home might carry on like Assunta's dream.
Does Ragu have a place in your pantry, too?  Tell us about the ways you use Ragu to create family memories and traditions.
Ingredients
1.5 pounds ground round
1 chopped onion
2 chopped garlic cloves
1 TBS butter
1/4 cup Ragu pasta sauce
1 carton beef broth
1 bag frozen mixed vegetables (15-24 oz)
Salt and pepper to taste
Instructions
In a large pot, brown the beef, onion, and garlic in butter. When the meat is no longer pink, add the pasta sauce. Stir to combine. Pour in beef broth; mix in frozen vegetables. Allow the soup to simmer until vegetables are tender. Add salt and pepper as desired. Serve over pasta, or top with sliced cheese.
http://www.savingsinseconds.com/soup/

Savingsinseconds.com
Thanks to Ragu for partnering with Savings in Seconds on this post.