Disclosure: I received this book as part of the blog tour. Opinions shared are mine.
Our minister recently shared a message about Joseph. The focus was on Bible verse Genesis 50:20, which states, "You intended to harm me, but God intended it for good to accomplish what is now being done, the saving of many lives."   I remembered that verse as I read Seeds of Hope by Barbara Cameron.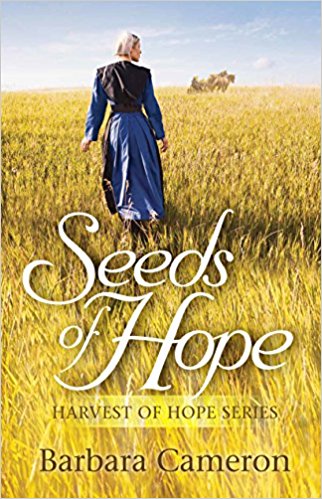 I find it interesting when an Amish novel contains a blend of the Plain life and Englisch living.  In Seeds of Hope, author Barbara Cameron set up a good contrast between the two.  
In the story, main character Miriam took time out of her day to deliver meals to an elderly neighbor.  This is something I enjoy doing, too, so it made me relate to her.  The neighbor's grandson Mark makes an appearance in the story as an Englisch man looking for an escape into the Amish world while some work issues get resolved.  It was frustrating that Miriam's affections for Mark were so painfully obvious.  These moments dragged on, making me a little frustrated.
There's a strong undercurrent of God's will in Seeds of Hope.  Our timing is not God's timing, and it's often only in hindsight that we can see how He worked things together for good.  As I mentioned earlier, this message is prevalent in the Bible, but especially in the story of Joseph.  Our minister said to remember this: When problems arise, they're just a comma.  Go back to the top of the post and read that verse again.  See the comma?  This is an important theme in Seeds of Hope.
Enter to win a copy of Seeds of Hope. Five winners will be chosen! Click the image below to enter to win. The winners will be announced December 22 on the Litfuse blog!
Thanks to Litfuse for sending me a copy of this book!