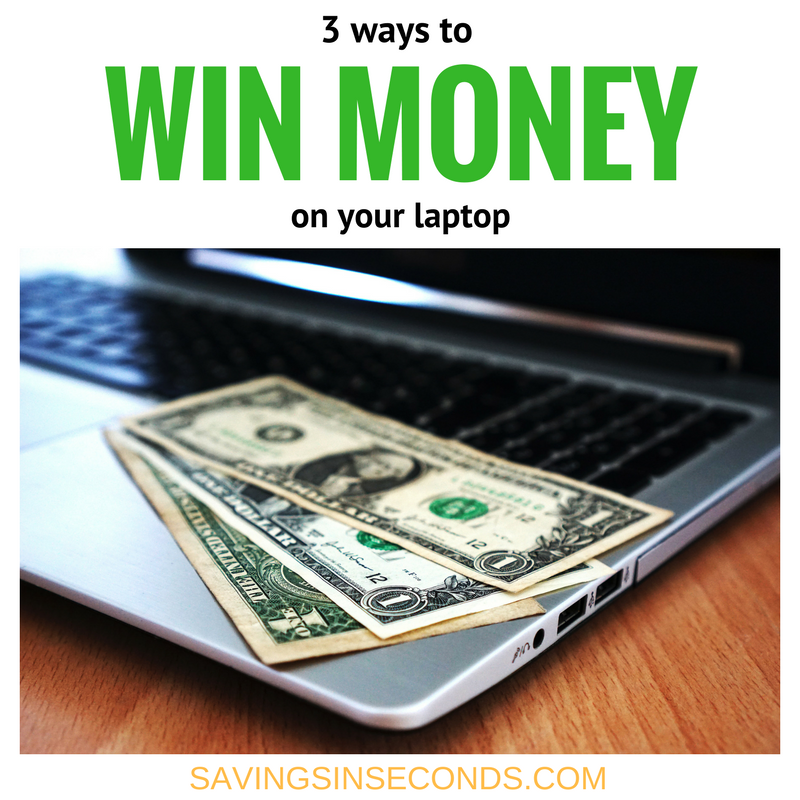 My laptop has been very good to me.  Though it's not top of the line, and it doesn't have fancy extras like a numerical keypad, it connects to the internet.  If you have access to the web, you have the potential to win a sea of cash using your computer and a few extra minutes!  Here are a few ways your laptop can earn you some cash, too.  This post contains my referral links, and I may earn a bonus if you use my links. 

I've shared several ways to earn gift cards and free food by completing surveys.  Sometimes companies will choose two or three survey respondents to win valuable gift cards.  Typically, I'm selective about the surveys I complete in this manner since it's not a guaranteed return on my time.  For years, my magazine subscriptions have been free (earned with points from various reward sites).  One of them featured a reader panel and I signed up, thinking it would be fun to give feedback about the magazine I already enjoyed.  Imagine my surprise when I won a $500 VISA gift card for a survey I completed!

If you do any online shopping, you don't want to miss out on the cashback you could earn. Ebates is my favorite cashback site; as you can see from the image below, it's paid off very well over the past 10 years.  $600+ isn't too shabby!

Technically, this isn't exactly winning money….but to me, it's winning free cash when I would have purchased anyway.  If you use a smartphone or tablet instead of a laptop, don't forget about the ibotta app.  Their available stores and offers get better all the time, and it's so simple to redeem your cash.  Plus, you get a $10 bonus when you redeem your first rebate.

My motto is, you can't win if you don't enter.  A few years ago, I left a comment on the Share a Sale blog without realizing there was a giveaway on the post.  To  my surprise and delight, a package containing $100 cash came a few weeks later!  Whether you choose to enter blog giveaways or big sweepstakes, your chances of winning are obviously better when you do it more often.  Try keeping a dedicated "giveaway" folder on your web browser so you can easily complete daily entries like a twitter share or post comment.
Has your laptop earned money for you lately? 
We're participating in the Sea of Cash giveaway with a great group of bloggers.  One lucky winner will receive $150 Paypal Cash!  The giveaway ends 7/31 and is open worldwide. Must be 18+ to enter. Winner will have 24 hours to claim prize – if unclaimed after 24 hours a new winner will be pulled.  Void where prohibited by law. Good luck!
(This is a group giveaway; I do not have access to the giveaway form.)