Disclosure: I participated in the blog tour for this book. Opinions shared are mine.

Craving a cute, sassy book that is delightfully derpy?  Sasquatch, Love, and Other Imaginary Things will give you a good giggle or two.  Imagine Elizabeth Bennet in Naked and Afraid, and you'll have a little bit of an idea of the book's concept!   This reality-TV version of Pride and Prejudice blends lore with the loony.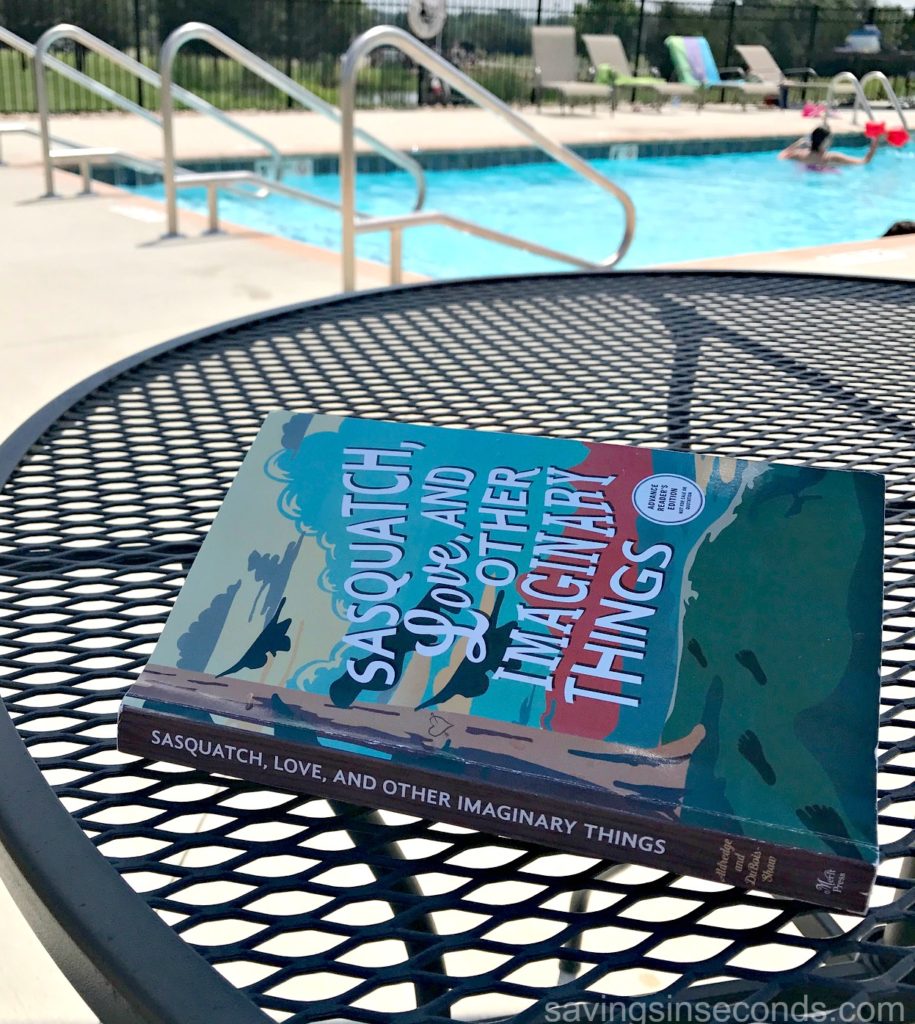 The book went on vacation with me this summer.  It was the perfect poolside read — not too serious, but interesting enough to keep my attention despite the noise from splashing, squealing kids.  My children thought I was crazy when I brought the book into the pool….it was too hot to sit out, but I couldn't stop reading!
The three sisters in this story follow clearly defined personality profiles that don't always match up with traditional birth order stereotypes.  The main character, Sam, is the middle sister who is constantly trying to keep the peace within her quirky family.  She's the perfect example of the belief that "I can say what I want about my family, but NO ONE ELSE better say anything about them!"  I loved her fiery spirit, quick wit, and determination.  Next in my favorites list were her parents.  They acted like teenagers in love, which is a refreshing sight to see from couples who have stuck it out through a long marriage.  Then, there's Beth — the production assistant who is on the autism spectrum.  It's so nice to see authors give an ASD character a strong, competent role in a successful field.
Sasquatch, Love, and Other Imaginary Things isn't the type of book I'd normally choose on my own, but I wanted to see if it was a story my middle school students might enjoy.  The conclusion was….this is an adorable teen book that keeps things clean without being too pristine. I'd definitely put this book on my classroom bookshelf. Sam is a good character to push strength into the hearts of those students who feel frustrated by normalcy.   Plus, kudos to the authors for finding a way to make a Pride & Prejudice retelling completely new!  When reading this with teens, ask them to consider the idea that Sasquatch represents tough-to-achieve dreams and goals.  Are they worth looking for?
About the Book:
Title: SASQUATCH, LOVE, AND OTHER IMAGINARY THINGS
Author: Betsy Aldredge and Carrie DuBois-Shaw
Pub. Date: August 8, 2017
Publisher: Simon Pulse
Pages: 272
Formats: Hardcover, eBook
Find it: Amazon, Barnes&Noble, iBooks, TBD, Goodreads
Pride and Prejudice meets Animal Planet's Finding Bigfoot in this humorous and heartfelt debut about a loving, quirky family on the hunt for the mythical Sasquatch.
Hunting for monsters was never so awkward.
It's bad enough that Samantha's parents, charter members of the Northern Ohio Bigfoot Society, have dragged their daughter around forever, hunting for yetis. But now they're doing it on national TV, and worse, in front of an aristocratic prep-school crew including a boy who disdains Samantha's family.
But when he scorns her humble Ohio roots, she becomes determined to take him down. As they go to war, their friction and attraction almost distract them from the hint that Sasquatch may actually be out there somewhere…
About Betsy & Carrie:
Betsy is a former magazine editor turned communications professional who avoids math at all costs. Therefore, she's held a series of artsy jobs at Opera News, Museums Magazine, and the Museum of Jewish Heritage, where she tried to remember everything she learned in Hebrew school. She now works at Purchase College, SUNY, where she is inspired daily by the cool and creative students and professors. She lives and works in New York.
Carrie is an arts administrator and has worked for world-renowned organizations such as San Francisco Ballet, Orchestra of St. Luke's, and the New Victory Theater. She is a passionate advocate for high quality performing arts for children and has written two plays for young audiences, which were produced and performed throughout
New York City. She currently lives in San Francisco.
Website | Betsy's Twitter | Carrie's Twitter
Giveaway Details:
1 winner will receive a finished copy of SASQUATCH, LOVE, AND OTHER IMAGINARY THINGS & swag US Only.
 Tour Schedule:
Week One:
7/31/2017- Swoony Boys Podcast– Interview
8/1/2017- Book Princess Reviews– Review
8/2/2017- Wandering Bark Books– Guest Post
8/3/2017- Savings in Seconds– Review
8/4/2017- Such a Novel Idea- Interview
Week Two:
8/7/2017- YA and Wine– Review
8/8/2017- Novel Novice– Guest Post
8/9/2017- Nerdophiles– Review
8/10/2017- Lisa Loves Literature– Excerpt
8/11/2017- Bibliobakes– Review