Disclosure: I participated in the book tour for Rescued Hearts and received a free copy of the book. Post contains affiliate links; opinions shared are mine.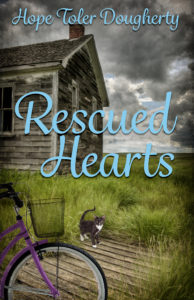 It's always fun to find a new author, and Hope Toler Dougherty is like the pot at the end of the rainbow! In her book Rescued Hearts, she builds a strong case for the saying, "A good deed never goes unpunished."  What started with a kitten's rescue turns out to be a lot more sinister.
Rescued Hearts contains numerous common triggers, so it's not for very sensitive readers.  Still, Dougherty kept the story clean but thrilling at the same time.  I really appreciated the way that faith was presented.  There was a little too much minutia for me (did I really need to know what color Mary Wade paints her toenails?) but overall, this was an enjoyable story that held my interest. Join Amazon Kindle Unlimited 30-Day Free Trial
 and you can read Rescued Hearts free!
About the book:
Her personal safety isn't the only thing in jeopardy-so is her heart. In Hope Toler Dougherty's new novel, Rescued Hearts, children's clothing designer Mary Wade Kimball's soft spot for animals leads to a hostage situation when she spots a briar-entangled kitten in front of an abandoned house. Discovering the kidnapped woman ratchets the complications for undercover agent Brett Davis. Brett forsakes his three-month mission and helps her escape, the bent-on-revenge brutes following behind . . . and then Mary Wade's safety is threatened once more.
Cozy up this fall with Hope's new book and enter to win a Kindle Fire!
One grand prize winner will receive:
A copy of Rescued Hearts
A Kindle Fire 7
Enter today by clicking the icon below, but hurry! The giveaway ends on November 13. The winner will be announced November 14 on the Litfuse blog.