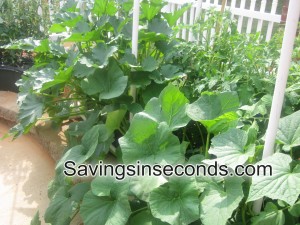 Fourteen years ago my husband and I got our first house.  It was a tiny bungalow in the bad end of town.  We loved it.  It had a small backyard with a little retaining wall.  We didn't have the tools to create a proper garden, so when I got a little pamphlet in the mail advertising Earthbox I decided to take a risk and order one.  We set it up in the backyard and planted two tomato plants in it.  I quit watering it around September when school got busy, but the tomatoes kept growing!  I was taking Ziploc bags full of tomatoes to my friends at work.
When was the last time your plants continued to thrive when you quit watering them?????
Now, I'm not saying that everyone will have the same results.  What I can tell you is that our experience with Earthbox has been amazing.  Over the years we've accumulated six boxes and plan to or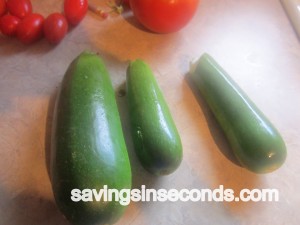 der more for next year's garden.  I have had these six for over ten years and they still work perfectly.  Every year I fill them with zucchini, yellow squash, peppers, tomatoes, eggplants, cucumbers, and more.  The yield from our Earthboxes is always better than from the plants we grow in the ground.  The key is that you don't have to worry about under- watering or over-watering your plants.  Once the plants establish their roots in the Earthbox, they draw the water they need.  You can also use less fertilizer (this year, I didn't even use ANY chemical fertilizer—only natural organic fish fertilizer) and you don't have to worry about weeding!!  Earthboxes are great for a small area like a patio or deck, so you don't even need a traditional garden.  For several years we didn't have place in our yard to put them, so we kept them on our deck and watered them from an old milk container.  Earthboxes are very forgiving!   After the initial investment of our boxes, we only spend money on plants and seeds.  We use our soil two years in a row, which is another savings.  I wanted to grow extra zucchini this year for quick breads, so I picked up a packet of seeds at the grocery store for 25 cents.  It has yielded pounds of zucchini for me, with no additional investment other than water!
The key to Earthbox success is to follow the planting instructions. You can use regular potting soil (for containers).  Put some of your potting soil in a bucket and wet it down.   Decide where you want to keep your Earthbox and turn it so that the hole is facing you.  Place the grid in the bottom of the box and decide where you want the watering pipe.  I suggest putting it in the front of the box so that you don't have to reach behind your plants to water them.  Next, fill the Earthbox about halfway using the wet soil.  Fill it the rest of the way with your dry soil.  Look at the Earthbox planting instructions for the placement of your plants and fertilizer.  Don't be tempted to overfill your boxes.  The plants need room to grow.   This afternoon I planted three Earthboxes with seeds for fall crops.  With the "help" of my children, it took me about an hour to plant all three of them.   I probably could have finished it much faster without my kids helping, but then they wouldn't get the experience of growing their food.  I think it's a really great opportunity to include them in green living.
Earthbox now offers several different colors to complement your patio decor.   Planters don't have to be an eyesore.  Look how attractive this terracotta shade is against the bricks of my house.  I think the white one looks nice with the picket fence, too.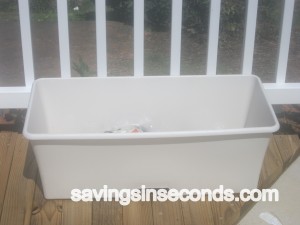 This year I decided to compare my Earthbox plants with the ones I grew in the soil.  These two cucumber plants were purchased from the same 4-pack and were planted the same day.  You can see the difference for yourself!  I love growing my own veggies and having enough to share with friends and family.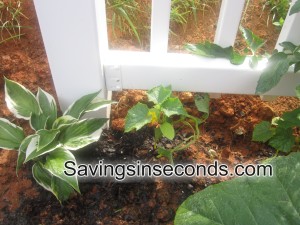 A cucumber plant that wishes it was grown in the Earthbox.
Earthbox is also committed to promoting education.   The Earthbox educational programs align the lesson standards with research-based STEM curriculum.  Complete with lesson plans and teacher guides, the Earthbox program makes it easy for teachers to implement these high-interest activities in the classroom. As a teacher, I value their efforts in making science a hands-on experience for children.   Kids learn best from doing.  What better way to teach them about plant growth than to let them grow their own food?  The Earthbox education programs can be used in traditional classrooms and in homeschool settings.
Be sure to check out the World Food Day project initiative (pictured).  This kit is awesome—it comes with everything you need to get a classroom garden started.  There's even a CD with lessons and student handouts.  I tried the lettuce growing lesson with my children, using the Jiffy pellets to start our lettuce seeds.  That's what we planted in our green Earthbox. I can't wait to have them weigh the results!!   World Food Day is October 16, 2012 and Earthbox has partnered with companies and universities in the US and around the world to eradicate hunger one Earthbox at a time.  By teaching our children to grow their own food, buy local, and eat better, we are teaching them how to live a truly green lifestyle.
In my opinion, Earthboxes are a great way to make gardening fun and easy.  Earthboxes are great for people who don't have the time or green thumb to grow a traditional garden.  They are also a really wonderful way to preserve water, since you don't have to run a sprinkler or soaker hose for hours to keep your garden going.  I use about a gallon of water per box each day on the hottest days of the summer.   I've been so happy with my Earthboxes that I've ordered them as gifts for family and plan to increase my own supply so that the perimeter of our pool area is surrounded by Earthboxes.  It's not too late to get your own fall plants started—-or you can get a head start on spring by ordering your Earthboxes now.
What do you think of these?  Is this something you'd be willing to try?  I'd love to hear your thoughts.