Disclosure: Post contains affiliate links; if you make a purchase, I may earn commission. Opinions shared are mine.
You might say "Bah humbug," but this year I bought my own Christmas gifts.  My husband didn't complain, I was happy, it was all good!  One of the top items on my list was Portrait of Vengeance by Carrie Stuart Parks.  I absolutely love the Gwen Marcey series, and was so excited for book #4!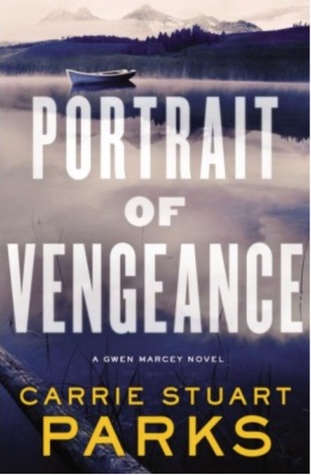 Since I was familiar with this series already, I didn't need much backstory.  If you're new to the Gwen Marcey saga, you could still enjoy this as a standalone, although obtaining books 1-3 will likely be an urgent matter!
As with the other books, this story follows forensic artist Gwen Marcey into a swell of danger.  This one was different because it revealed much about Gwen's personal life, which has been glossed over in previous books.  I really enjoyed the way that Gwen's BFF Beth and even Gwen's dog Winston had solid roles in Portrait of Vengeance.  Though Beth can sometimes be a little bit of an ankle-biter, she is a steady, much-needed friend for Gwen.
Portrait of Vengeance met my expectations in terms of twists and suspense.  I finished it in less than 24 hours, and hesitated to finish those last chapters because — how long will we have to wait until the next one?!  Of all the Gwen Marcey novels, though, this one was probably my least favorite.  I'm annoyed with Gwen's ex-husband disrespectful manners, and her teenage daughter continues to be more of a brat with each story.  Over and over again, Beth proves herself to be a steady rock in the friendship, yet Gwen seems to take Beth for granted.  In this book, I felt like Gwen took advantage of Beth's kindness and generosity.  Hopefully, the Gwen story isn't over.  I'd hate to end on a begrudging note!
If you enjoy crime fiction but don't enjoy profanity and steamy scenes, try this series. Though it's marketed through Christian fiction, there is very little mention of any type of Christian faith. In fact, Portrait of Vengeance dwells much more heavily on Native American beliefs.  It's a clean read as far as adult stories go, yet there's plenty of mystery and drama to keep a reader busy!
Have you read any of the Gwen Marcey books?