I love to eat Chinese food out of those little paper box containers.  I just think it makes the noodles taste better when you're holding that cute little takeout box!!  My husband thinks I'm crazy when I say that, but I'll bet there's more than one of you out there who knows exactly what I mean.  Having food in the right container just adds to its appeal.  Since I have only 20 minutes for lunch, eaten with a cafeteria full of 150 6th graders, I've got to be creative when it comes to packing light for lunch.   Portion control has never been my favorite concept, but it's become mandatory now that middle age bulge is starting to show up.  So what's a girl to do?  Make the best of those carrots and pack them in a cute container, of course!
The LunchBlox from Rubbermaid is the Chinese takeout container for lunch.   First of all, you have these adorable connecting containers that you can stack and layer.  The tiny containers are ideal for holding just the right amount of grapes, ranch dressing, or whatever else you need to add a little something to your lunch.  The larger containers are good for the main dish like a sandwich or some pasta salad.  The size is perfect for portion control.  No guesswork involved and the containers are shallow enough to fit into my regular lunchbox.  Also, the ice pack fits like a glove under or on top of the larger container. The lids and ice pack are grooved so that you fit the complementing pieces into the sections and they actually stay on it.  It makes everything so neatly organized that you can't help but like your lunch!  Since they are BPA-free and can be used in the dishwater, they are completely a time-saver, too.
My daughter insists on taking a bologna sandwich for lunch, but she'll only eat it if there is some mayo on the bread.  Yes, the girl has good taste, but what about keeping that mayo fresh?  Our old ice packs were about the size of a juice box and I'd try to balance the sandwich on the ice pack, knowing that it would slide off the second that the lunchbox was tilted.  Now that I can position the icepack under the sandwich, I can relax knowing that the mayo will stay cold.  The smaller containers are filled with some strawberry slices and a dab of Nutella, and we're off to school!
Would you like to try Rubbermaid's new LunchBlox?  You can grab yours at Rubbermaid's website, Target, Kroger, and a host of other national stores.
Rubbermaid is giving 3 lucky Savings in Seconds winners a LunchBlox of their very own!   Enter using the Rafflecopter form below.  The giveaway is open to US/CAN and ends 9/10/12.  Good luck!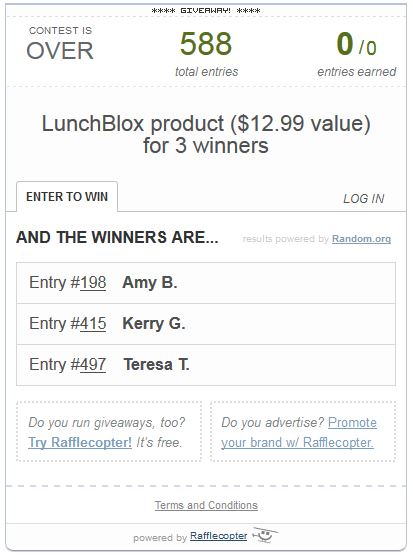 (Note: I received the LunchBlox to review. No other compensation was provided. All opinions posted are my own.)