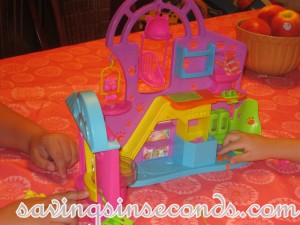 Saturday was Polly Pockets day at our house. My kids are still loving the playhouse we reviewed a few weeks ago.  However, it seems that the our newest Playtime Pet Shop Play Set is even more fun due to the pets that came with it.  The kids immediately set to work grooming the pets, spinning them in the carousel, and dispensing treats.  They were saying, "This is so much fun!"   There were several interactive toys and enough pets to keep both kids occupied for at least an hour at a time.  They came back to the play set several times throughout the day.  I liked that the toys required my son to practice his fine motor skills.  He is only three years old and doesn't yet realize that these are "girls toys."  All he cares about is that it's fun to play with and that his sister will play it with him.  I love that!  Having the pets makes the play set much more gender friendly.  The only downside to this play set is that many of the accessories are tiny.  I mean,very tiny.  They are also made of the harder plastic than we have in our older Polly Pockets toys.   Now that my son has reached the official age for everything not to be a choking hazard I don't worry about him swallowing things.  As much.  Still it is a hazard to consider and I did watch him like a hawk while he played.  I was mostly concerned that he might try to taste-test the miniature plastic pet treats.  That's not beyond him by any means!  And then I'll mention the tiny toys that get scattered around the playroom.  Having an attachable toy tub to go with the playhouse would be so real asset.
The DVD was a big hit, too.  We took it down to watch in the van and it hasn't made it back upstairs yet.  It's been in continuous play mode since we got it.  The movie has the general messages of friendship, forgiveness, and being a good sport while enjoying competition.  It really opened the door for us to have a conversation about true friendship and valuing someone for their talents while accepting their faults.  That's such an important concept for my pre-preteen daughter to understand.  My little girl said that she loves the movie and wishes that there were more episodes.   I agree that having more episodes would add to the appeal in making this DVD a good gift or just for entertainment purposes.  I would definitely purchase more of the movies based on this one that I reviewed.
With the holidays coming up, we will be doing some travel out of town.     Having one of the new Polly Pockets play sets tucked away in the car to play with when we arrive is sure to keep the kids busy while Thanksgiving dinner is cooking.  Imagine all the cousins playing together.  I know the kids in my life would love to play with these play sets all weekend long!
I participated in a campaign on behalf of Mom Central Consulting for Mattel Polly Pocket. I received a product samples and a promotional item as a thank-you for participating.