Disclosure: We received a PlasmaCar for review. Opinions shared are mine.
Remember that toy from your childhood that you wish you could still play with?  The one that is in so many of your childhood pictures?  The one that you loved so much, you wanted to tuck it under your pillow at night?   The PlasmaCar is that toy for my children.  We first saw the PlasmaCar at our local toy store and were thrilled when they sent us one to review.   See where you can find it by clicking here for the store locator.
As I said, we discovered the PlasmaCar while searching at a specialty toy shop for a birthday gift.  While we were there, my 8-year-old daughter rode the PlasmaCar around the store with absolute glee.  My husband noted how well-constructed it is.  The materials are obviously high-quality and durable. They are really sleek and smooth, so my texture-sensitive kids can handle the surfaces. I loved that you don't have to charge it or change any batteries.  Instant savings right there!
When we received our PlasmaCar for review, it needed to be assembled.  It took approximately 30 minutes to put it together using basic tools that we already had at our house.  My kids bounced up and down while they watched my husband get it ready.  They rode it for at least two hours around the house that night. Basically, your child is the fuel for the PlasmaCar!  With just slight pressure, your child can guide the PlasmaCar forward.  PlasmaCar is actually propelled when your child turns the steering wheel back and forth.  I love that it engages the child in this way. The PlasmaCar just glides over the floor like a space-age hovercraft.  It turns so easily, too.  The steering is gentle yet precise.  Even my 3-year-old can navigate through the house and around the furniture with ease!  The PlasmaCar is THE toy that both of my children play with on a daily basis. We received our PlasmaCar in the winter and didn't use it outside because I want to make sure it stays clean and in good condition.   You definitely can ride it outside, though, because my niece has one and rides it on her driveway all the time!   I'm sure ours will be outside all day long now that summer is here.  Follow PlasmaCar on Facebook and on Twitter for updates on this great product. As always, be sure to follow the safety guidelines as detailed in the PlasmaCar manual.
Questions about the PlasmaCar?  Read the FAQ's to learn more.  While you're there, take a look at all of the awards that PlasmaCar has received.  I know that my kids would give it the best award possible—Favorite Toy Ever.
Buy It:  Find the PlasmaCar at a retail location near you!
Win It:  One lucky Savings in Seconds reader will win a PlasmaCar!   The giveaway event is the Fun In the Sun giveaway hop, taking place from June 3-9.  The giveaway is open to US and CAN residents (Hawaii, Alaska, and Quebec residents are excluded.)    As far as I know, the color choice is up to the good folks at PlasmaCar.  Good luck!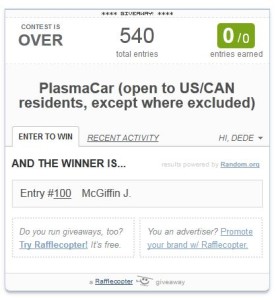 Disclosure: I received a PlasmaCar for review purposes.  The opinions posted are 100% mine.  We love our PlasmaCar!